Ever stumbled onto an informative Facebook video that will be beneficial for your work or hobby? While saving the video on the web is easy for you to go back for reference, it also depends on the internet connectivity you have at that time. If you're looking to download videos off Facebook easily, we recommend AhaSave Facebook Downloader!
AhaSave Facebook Downloader is a small size and lite app developed specifically to help Android user to download videos from Facebook. It is totally free, user friendly, and no registration is required. With its user-friendly interface and operations, you can easily download, save and share high-quality videos with few simple steps.
Using multi-thread download technology, AhaSave Facebook Downloader is able to boost your download speed to accelerate your download up to 3x faster than other apps/websites, allowing you to save videos from your Facebook in mere seconds. You no longer need to depend on the internet connection or WiFi speed to stream videos online – just download your videos and watch them offline anytime, anywhere with AhaSave!
Downloading Videos from AhaSave Free Facebook Downloader App
There are two methods of downloading Facebook videos using AhaSave Facebook Downloader, both equally easy to start.
Easy Facebook Video Download on Android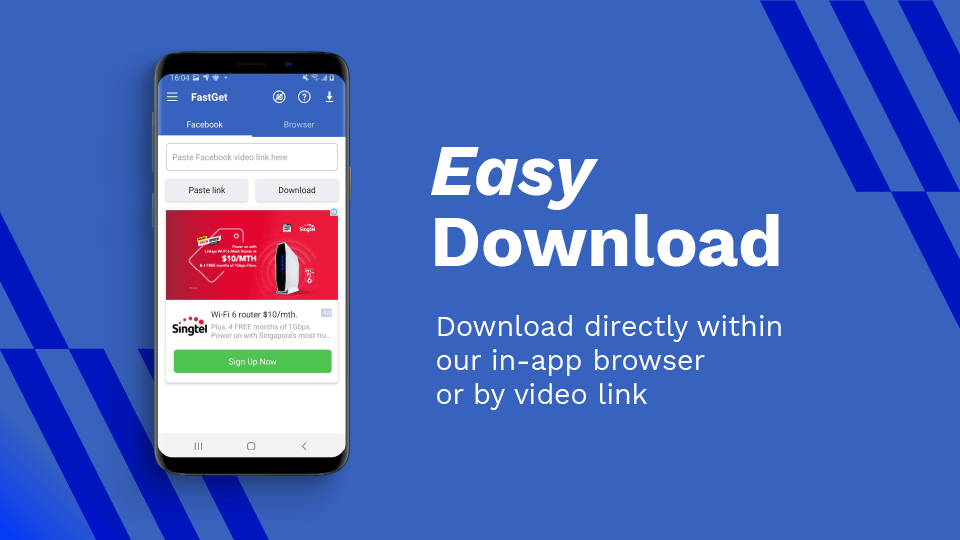 The first method is to download directly from AhaSave Browser within the app. Open AhaSave Facebook Downloader, tap on the Browser Tab. You can log in to your Facebook account within our app and just browse any videos you like in Facebook as usual. Tap on the 'Play' button on the video to initiate the download. Rest assured, our built-in browser only directs you to the official Facebook login page, and our app does not store any password or sensitive data.
The second method is to download using Facebook video link. Look for the Facebook video that you want to save and simply copy its link. You can then open AhaSave Facebook Downloader, tap on the Facebook tab, and paste the link to the column to initiate the download. This way, you can bypass logging into Facebook on AhaSave app!
Download HD Facebook Videos on Android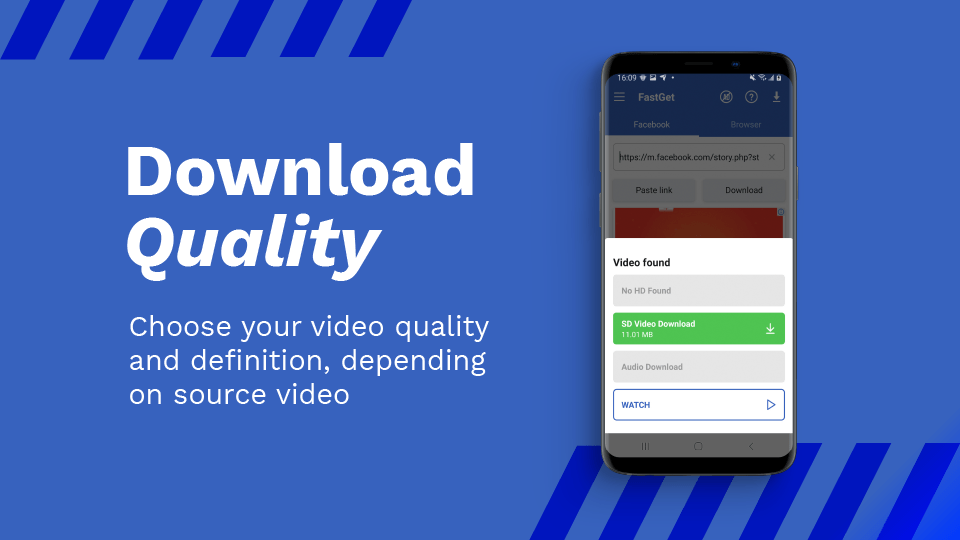 With either the first or second method, a maximum of four options will be given in a pop-up window before the download starts, depending on the quality of source video. You can pick for high definition (HD) video for better viewing quality, but it will take up more space of your device's memory, usually in megabytes (MB). If you prefer to save your device's storage space, you can choose to download the video in standard definition (SD) quality. The size of the downloaded file would be much smaller, usually in kilobytes (KB).
If you are not keen on downloading the visuals, you can also opt for audio download, which will only download the audio portion of the video. The last option is to watch only, if you have changed your mind and decided not to download the content from Facebook anymore. 
Save Facebook Videos on Android
We take utmost care in your privacy and security, complying with PDPA, GDPR, CCPA Laws and Google Play Store Regulation. All videos downloaded are stored locally on your Android device as Default Setting, and they are inaccessible to us or any third-party. You can find all your downloaded Facebook videos in the gallery folder of the app, which displayed as a download icon on the top right corner of the app's homepage.
You can now enjoy these videos anytime anywhere, as these video can be played offline with our built-in video player. Say no to unstable internet connection – you now have your source of entertainment on-the-go!
Helpful Settings on Android Video Downloader App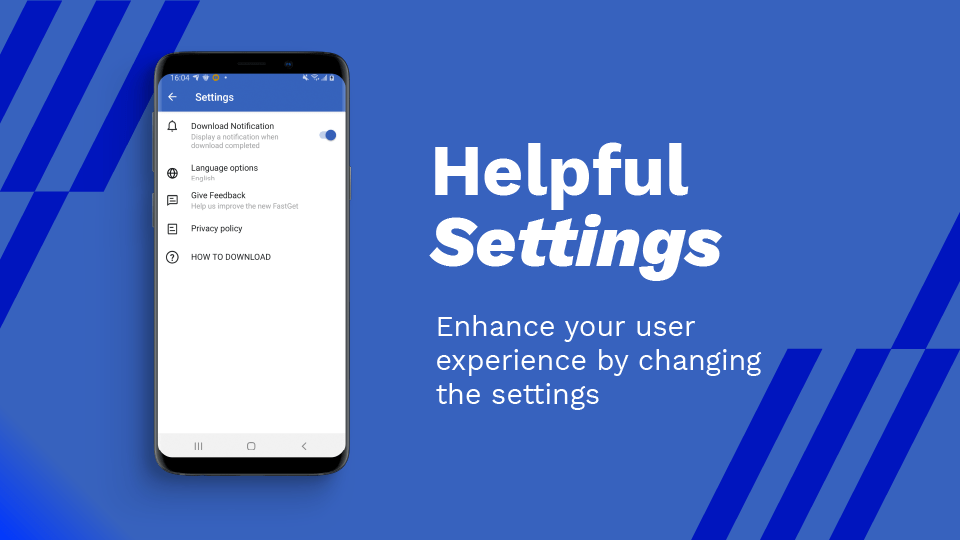 Our AhaSave Facebook Downloader comes with useful settings that will enhance the user experience on the app, making the downloading experience better.
Notifications for Facebook Video Downloads
The app comes with two types of notifications; serving as a reminder as well as speeding up the process of download and watch for our users. The quick download mode will display a notification when a link is copied on Facebook. Clicking on this notification will paste the link directly to Facebook Tab of the app, and the downloading function will be intuitively initiated right away by the app, saving you the need to paste into the tab and going through the motion of tapping on 'Download'. The download notification will display a notification once the download is complete. With just one tap on this notification, the video will be played immediately.
Multi-Language Options for Facebook Downloader App
Our AhaSave Facebook Downloader is not solely made for just the native English speaker. We hope that by including different language options, users who are accustomed to different languages ​​will be more comfortable when using our app. Following our vision to excel as a global brand, we have so far included 11 languages for now; although not all languages are available currently, we'll be adding more in the future to come!
Easy Feedback Suggestion
We are still working on improving our app to provide better user's experience. You can reach us easily, by writing to us directly through the 'Give Feedback' tab in app's setting. If you would like us to speak with you about the concern you have for our app, you can also leave your email in the feedback form so that we can reach you. We can be reached on our social media platforms as well – let's connect!
When Can I Use AhaSave Facebook Downloader?
There are so many reasons and occasions for you to explore AhaSave Facebook Downloader! The AhaSave Facebook Downloader is the best Facebook downloader for any content! Here are some scenarios where our app comes in handy:
Downloading Facebook Stories and Reposts
Downloading hobby tutorial videos such as baking, dancing, handcrafts, learning music instruments for offline viewing
Downloading pre-recorded lectures for college students for offline reference
Downloading entertainment videos from your favourite influencers' Facebook pages and watch them offline to conserve mobile data
Downloading funny GIF, videos or memes to share with friends
Download Free FB Downloader App Now
We are always working towards making our AhaSave products better. We welcome your reviews on the Google Play Store and would appreciate your recommendations to your community. If you have any problems or suggestions for our apps, feel free to contact us here, or check out our detailed Frequently Asked Questions. 
If you're looking for other video downloaders for Android, check out our AhaSave Video Downloader Series, designed for various social platforms for your specific needs:
Check out AhaSave: Tiktok | Pinterest | Twitter | Google Play | YouTube | Website | LinkedIn | Reddit
Need more tips? Find 'em all here!