As an Instagram user, you must have realized that all the contents on Instagram cannot be copied or downloaded; be it photo, stories, reel, highlight, caption, hashtags or videos, as such options are just not available in Instagram itself. Taking screenshots has become the common way to share Instagram photo content out of the platform, but what about videos? Have you ever come across some interesting Instagram video content that you would really like to keep or share, and you were wishing how nice it could be if you could just download them? This task is easier than it seems with AhaSave Instagram Downloader!
AhaSave Instagram Downloader is a small size and lite app developed specifically to help Android user to download content directly from Instagram. It is totally free, user-friendly, and no registration required. With its user-friendly interface and operations, you can easily download, save and share Instagram content in few simple steps. Our AhaSave Instagram Downloader is the best app for downloads from Instagram.
How to Download Instagram Videos?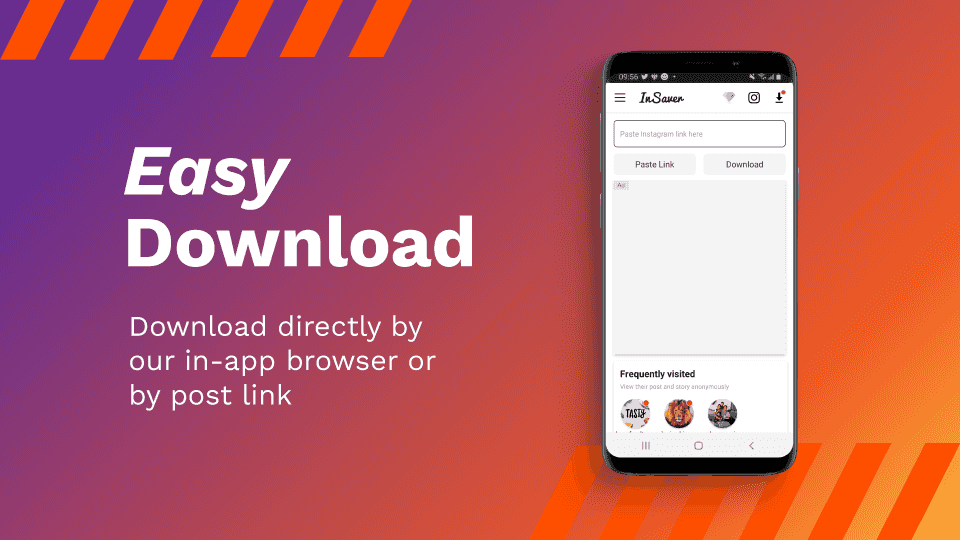 You can use AhaSave Instagram Downloader to download contents with different nature in Instagram, such as photo or videos on Instagram Feeds, Profile Pictures on Bio, full-length videos on IGTV, Boomerang and Reels on Instagram Stories, and even Instagram Stories and Highlights on the profile!
When you download Instagram content with our app, you are not just downloading the main content such as video, audio and images. You are also downloading the URL source, caption and hashtag of the post as well, where all these text contents can be extracted for other usages too.
You can start downloading single content by copying the content's link and open AhaSave Instagram Downloader; the download process will start right away. Alternatively, you can tap on the 'Share' button or 'Share to' option, and choose AhaSave Instagram Downloader to prompt the app to initiate download.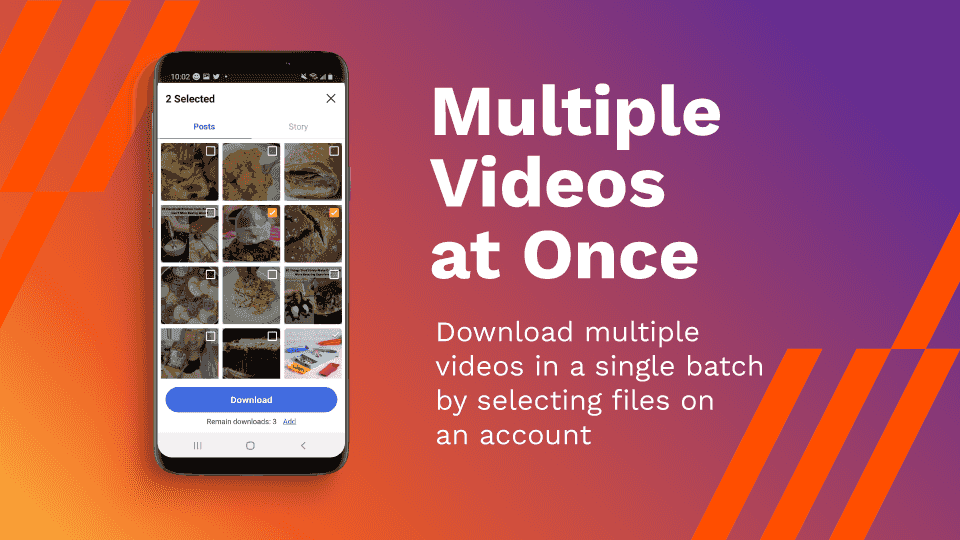 If you like to download multiple content in batch, you can utilize the 'Account' feature in the app. Search for a specific account or relevant hashtag that you would like to download, then you just pick multiple contents to download them at one shot.
Note that to download Instagram videos from private accounts, you'll have to be following them and they have approved of your following. You cannot download any Instagram content from private accounts that have restricted you from viewing the said content.
Managing Your Instagram Downloads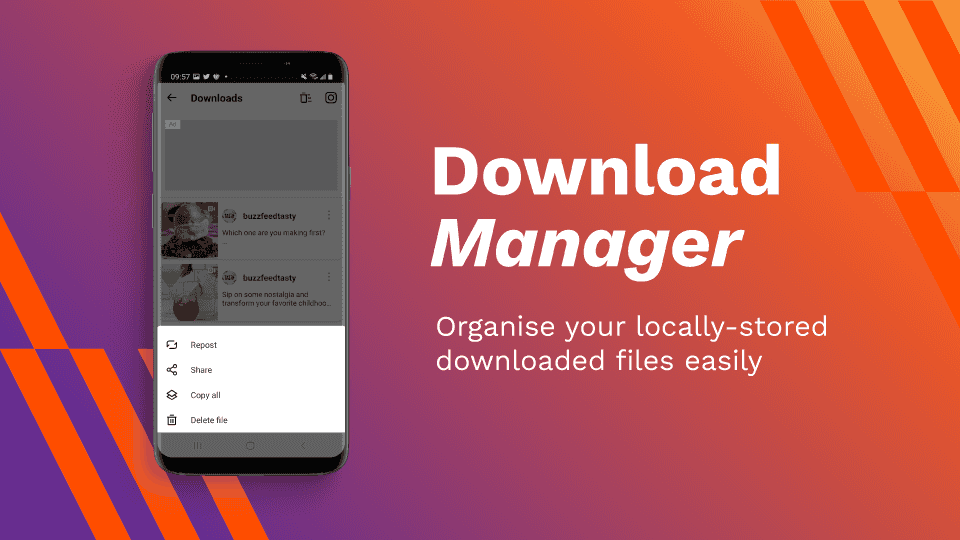 You can find all the downloaded content under the Download Manager of the app, which is displayed as a download icon on the top right corner of the app's homepage. If you prefer to access these downloaded contents on your other devices, just upload them to any Clouds of your choice – Dropbox, Google Drive, OneDrive. Your files can be instantly available on all your devices!
All content are stored locally on your Android device as a default setting; rest assured, they are inaccessible to us or any third-party. We take utmost care in your privacy and security, complying with PDPA, GDPR, CCPA Laws and Google Play Store Regulation.
For your downloaded videos, you can either watch them offline with your built-in-video player (which comes with audio control, screen rotation and lock); or you can choose to view the downloaded content in wherever you want to relocate the source of the downloaded content.
Helpful Tools for Instagram Downloader App
Our AhaSave Instagram Downloader app has several useful tools to enhance the user experience. You can find and toggle with them under 'Settings'.
Notifications When Downloading Instagram Stories
By activating the notification setting in the app, it speeds up the download process for our users. A notification will pop up when a link is copied on Instagram, detected by our technology. By simply tapping on this notification, our app will paste the link directly to AhaSave Instagram Downloader's URL Bar, prompting the video download right away.
Display Collection to Batch Download Instagram
You can find all your saved Instagram posts in the 'Collection' column in our app without having to open Instagram. If you'd prefer to have them displayed on the homepage of AhaSave Instagram Downloader, you can activate the 'Display My Collection' feature under Settings. 
Language Options for Android Downloader App
AhaSave Video Downloader for Instagram is not solely made for just the native English speakers. We hope by including different language options, users who are accustomed to using different languages ​​will be more comfortable using our app. We have included fifteen (15) languages for now – although not all languages are available currently, but we'll have more to come in the near future!
What Can I Do With These Downloads?
There are so many reasons for you to download contents from Instagram; these are the scenarios where our app will come in handy:
Download important moments: Instagram stories posted by other users are only available for 24 hours, unless they labelled and put into highlights. With AhaSave Instagram Downloader, you no longer have to worry that these Instagram stories disappears after 24 hours. You can download them and keep these wonderful memories of you with your friends forever!
Download beautiful images: Instagram is all about visual and artistic creation, full of beautiful photographs and images without watermark. They are very suitable to be used as wallpapers for your phone. Easily download them in standard quality with our app.
Download funny memes: There are a lot of funny reaction video memes on Instagram that you can download. Download them and share with others by reposting it in Instagram or other social media platforms such as Twitter, Facebook etc. Share the joy and bring great smile to your friend and family!
Extract hashtags and captions: If you're marketing personnel or a copywriter, this function are very helpful to pinpoint the key phrases to use as attention grabbers, to promote and grow your organic SEO.
Download tutorial videos: Hobby videos such as baking, dancing, handcrafts, learning music instruments can be easily downloaded from IGTV for playback later. These tutorial videos become point of reference, where you can rewind, fast-forward and more.
Download entertainment videos: Watch your favourite influencer's IGTV offline! You can now easily enjoy these videos anytime anywhere, as these video can be played offline with our built-in video player once you've downloaded them.
Download Free IG Downloader App Now
We are always working towards making our AhaSave products better. We welcome your reviews on the Google Play Store and would appreciate your recommendations to your community. If you have any problems or suggestions for our apps, feel free to contact us here, or check out our detailed Frequently Asked Questions. 
If you're looking for other video downloaders for Android, check out our AhaSave Video Downloader Series, designed for various social platforms for your specific needs:
Check out AhaSave: Tiktok | Pinterest | Twitter | Google Play | YouTube | Website | LinkedIn | Reddit
Need more tips? Find 'em all here!