Whether it's a reaction video meme, or an informative video that you'd like to revisit in the future, it is undoubtedly simpler if you could just download these videos and save them in a folder as your point of reference or inspiration. If this is a productivity tool you're looking for, try out AhaSave All Video Downloader!
AhaSave All Video Downloader is a small size and lite app developed specifically to help Android user to download video from internet web pages and social media platforms. With its user-friendly interface and operations, you can browse, download, and share high-quality videos privately and safely in just few simple steps. AhaSave All Video Downloader is the best online video downloader for every type of content.
Why Choose AhaSave All Video Downloader?
Totally FREE – There's no commitment and no registration required. Simply copy, paste your link and start your download to save your videos from all corners of the internet!
Fast Download – Download is completed in seconds as download speed is boosted and accelerated with multi-thread download technology. This makes our download 3x faster than other video downloaders.
High Definition (HD) videos – Can be used to download in high quality 4K videos, depending on the source video's definition and maximum quality.
Support All Formats of videos available on the internet, such as mp3, mp4, m4a, m4v, avi, mov, wmv and more!
All-in-one – Download all your favorite videos from different web pages and social media such as Facebook, Twitter, Instagram, Vimeo, Dailymotion and more with just one app!
Quickly Download Videos on Android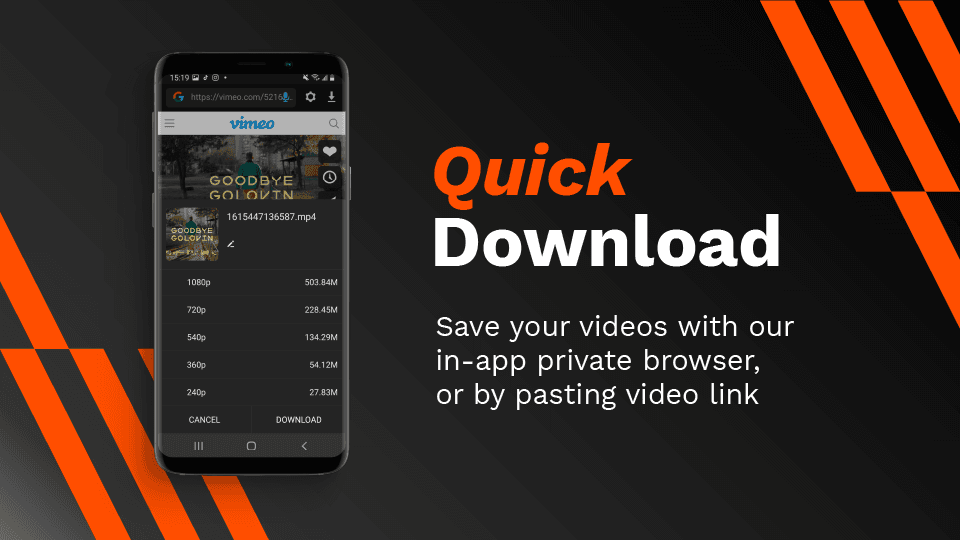 You can download videos in two different ways using AhaSave All Video Downloader.
The first method is to download directly from AhaSave Browser. Browse video sites with the built-in private browser in the app, log in to your social media account and just browse as usual. Our in-app's browser is capable of automatically detecting links and videos while you are browsing. To initiate the download, just click on the download icon when the screen button is activated (turning from gray to orange).
The second method is to download using video link. To do so, simply get the URL of the specific video you want to save, copy, and paste it to the search bar of the app's browser to start downloading.
Android Video Downloader App with Full Privacy Protection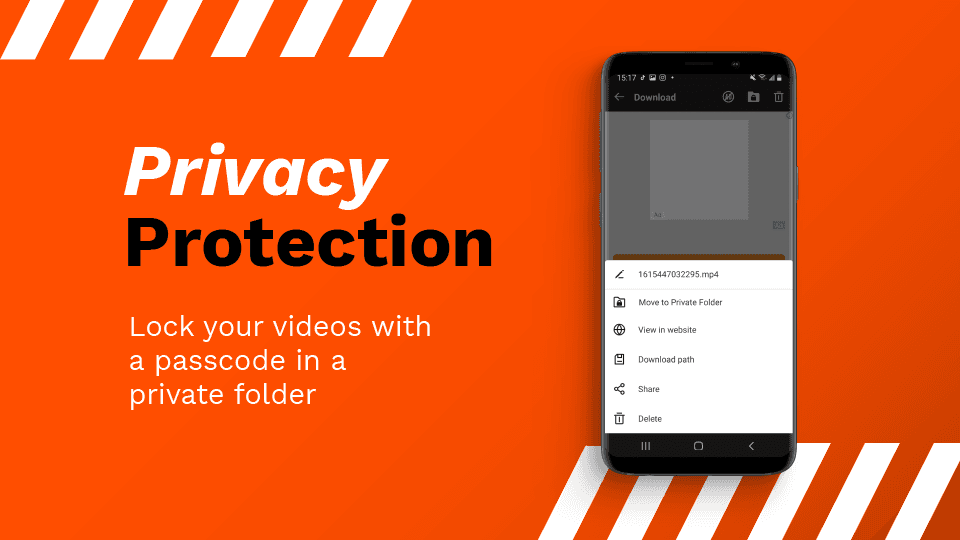 Your privacy and safety is guaranteed to the greatest extent with AhaSave. We take utmost care in your privacy and security, complying with PDPA, GDPR, CCPA Laws and Google Play Store Regulation. Rest assured, our private browser is set as "incognito mode" as default. It keeps all your sensitive browsing private, while functioning similarly to a usual browser – you can add bookmark to your favourite URLs, as well as managing your bookmarks and browsing history.
All videos are stored locally in the download manager of the app as default setting- they are inaccessible to us or any third-party. If you want these videos to be available your local device too, you can turn on the "sync to album" function in the setting bar.
If you are extremely concerned about your video's privacy, you can simply double up the protection by creating password to lock your videos by moving them into private folder. This will limit the accessibility of these important videos with sensitive information – only those who own the password can unlock the content in the private folder. You can now enjoy these videos anytime anywhere, as these video can be played offline with our built-in video player.
Helpful Settings on Free Android Video Downloader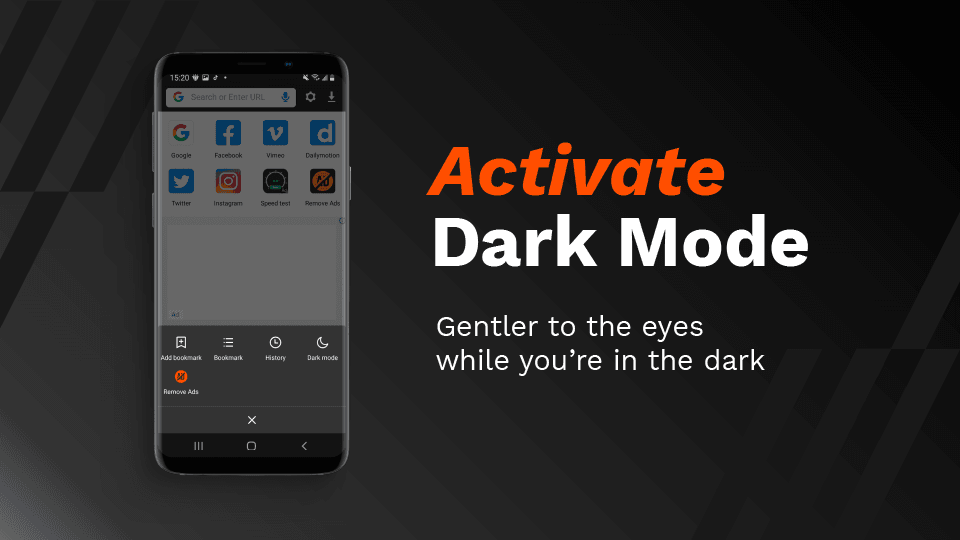 Dark mode setting in the app provides you more privacy when you are watching these videos, as well as making it easier on the eyes and on your battery life. When the dark mode setting is activated in the app, it saves energy consumption on your device, while cutting the screen glare at night when your general surroundings are dark, making it beneficial and comfortable to view your downloaded videos in the comfort of your bed!
Usually, your device can download videos any time when you're connected to the Internet resulting in tons of mobile data usage if you're not careful. If you're concern with the limit of your mobile data usage, you can choose to download with Wi-Fi only by activating this function in the app setting, reducing your data usage from watching and downloading videos.
When do I need AhaSave All Video Downloader?
There are lots of reasons you would need to download and save videos from the internet, these are the scenarios where our app comes into great help:
Download Movies – You can watch your favourite movies from the internet offline, especially when internet connection are poor, not available or not allowed. These downloaded movies can keep you entertained while you're travelling on planes, trains, and trips to places without reliable mobile internet access.
Download TV Series – Drama and TV series consists of many episodes, that it can easily consume a lot of mobile data if you were to stream them online. This will become a problem if you have a mobile plan with a limited data allowance. You can use AhaSave All Video Downloader to download them to your phone using your home Wi-Fi, and watch them while you're on the move, without the risk of exceeding your data allocation for the month.
Download Sensitive Content – Our private browser gives you more privacy when you need to access or download important content with sensitive information, such as work or confidential videos. You can also store them on your phone with a passcode lock, to restrict access from others.
Download Tutorial Videos – If you're a student and have poor or no internet access in your hostel, you can download tutorial videos with library or school Wi-Fi and playback later when you're back to your room. For educators, you can easily download videos from the internet and play them for the class, without the fear of interrupted internet connectivity in the classroom.
Download Free Android Downloader App Now
We are always working towards making our AhaSave products better. We welcome your reviews on the Google Play Store and would appreciate your recommendations to your community. If you have any problems or suggestions for our apps, feel free to contact us here, or check out our detailed Frequently Asked Questions.
If you're looking for other video downloaders for Android, check out our AhaSave Video Downloader Series, designed for various social platforms for your specific needs:
Check out AhaSave: Tiktok |
Pinterest | Twitter | Google Play | YouTube | Website | LinkedIn | Reddit
Need more tips? Find 'em all here!