Downloading images and copying text tweets from Twitter has never been a problem, as such options are readily available in Twitter itself; but how about GIFs or video? Have you ever stumbled onto a funny GIFs or an interesting video that you'd really like to keep, but have gotten so disappointed just because Twitter does not provide you with a feature or option to download? If you're looking to download videos off Twitter easily, try out AhaSave Twitter Downloader.
AhaSave Twitter Downloader is a small size and lite app developed specifically to help Android user to download tweets from Twitter. It is totally free, user friendly, and no registration is required. With its user-friendly interface and operations, you can easily download, save and share high-quality videos with few simple steps.
Why Use AhaSave Twitter Downloader?
Quick and Convenient
QUICK – Using multi-thread download technology, AhaSave Twitter Downloader is able to boost your download speed to accelerate your download up to 3x faster than other apps/websites, allowing you to save videos from tweets in just mere seconds. You'll have to try it to believe it!
CONVENIENT – Besides downloading videos, you can also download other contents in Twitter such as images, gifs and text tweets. When you download Twitter content with our app, you are not just downloading the main content such as video, audio and images. You are also downloading the URL source, caption and hashtag of the post as well, where all these text contents can be extracted for other usages too!
Easy Download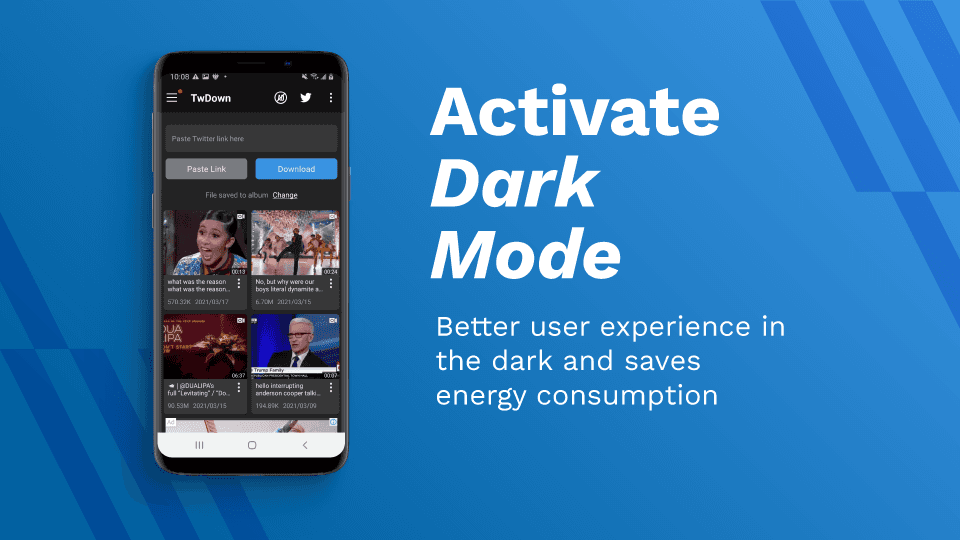 You can download content on Twitter in two different ways with AhaSave Twitter Downloader.
The first method to download content from Twitter is to share tweet directly from Twitter. Start by logging into your Twitter account and browse as usual. When you come across an interesting video or image that you would like to keep, simply click the "Share Tweet Via" button and choose AhaSave Twitter Downloader. This will prompt the app to initiate download. You will be automatically redirected to our app, with the link already copied onto the browser bar for download.
Another method to download content from Twitter is to download using Tweet link. To do so, simply get the URL of the specific Tweet you want to save, then copy and paste it onto the search bar in AhaSave Twitter Downloader in-app browser to start the downloading process.
Download Twitter Videos in High Quality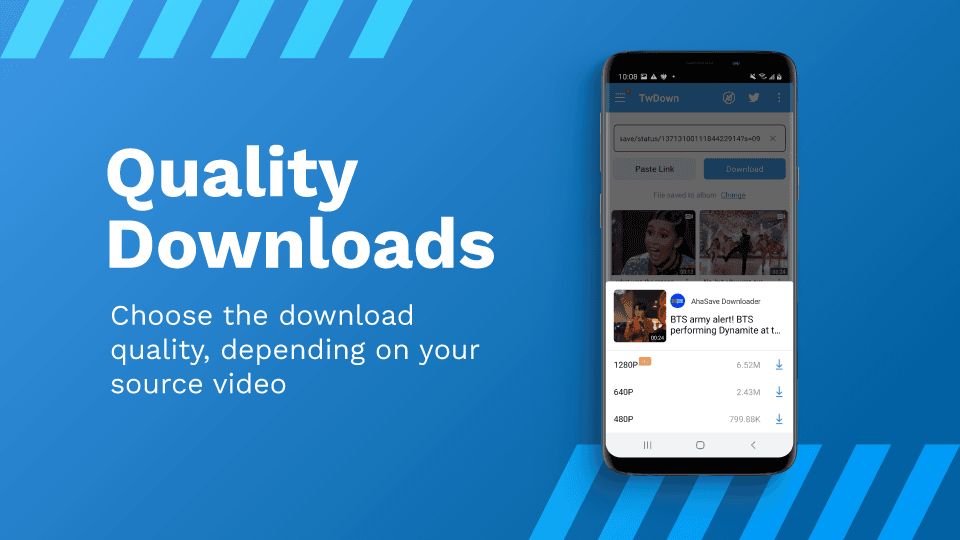 For video tweets, you get to choose the download quality depending on the quality of source video. With either the first or second method, choices of different resolutions will be given in a pop-up window before the download starts – the resolution and it respective files sizes are shown. You can pick for high definition (HD) video for better viewing quality, though it will take up more space of your device's memory. If you prefer to save or optimise your device's storage space, you can always choose to download the video with a smaller file size in standard definition (SD) quality.
Manage your Twitter Downloads
We take utmost care in your privacy and security, complying with PDPA, GDPR, CCPA Laws and Google Play Store Regulation. All videos downloaded are stored locally on your Android device as Default Setting, and they are inaccessible to us or any third-party.
You can find all your downloaded Twitter videos in the Download Manager of the app, which displayed as a download icon on the top right corner of the app's homepage. If you are concerned about your downloaded videos' privacy, you can easily double up the protection by creating passcode to lock your videos by moving them into private folder. This will limit the accessibility of these important videos that may contain sensitive information, ensuring that only those who have the passcode can unlock the content in the private folder. 
Enjoy all your downloaded videos offline with our in-app built-in-video player. Our built-in video player comes with functional buttons including audio control, screen rotation, lock, speed control (from 0.5x to 3.0x), fast forward & rewind for better viewing experience. If you want to relocate the source of the downloaded content, you can choose to view the downloaded content directly in Twitter by tapping on the Twitter icon in the video player. Alternatively, you can tap on 'Open in Twitter' to open the content in Twitter directly from the download manager folder, without having to go through our built-in video player.
Helpful Settings for Android Twitter Downloader App
Dark Mode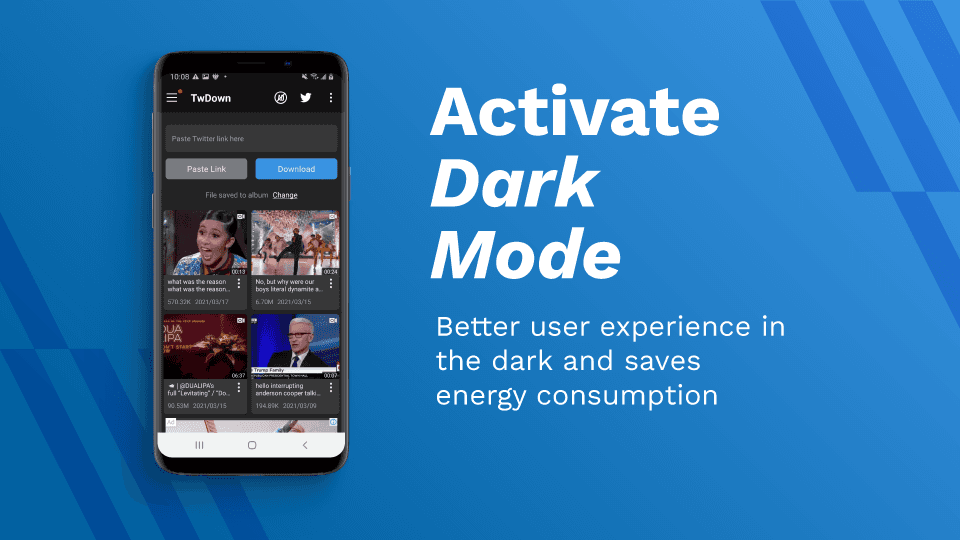 Dark mode setting in the app provides you more privacy when you are watching these videos, as well as making it easier on the eyes and on your battery life. When the dark mode setting is activated in the app, it saves energy consumption on your device, while cutting the screen glare at night when your general surroundings are dark. This makes it beneficial and comfortable to view your downloaded videos right at the comfort of your bed!
Internet Download Speed Test
By activating this function setting, SpeedTest Master will be displayed on the homepage of AhaSave Twitter Downloader app, right below the URL bar. You can use it to test your internet speed and check network performance before you start downloading. With just one tap, it will test your internet connection through thousands of servers worldwide and show accurate results within 30 seconds. It can also be used as Wi-Fi analyser to help you test the stability of Wi-Fi connection, so that your download speed on AhaSave Twitter Downloader app can be optimised.
When Can I Use AhaSave Video Downloader for Twitter?
There are so many reasons and occasions for you to explore AhaSave Twitter Downloader! Here are some scenarios at the top of our minds where our app comes in handy:
Download funny memes: There are a lot of picture, GIFs and videos memes that originated from Twitter. You can easily download them and share with others by reposting them on Twitter or other social media platforms such as WhatsApp, Instagram, Facebook etc. Share the joy and bring great smile to your friend and family!
Extract hashtags and captions: If you're marketing personnel or a copywriter, this function are very helpful to pinpoint the key phrases to use as attention grabbers, to promote and grow your organic SEO.
Download Free Twitter Downloader App Now!
We are always working towards making our AhaSave products better. We welcome your reviews on the Google Play Store and would appreciate your recommendations to your community. If you have any problems or suggestions for our apps, feel free to contact us here, or check out our detailed Frequently Asked Questions.
If you're looking for other video downloaders for Android, check out our AhaSave Video Downloader Series, designed for various social platforms for your specific needs:
Check out AhaSave: Tiktok | Pinterest | Twitter | Google Play | YouTube | Website | LinkedIn | Reddit
Need more tips? Find 'em all here!