Looking for the best TikTok trends? TikTok is one of the newest major social media platforms to emerge. It has quickly gained a large following among individuals of all ages. TikTok is a video-sharing app that allows users to create, share, and download TikTok videos on any topic without creating an account. TikTok's popularity has exploded in recent years. TikTok's trend base is still expected to grow in the coming year. 
If you want to download the best TikTok trends video, you can easily download it with a free TikTok video downloader. It is a fantastic app through which you can easily download any TikTok video in just seconds. 
How to Download Best TikTok Trends Without Watermark on Android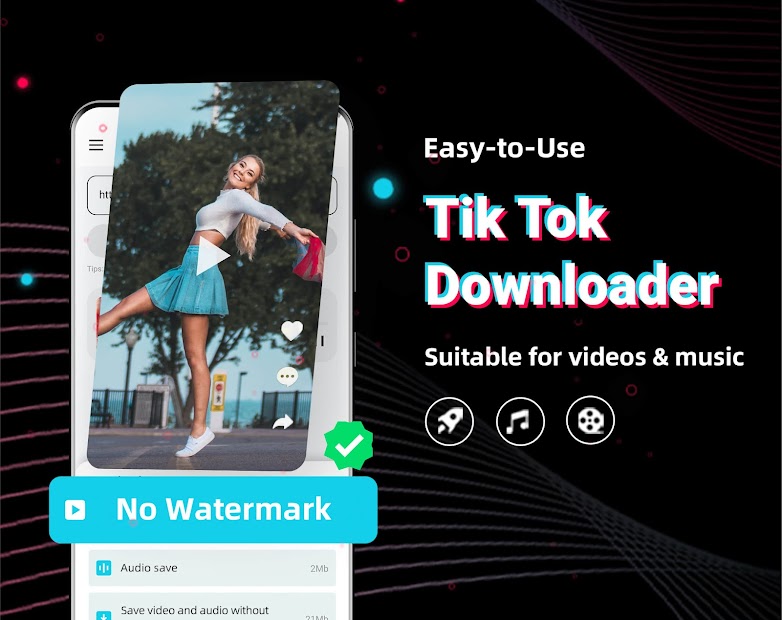 To download TikTok trends with ETM free TikTok video downloader:
Copy the link to the best TikTok trends you want to download 
Open ETM and paste the link on the search bar.
ETM Free TikTok downloader will auto-detect the video and will download it to your phone.
19 Best TikTok Trends in 2022
We have listed the 19 best TikTok trends in 2022 through which you get aspirations and get famous.
1- Laptop Presentation Trend on TikTok
This TikTok trend is about giving the audience a sneak glimpse at what you'll be showing and then showing the entire montage once the music starts.
2- Euphoria Season Finale
This is currently one of the most popular TikTok trends. For the second month in a row, the most-watched show of the year has spawned the most TikTok trends.
3- Dancing Shrek
Even though you flee or fear him, Shrek, the dancer, continues to appear. Shrek the gigantic is causing havoc in people's lives with his fantastic dance routines.
4- Tiny Bee
No one will be able to stop you if you use the "Tiny Bee" effect, couple it with the audio below, and include the on-screen text of something you're planning to do. The more amusing, the better.
5- Wow, Crazy
Use it to make a bold statement, reflect on something you've done in the past, or offer an odd observation.
6- Material Girl
The infatuation with "material females" on TikTok persists. It might be a Madonna song with the same name, but the message is the same. TikTok adores achievers and strong women!
7- Harry Styles As It Was
This trend is the track to demonstrate how much you've changed over time. If you're a company, why not show off how your logo or social media feeds have improved since 2019?
8- Uncut Jam
Ignore any marketing tactics; this trend demonstrates that the individual creators established all relevancy in the TikTok era.
9- The Eye Trend
There are no ugly eyes here, only bad cameras. Do you doubt it? Just take a look at this pattern.
10- Side Profile
Do you think you're attractive? Do you want to flex your ideal angles? Then go to this sound, go through the TikToks. When you keep seeing beautiful people in front of you, TikTok trends can get a little depressing.
11- Is This Play About Us?
Another Euphoria TV series sound to add to the mix. In the search for creativity on TikTok, producers frequently overlook context, and this sound was no exception.
12- Pinnochio's Voice
It wasn't long after the new Pinnochio movie trailer was out before developers noticed a minor detail. This attention-getting new voice option for Pinnochio was well praised on social media.
13- Major Bag Alert
Suppose you can take advantage of the opportunity and grab the bag. However, it will essentially be at the expense of your or others' dignity.
14- This Is Perfect
First, you'll describe a perfect circumstance or scenario. The second method asks you to point out a situation's irony. "When the outfit I wanted to wear to my birthday celebration comes the next day,"
15- Every Morning
Use this sound, shoot a little "before" part, and then dance it out using the "Rotoscope" effect when the beat drops.
16- Caught A Vibe
This TikTok trend shares videos from a recent vacation, a previous trip, or your favorite local sites. It's a feeling.
17- Younger Self
Film yourself doing anything and overlay text: what would your younger self think about your current situation?
18- I Think It's Gonna Be a Long, Long Time TikTok trend
What is an example of something that can take a long time? It's as simple as writing it on the screen and looking at the camera.
If you are looking for another video downloader for Android, check out our AhaSave video downloader series, which is designed for various social networking platform for your specific needs:
Check out AhaSave: Tiktok | Pinterest | Twitter | Google Play | YouTube | Website | LinkedIn | Reddit
Need more tips? Find 'em all here!
Become our AhaSave Ambassador today!