Looking for Thai Food Recipes? With being stuck at home during the Covid-19 pandemic lockdown, we often look to get creative. One way is actually to try new Thai food recipes. Thai food originally came with the people who moved from the southern Chinese provinces into modern-day Thailand a long time ago. Since then, Thai foods have evolved into something more significant, and they are one of the tastiest and spicy foods you'll ever come across.
If you love the authentic flavors of Thai food, then you need to get a good Thai food recipe book or website to help you whip some of these meals at home. Building your recipe knowledge on original Thai food flavors will help you avoid preparing monotonous meals for the family. A dull and cold day can be made bright by the Thai food's spicy, bitter, and sweet taste. The meals are also colorful and appealing to the eye. All these mixed flavors combined to make up the best meals you could ever have.
Social media platforms are home to food recipes. After logging onto your Facebook page, you can go through some new food recipes after catching up with the latest trends. Below are some simple Thai food recipes you can try out at home.
6 Best Thai Food Recipes on Facebook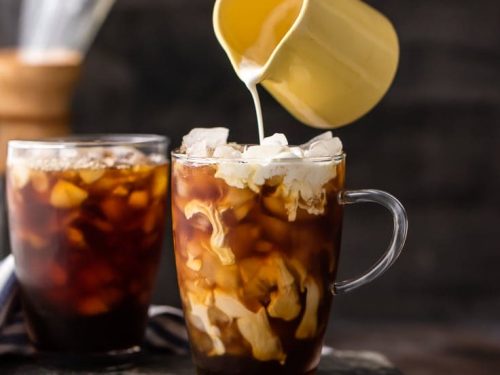 Ingredients
2 cups of strongly brewed coffee
4 to 6 tablespoons of sweetened and condensed milk
¼ cup of heavy cream
Put the ingredients together. Pour the strongly brewed coffee in a jug or container and add in the sweetened condensed milk. Stir them until adequately mixed. Store in the fridge for close to one hour. To serve, add some ice cubes to a glass, put in your mixture, then top it with the heavy cream.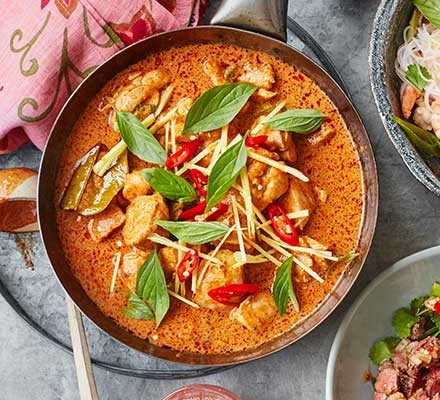 Red curry paste is a spicy paste that can add flavor to any meal, from noodles to vegetable curries. Do remember that you can constantly adjust these ingredients to your preference.
Ingredients
¼ cup of chopped purple onions
3 tablespoons of minced lemongrass
1 teaspoon of cayenne or two red chilies
3 tablespoons of ketchup
4cloves of garlic and 1 ounce of ginger
2 tablespoons of fish sauce, soy sauce, and salt to taste
2tablespoons squeezed lemon juice
3tablespoons of (coconut milk depending on your preferred thickness)
1 teaspoon of sugar and ground cumin
¼ teaspoon of ground cinnamon and white pepper
Gather all the ingredients and add them to a food processor. Blend them until they are properly mixed. Depending on the thickness you want, you can add more coconut milk. You can use the paste immediately or store it in a fridge for up to one week.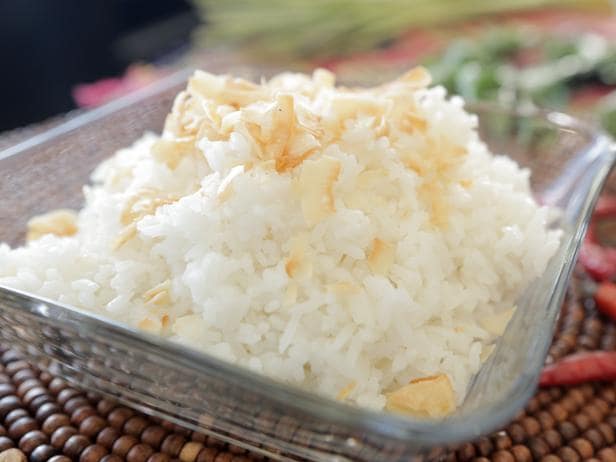 If you are looking for starch to accompany your nice Thai curry, vegetables, fish, or seafood, this coconut rice is the way to go. It will be ready in less than 20 minutes. A classic Thai food recipe staple to accompany your side dishes!
Ingredients
1 cup of Thai Jasmine scented white rice
2 cups of water
2 cups of coconut milk
1/ teaspoon of salt
2 to 3 tablespoons of shredded coconut
Add all your ingredients to a rice cooker and stir with a wooden spoon to avoid scraping on the non-stick surface of the cooker. When the rice is almost ready, the cooker will turn to warm mode. Wait for roughly 8 minutes to ensure you do not eat the crunchy rice. Serve your rice alongside your preferred meal.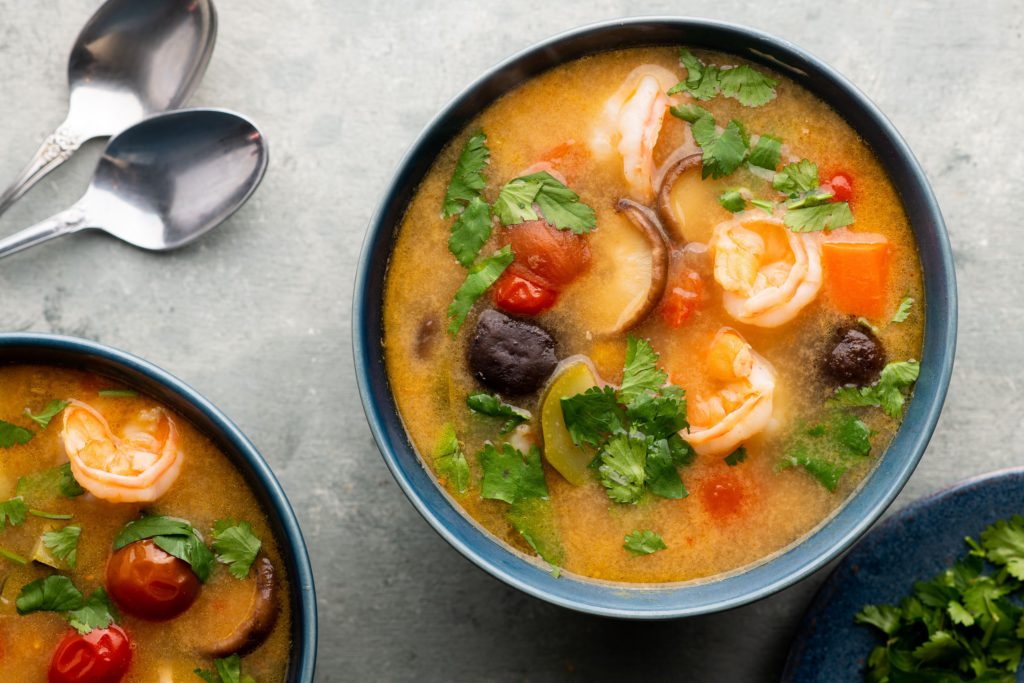 Tom Yum soup is nothing short of therapeutic, and as such, you cannot afford to miss out on this classic Thai food recipe.
Ingredients
2 stalks of lemongrass
4 slices of galangal
3-4 purple onions
4-5 chilies ( depending on how hot you want it to be)
1 tomato
2 to 3 limes
A handful of mushrooms
Prawns
3 cups of water
1 teaspoon of salt
2 tablespoons of Tom Yum paste
1 tablespoon of fish sauce for seasoning
1 tablespoon of evaporated milk
2-3 lime fruits
A bunch of coriander leaves
Add all the ingredients to a cooking pan with boiling water except the handful of mushrooms, prawns, evaporated milk, and lime juice. After 15 minutes of boiling, you can then add the mushrooms and prawns. Then squeeze in the lime juice and add evaporated milk. Season the mixture with fish sauce and garnish with coriander leaves.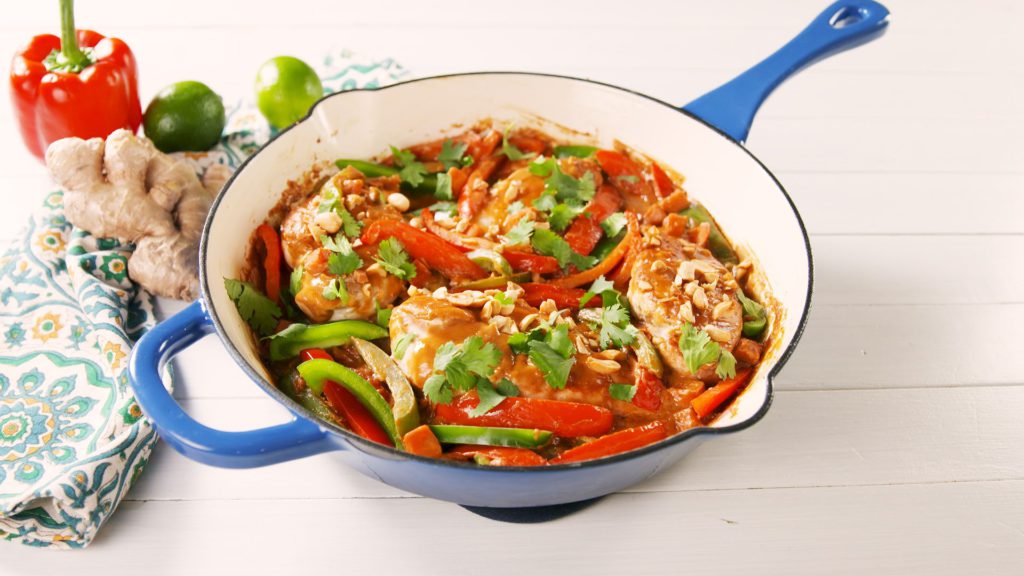 This one-pot creamy chicken curry is a perfect meal since it is quick and easy to make and can be served alongside rice or noodles.
Ingredients
2 tablespoons of ghee or coconut oil
4 large chicken thighs
1/3 cup of chopped onions two cloves of minced garlic
q large green pepper
1 cup chicken stock
1 cup coconut milk
2 tablespoons of lime juice
1 heaped tablespoon of Thai curry paste
Salt and paper
First shallow fry the chicken using the ghee or coconut oil until it turns slightly brown for 8 minutes. After which, please remove them and now fry your chopped onions and minced garlic using the ghee oil still. Add the sizeable green paper as it fries. Then add in the chicken stock, Thai curry paste, and coconut milk. Squeeze in your lime juice, then add salt and paper. Allow the mixture to boil for around 3 minutes, add in your chicken, and cook for 10 minutes. That's it, your skillet chicken is ready to be served!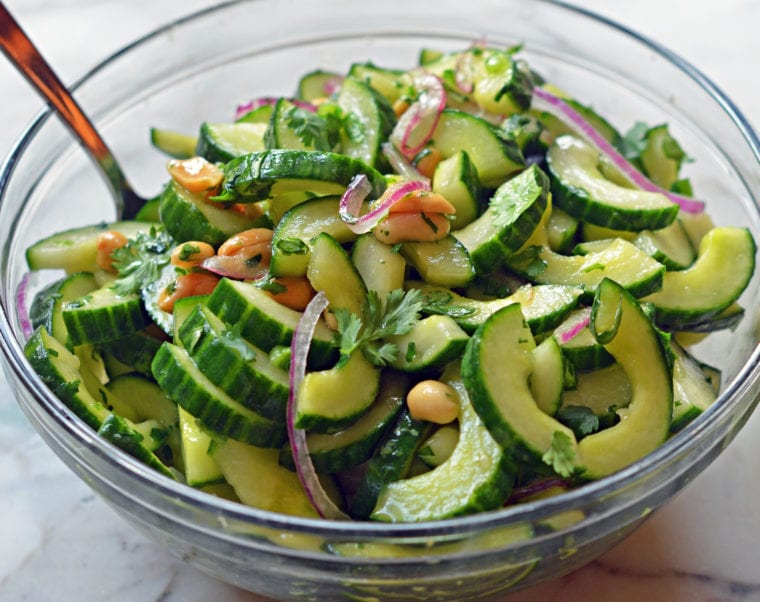 Ingredients
1 washed and sliced cucumber
1/4 cup of chopped purple onions
2 sliced green onions
1 ½ tablespoon of honey
2 tablespoons of lime juice
2 cloves of minced garlic
½ teaspoon of cayenne
1 tablespoon of sesame oil and soy sauce
¼ cup of roughly chopped roasted peanut for garnish
Whisk together the honey, lime juice, sesame oil, garlic, cayenne, and soy sauce. Stir until the ingredients are mixed properly. Slice the cucumber into rectangular chunks and add in a bowl, then pour in your stirred mixture. Season with fish sauce and sprinkle the roasted peanut as garnish.
Download Thai Food Recipes Facebook Videos For Free
Find these Thai Food recipes on Facebook useful? Here's how you can download them to playback later!
Ahasave Facebook Downloader can help you to download the best Thai food recipes you come across on Facebook. It is a FREE Android application to download any video on Facebook, including all the fantastic recipe videos you like.
With Ahasave, you can download these Thai food recipe tutorials and play them later when you want to prep the meal. Of course, it is not limited to recipes videos; you can have so much more to download from Facebook, isn't it? Let's get your Ahasave from Google Play Store today!
How to download Thai Food Recipes with Ahasave Facebook Downloader?
It's pretty simple to start the download process once you installed this downloader. This is so because the instructions are clearly outlined and are easy to follow. All you need is the link for the recipe you want to download; paste it to Ahasave, and your video will be downloaded in seconds!
Protecting Property Rights
Property Rights are an essential part when it comes to downloading and sharing videos online. Protecting property rights means that you should always download these videos only for your own personal use and not exploit them in any way. We must remember to uphold intellectual property rights.
Download Facebook Videos on Android For Free Now!
If you are looking for other video downloaders for Android, check out our AhaSave video Downloader Series, which is designed for various social networking platform for your specific needs:
Check out AhaSave: Tiktok |
Pinterest | Twitter | Google Play | YouTube | Website | LinkedIn | Reddit
Need more tips? Find 'em all here!
Become our AhaSave Ambassador today!