Want to download MP# from Instagram Reels? Recently in most viral Instagram Reels, the music played a significant role. It adds value and gets viewers' attention span for a long time, which results in watching the same Instagram reels videos repeatedly to listen to fascinating music. People are primarily looking for ways to download Mp3 from Instagram Reels and enjoy their favorite music anytime.
Content creation requires great efforts., So today, most social media influencers opt to download MP3 from Instagram reels and use it for their content creation, Instagram reels, and video stories. It assists in attracting more audiences and gets enormous viewership.
Why Download MP3 from Instagram Reels?
Normally Instagram users download MP3 from Instagram reels to:
Develop their favorite music collection offline
Add music in voiceovers to make it more effective
Enjoy your favorite songs anywhere offline
Share it with your social circle or add it as a mobile phone ringtone.
Use as background music in TikTok videos.
Add viral music to your own Instagram reel or videos
Instagram is the most active social media platform cover over 1.16 billion active users monthly. The quality and creative content, especially videos found on Instagram reels, attracts music and content lovers from everywhere. With Ahasave Instagram downloader, you can easily extract music from IG reels with only a few taps.
Why is AhaSave the Best Solution to Download MP3 from Instagram Reels?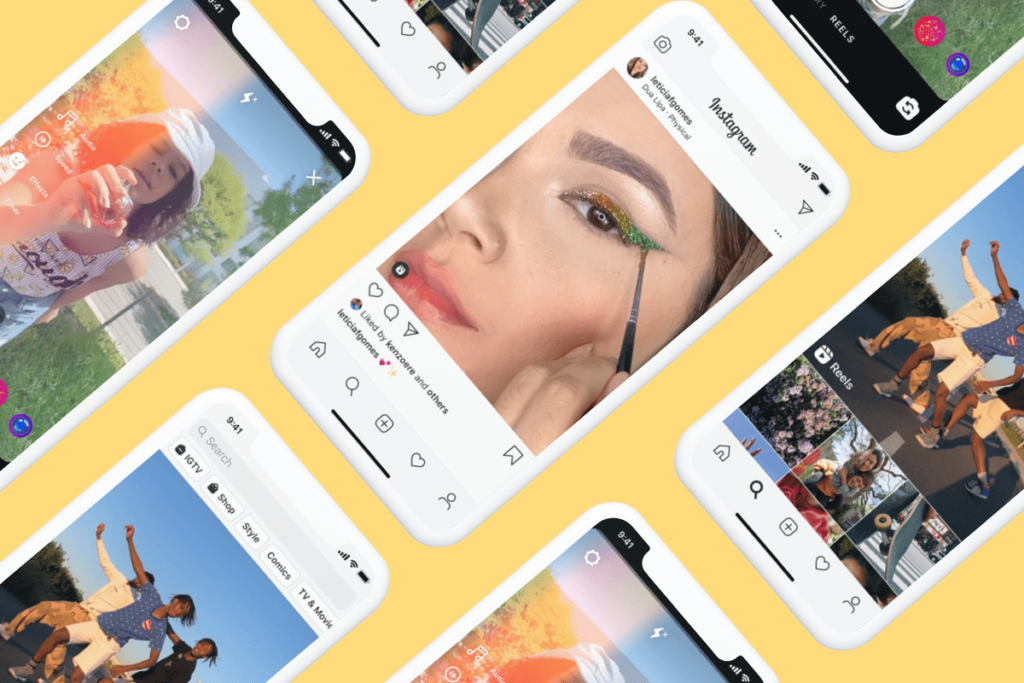 Downloading MP3 from Instagram reels can be tricky and time taking. While Ahasave's new feature to extract music from Instagram reel videos has made it quite simple and easier for everyone.
Ahasave notable features that make it the favorite and best solution to download MP3 from Instagram reels and IG video include:
Simple and easy to use
Free to install, no hidden charges
Multipurpose usage: With AhaSave, you can download videos, photos, and Instagram stories
Download MP3 from Instagram Reels
Download content from both public and private accounts
The app is a safe and small size app
Fast downloading to save offline as well as watch videos and enjoy music anywhere.
How to download MP3 Audio from Instagram Reels using AhaSave?
To extract Mp3 from Instagram Reels using AhaSave free Instagram audio extractor, follow this guide to extract music in Ahasave Instagram Downloader. The steps are quick, simple, and straightforward. With just simple clicks, you can now download IG reels' music.
Step by Step Guide to Extract Music in Ahasave Instagram Downloader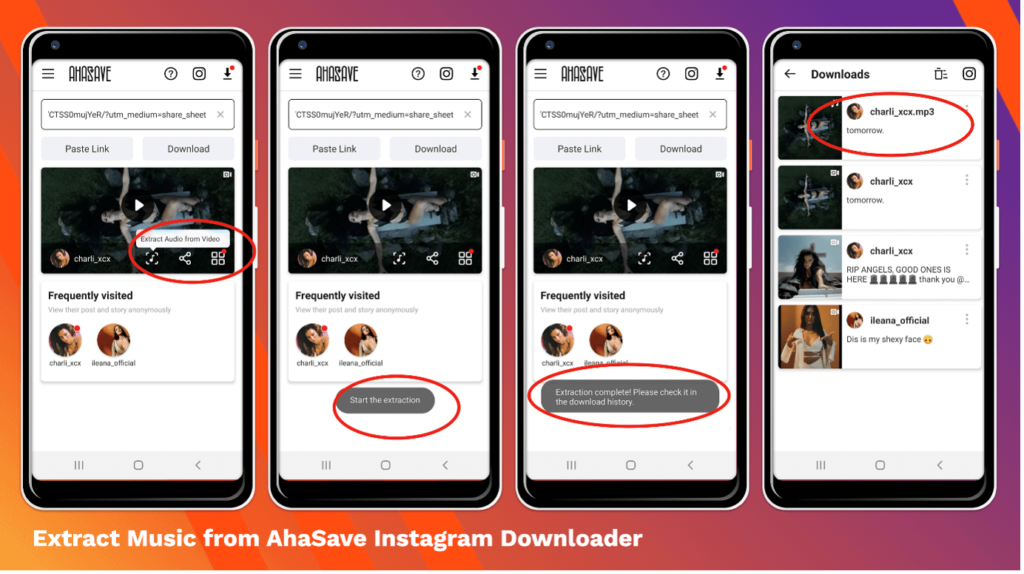 To download Instagram music from Reels using AhaSave, first of all, install AhaSave downloader for Instagram from Google Play Store.
Open Instagram and browse to find videos with your favorite music.
After selecting videos, copy the video link. To copy the IG video link, click on the three dots present in the upper right corner and select copy video link.
Open AhaSave, the link will be pasted automatically, as showing in Mobile Screen 1.
Select extract audio from video and then tap Start the extraction on the lower right corner as shown in Screen 2.
It's done! The MP3 audio has been downloaded automatically. To open the music gallery and play music, click on the download icon present with a red dot on the upper right corner of screen 3.
From download history, play your favorite extracted music, and enjoy it. Don't forget to share your favorite music with your family, friends, and social circle.
With the MP3 extraction and downloading option in AhaSave, saving music offline from IG reels has become more accessible and time-saving.
Remember to Respect Intellectual Property Rights
An essential and often neglected aspect of video downloaders is to respect Intellectual Property Rights. Remember the ownership, intellectual property, and all other rights of the MP3 downloaded from Instagram, videos, images, Reels, and highlights belong to their rightful owners or publishers. Always respect the legal rights and interests of content publishers and owners.
Download Free Android Downloader App Now
Most viral videos are watched again and again just for their MP3 musical essence. With IG videos, incredibly catchy Instagram reels are most famous, with it extracting music from reels have also gained popularity.
Users download Mp3 from Instagram Reels primarily for personal collection, sharing, and content creation. Now with Ahasave Instagram video downloader, you can easily extract and download music with clicks. To download, browse your favorite IG reels, copy the video link, and open Ahasave. On the left downside of the video "extract audio" sign appears. Click on it to extract and download the music ASAP.
Download AhaSave Instagram downloader and start downloading your favorite music from IG reels with just a few taps right now.
If you are looking for another video downloader for Android, check out our AhaSave video downloader series, which is designed for various social networking platform for your specific needs:
Check out AhaSave: Tiktok | Pinterest | Twitter | Google Play | YouTube | Website | LinkedIn | Reddit
Need more tips? Find 'em all here!
Become our AhaSave Ambassador today!