Most of us scroll Instagram feed and watch pictures and reels on it and get inspired and entertained. In any case, what makes this experience a problem is a point at which you can't download Instagram audio or music straightforwardly. It is a real frustration because of many reasons.
On some applications, it is not that difficult to download music or audio. Instagram has a strict rule and does not allow its users to download music from Instagram. But don't worry! Because we found a way to bypass this rule, we will usea third-party app for this purpose.
Why Download Music from Instagram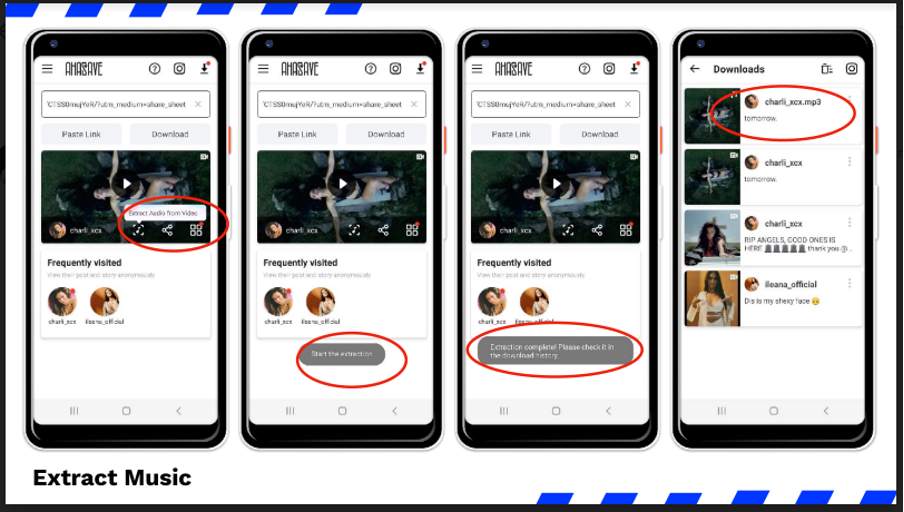 Almost everyone who makes reels and videos on Instagram uses some sort of audio or music in it. But everyone indeed has different purposes for downloading Instagram music. We have compiled some good reasons why people download audio from Instagram and how they can be useful:
To use that music or audio in your Instagram reel or video.
To use that audio in your ordinary or dance TikTok video because dance videos are incomplete without music.
To use that particular audio or music as background music.
To listen to your favorite music offline.
To listen to any music at any time and any place without any internet connection.
To share this music with your friends and family
Why AhaSave is the Best Solution to Download Music from Instagram videos?
Now that you know the benefits of downloading music from Instagram, you definitely want to know how you can go about doing it. We recommend you to use the AhaSave downloader for Instagram, a free Instagram downloader app for Android for this purpose, based on the following reasons:
Multipurpose: More than just a downloader. It comes with a built-in video player and allows you to view Instagram anonymously.
Download various content: Not only can you download audio, but you can also download any videos and photos, captions, and hashtags from Instagram.
Watch offline: Enjoy videos and listen to your favorite music or audio at any time and anywhere.
Safe to Use: This downloader for Instagram is completely safe to use as your privacy is protected.
Free to install: You can install the AhaSave downloader for FREE on Google Play or APK file.
Batch Download: You can download multiple photos videos from Instagram at the same time.
Easy to use: provides you with two ways to download Instagram audio on your Android device.
How to Download Music from Instagram using AhaSave?
Download Music From Instagram by Link
Open Instagram and copy the URL of your desired Image, Video, Reels Video, IG Story, or any Highlight.
Open AhaSave Instagram Downloader and paste the link from Instagram.
Your download will start automatically.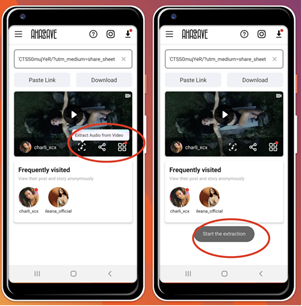 Click and open your downloaded video.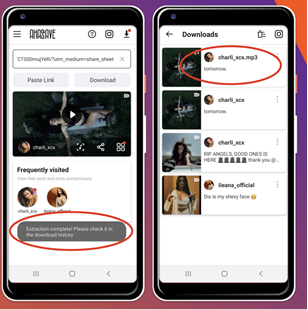 Then on the top, you will see the option of extracting audio from video (In the form of an icon of music in a square).
Download Music From Instagram by App Sharing
Open Instagram and then the video, reel, or story you want to download
Click 'Share' and select AhaSave Instagram Downloader.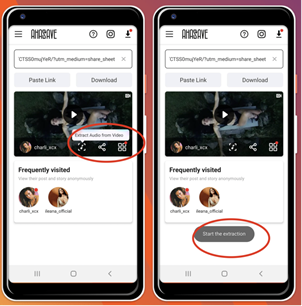 Instagram videos will be downloaded spontaneously on your local storage, and you can enjoy the videos anytime in the app.
Click and open your downloaded video.
Then on the top, you will see the option of extracting audio from video (In the form of an icon of music in a square).
Note: It is crucial to always keep intellectual property rights in mind. Download videos only for personal use and should not be exploited in any other way.
Download Music From Instagram With AhaSave
If you are a long-term fan of AhaSave Instagram downloader, you will know that AhaSave was primarily made to download Instagram images or videos along with the audio. But now, you can extract audio from downloaded videos. Explore this new feature, and we hope you like it as much as we do!
If you are looking for another video downloader for Android, check out our AhaSave video downloader series, which is designed for various social networking platform for your specific needs:
Check out AhaSave: Tiktok | Pinterest | Twitter | Google Play | YouTube | Website | LinkedIn | Reddit
Need more tips? Find 'em all here!
Become our AhaSave Ambassador today!