From funny memes to private videos, sometimes we come across exciting videos on social media that piqued our attention. However, not all websites offer direct downloading of videos. Platforms such as Facebook, Twitter and Instagram make it virtually impossible to download videos on the platform offline. On these platforms, you either have to take screenshots for photos, or make a screen recording for videos. Is there an easier way to download multimedia content from the internet? So, how can we download videos from these websites?
AhaSave Video Downloader is a free video downloader app series for Android. This video downloader series is compatible with over 100+ online websites for video downloads and works for most prominent social media platform. Available for download on Google Play or APK file packages, you can now watch your favourite videos offline, saving you precious mobile data. The ability to watch videos offline comes in handy when you have intermittent data while you're binge-watching long-form videos on the internet.
AhaSave has 5 different apps for different platforms – Facebook, Instagram, Twitter and All-Video general video downloaders. The small file size means that even older Android with lower CPU and storage can make use of AhaSave video downloaders. AhaSave also provides a private folder with a passcode lock where you can keep sensitive and private videos, meant only for your personal viewing.
How to Use AhaSave?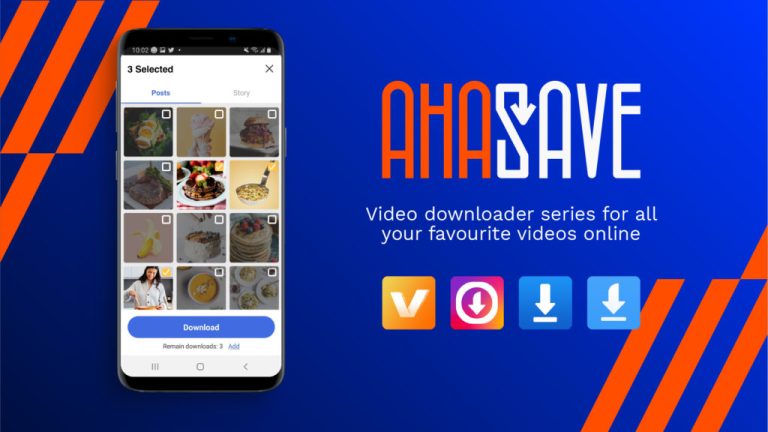 AhaSave Video Downloader is very simple and easy to use. All you have to do is copy your favourite video link, go to the AhaSave Video Downloader app, and paste the link in the built-in browser. Your videos can be from any site, and you do not even have to log in with your account on that video's website to download it.
For example, you saw a video on Facebook, and you want to download it, all you have to do is to go to the AhaSave Video Downloader app and paste the link of your video there. You do not have to sign in to your Facebook ID to download this video – videos will automatically download once you tap on the download button.
There is a total of 5 AhaSave Video Downloaders – Facebook, Instagram, Twitter and All Video, a general video downloader. From meme content, funny videos, sports videos, tech videos, music videos, cooking shows – you can download just videos of any genre with AhaSave Video Downloaders without any issue.
Easy to Download
All you have to do is go to the Google Play Store search for "AhaSave Video Downloaders" to find all our available downloaders there. If you enjoy customizing your own device, you can download our APK file package directly from our website or third-party pages.
Private Folder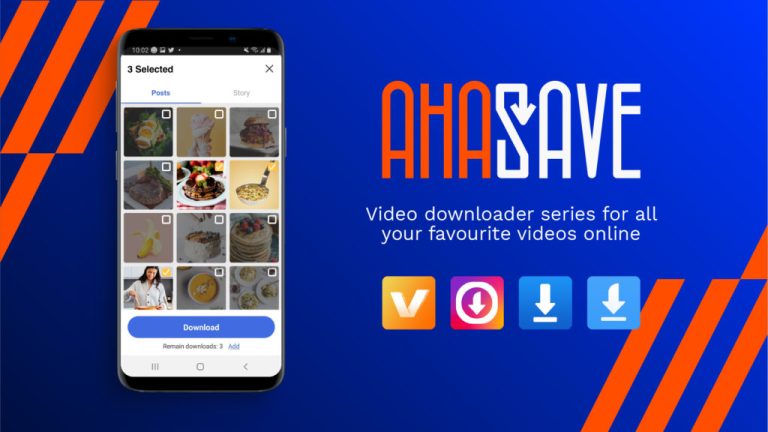 One of AhaSave Video Downloaders' most helpful features is creating a separate, locked folder where you can store private videos. This feature is primarily for Not-Safe-For-Work (NSFW) videos or may reveal sensitive information. Keeping these videos in a locked folder with a passcode will keep them hidden from everyone except yourself!
In this way, even if someone has access to your phone, they will not be able to access or find the private videos, and your videos will remain safe and out of sight of anyone using your phone. You can keep your downloaded videos safe and secure – even if someone bypasses your phone's security lock, the locked folder will still be not accessible. This feature is the most significant plus point of AhaSave Video Downloaders.
AhaSave Video Downloaders are extremely competent tools for downloading videos from social media platforms or a general website. You can download videos of any type and store them to watch them offline. AhaSave Video Downloaders have a locked folder that allows you to store private videos in a secure folder.
Get Your Android Video Downloader Today
If you're looking for other video downloaders for Android, check out our AhaSave Video Downloader Series, designed for various social platforms for your specific needs:
Check out AhaSave: Tiktok |
Pinterest | Twitter | Google Play | YouTube | Website | LinkedIn | Reddit
Need more tips? Find 'em all here!