Ever thought of getting TikTok videos with a free TikTok downloader?
TikTok is a video-sharing application comparable to YouTube, WhatsApp, Instagram, and Facebook. The app allows users to create videos and share them, which can make the video viral and appear on multiple social media platforms. People of all ages use it to express themselves through singing, dancing, skits, comedy, and challenges. As it offers a wide range of video options, it has become increasingly popular worldwide.
The TikTok platform makes it simple for anyone with a smartphone to watch these entertaining videos. Now while you have access to all these videos, the downside is that the content changes rapidly, and if you don't save the video, the chances of you finding it again are very slim. That is why more and more people use downloaders to download their favorite videos and share them across multiple social media platforms. What are benefits can you enjoy when you download videos from TikTok? Let's take a look!
Benefits of Downloading TikTok Videos
Reposting content to different platforms has become the new norm. Once you have downloaded the video, you can share it to ANY platform you like!
Found some interesting TikTok videos? You can download them and turn them into GIFs. Replay the funny moment!
Who doesn't love a good meme? Well, you have the option of turning that TikTok video into a meme of your choosing.
If you're a fan to sing along or duet videos, you can edit these TikTok videos in a video editor after you have downloaded them. Turn them into a side-by-side "collaboration" video!
You can have your video stored for an extended period of time to watch it anytime. You don't have to worry if the original video is being taken down or deleted.
So here comes the question to ask, how to download TikTok videos? This is where a newly developed and improved application comes in that eliminates the hassle of trying to download the TikTok video for free.
AhaSave Free TikTok Downloader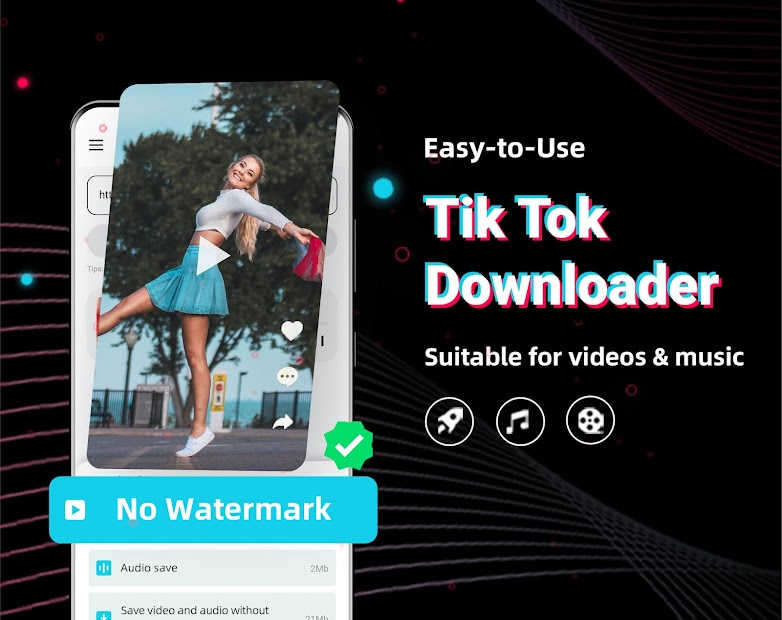 Since we have learned about some of the significant benefits of downloading TikTok videos, it is now time to introduce an app that can make downloading TikTok videos much more manageable.
AhaSave TikTok Video downloader is a free android video downloader that is available on the Google Play Store. With only a few taps, you can download TikTok videos for free. This TikTok downloader supports video downloads through the link and built-in browser, allowing you to store your favorite videos in a variety of formats on multiple devices.
It is small and lightweight, so it doesn't take up a lot of space on your mobile device or laptop; it's effortless to use. We'll teach you how to use it; read on to find out!
It requires no login information- this means that you can download Tiktok without login information. Isn't that amazing? Not having to spend any time signing up, you just simply go directly into the app and start using it.
It also allows users to download music from supported websites that they have been permitted to use.
It supports different versions of TikTok: Tik Tok Global/Tik Tok Lite/Tik Tok.
It allows you to download multiple videos at once. Save all the time and hassle!
If you're worried about the watermark, we have got you covered. With AhaSave free TikTok downloader, you can download TikTok videos without watermarks.
Download your videos at high speed and in high 4K quality. AhaSave TikTok downloader allows downloads at 3x faster than the other video downloaders in the market.
It has smart auto-detection of links from web browsers, allowing video downloads in the background. So, you can enjoy using your phone while downloading videos from TikTok without being interrupted.
Additionally, it offers the most secure care in your privacy and security, complying with multiple laws and Google Play Store Regulations. So, the user won't have to worry about their videos or any crucial files being accessed by anyone.
How to Download TikTok Videos with AhaSave Free TikTok downloader
You can download TikTok Videos for free with AhaSave Free TikTok downloader with no watermark in 2 ways.
1st Option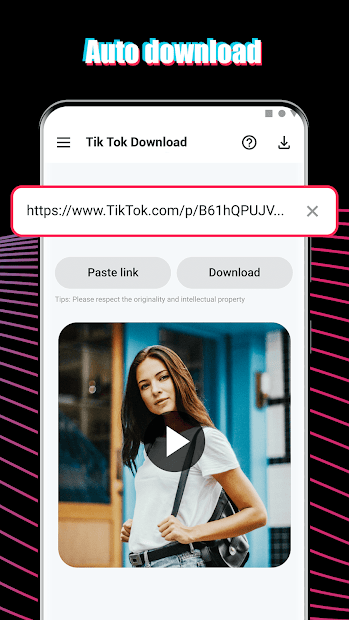 Install the free TikTok downloader to your Android device.
Open TikTok
Click on the 'Share to' option, which is in the form of an arrow on the lower right-hand corner of your screen
Tap on the copy link icon
Open the app and paste the link in the space bar provided
Lastly, click on the download button.
2nd option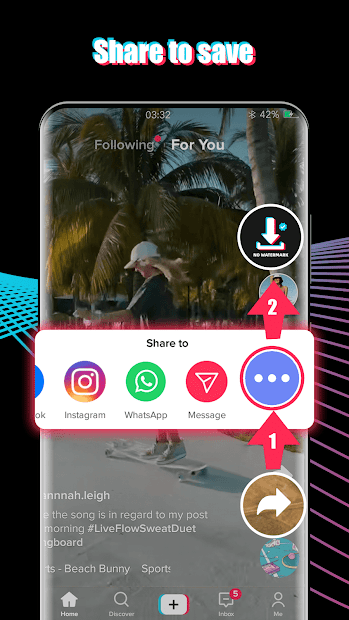 Open TikTok
Click on the share option and then choose the "MORE" Option.
From the list, select the TikTok video downloader.
After that, you'll be taken to the app and asked what format you want to download your video in. You can choose between a non-watermarked video or an MP3 video.
If you are looking for another video downloader for Android, check out our AhaSave video downloader series, which is designed for various social networking platform for your specific needs:
Check out AhaSave: Tiktok | Pinterest | Twitter | Google Play | YouTube | Website | LinkedIn | Reddit
Need more tips? Find 'em all here!
Become our AhaSave Ambassador today!