Ever thought of how you can extract audio from Instagram stories or reels? Ever encountered an Instagram story that has a piece of very interesting background music or audio? Sometimes, it is good to download Instagram audio, so you can use them to make other content.
Why Extract Audio from Instagram Stories?
Before we start on how you can go about doing it, let us give all possible scenarios of why you will need to extract audio from Instagram stories.
This audio can be a sound effect to your next videos.
When you record an Instagram story, there will probably be sounds that you can use as a sound effect to your next video content. A laugh, a cry, a shout, or anything in your stories. This is why it is good if you can download audio from Instagram stories.
Relive those memories by those audio
If you were able to extract audio from Instagram stories with your loved ones, you can relive those moments and put them as background music. Imagine those loved ones that have passed away, and you want to hear their voices from a happy memory in the past. You can do that now if you can extract Instagram audio.
Raw sounds as your ringtone
Some people want their ringtone to have a special meaning. You can do this with your Instagram audio if you will be able to extract audio from Instagram stories. Create a unique ringtone out of your happy Instagram story.
How to Extract Audio from Instagram Stories or Reels?
To extract audio from Instagram stories, you must download Instagram stories first; and to do that, you must have an Instagram downloader.
AhaSave is a free Instagram downloader that you can install on your Android mobile devices. It is impossible to download IG stories without any external downloaders as Instagram just doesn't allow that, which is why you need a free Instagram downloader for Android on your phone.
Here are the simple steps to follow in using the Instagram downloader, AhaSave:
Method 1: Extract Audio From IGS or Reels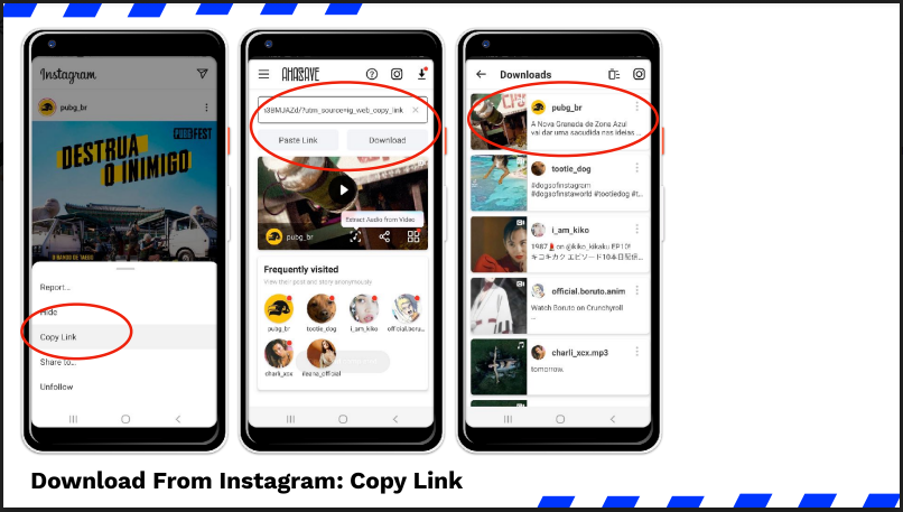 Open Instagram and search for content that interests you. It can be stories, photos, IGTV, or video highlights.
Copy link of this content and then paste it on AhaSave Instagram downloader.
The download will automatically start and be saved on your phone after.
Method 2: Extract Audio From IGS or Reels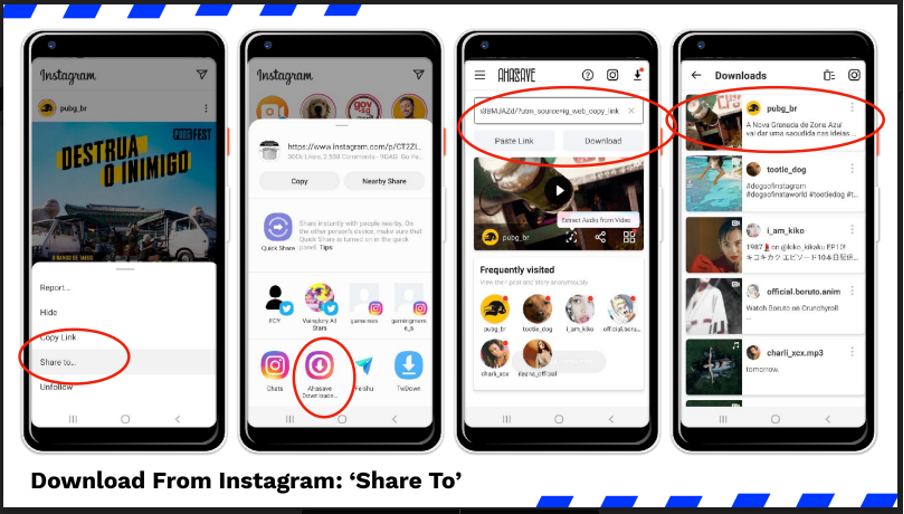 The second method is simply clicking "Share" to the content you want to download and choose AhaSave. From there, the download will automatically start.
The extraction of audio from Instagram stories is a new feature of AhaSave. Now you can have a free audio download for Instagram with AhaSave. Follow the steps below to extract audio from your Instagram stories.
Once you have downloaded the particular Instagram Story, you will see a music icon button appears on the app.
Click "Extract audio from the video."
The audio from the video will be extracted and saved on your download manager.
Why Choose AhaSave Downloader?
There are many reasons why you should use AhaSave as your downloader for Instagram. The user interface of AhaSave is so good and easy to navigate. This Instagram downloader is easy to use and very beginner-friendly.
AhaSave is a free IG downloader for Android. You can easily download it through Google Playstore, and you don't have to pay anything to enjoy the great features of the app.
Download any file type with AhaSave easily. You can download photos and videos easily. You could also download multiple items at once, and you will not have a problem with it because of its fast downloading feature.
Of course, AhaSave also acts as an Instagram audio downloader. It has this new feature where you can extract the audio from the items you downloaded where you can use it for further applications.
Enjoy the many features of the Instagram downloader and get all the content you need to be saved on your mobile device.
Respecting Intellectual Property
Always remember that all contents downloaded in AhaSave are not suitable for commercial distribution. The intellectual property rights of each content downloaded will always belong to the original creator. Hence there will be sanctions involved if proven to be distributed illegally.
Download Free Android Downloader App Now
We are always working towards making our AhaSave products better. We welcome your reviews on the Google Play Store and would appreciate your recommendations to your community. If you have any problems or suggestions for our apps, feel free to contact us here, or check out our detailed Frequently Asked Questions.
If you're looking for video downloaders for Android, check out our AhaSave Video Downloader Series, designed for various social platforms for your specific needs:
Check out AhaSave: Tiktok | Pinterest | Twitter | Google Play | YouTube | Website | LinkedIn | Reddit
Need more tips? Find 'em all here!