Looking forward to binge-watching all Harry Potter movies during a pandemic? The classic magical world with witchcraft and wizards with a jump start as Harry joins the first year at Hogwarts great school. The most bought novel and watched series that never grows old has become a perfect show to enjoy in the pandemic.
How to Watch Harry Potter Movies in Chronological Order?
Harry Potter movies follow a chronological and release date order. To acknowledge the story theme and enjoy the thrilling movies, do watch them in chronological order.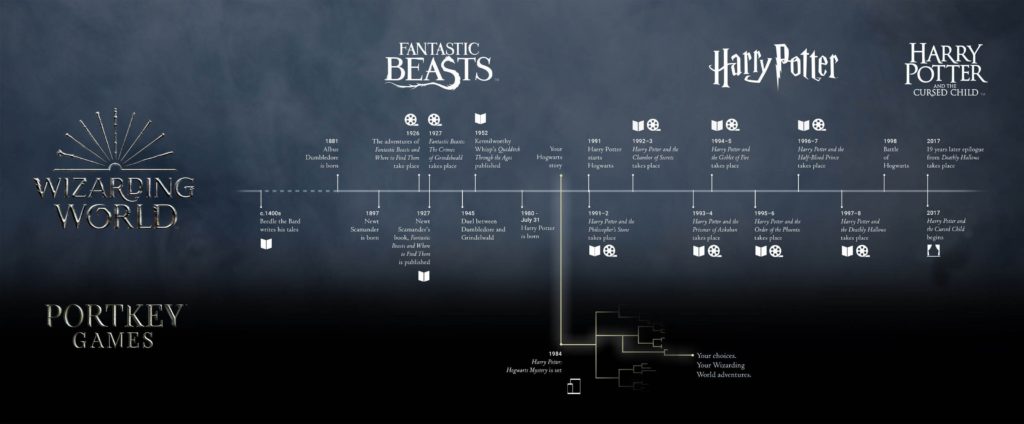 Fantastic Beasts and Where to Find Them (1926)
Discover the new wizarding era with destruction mysteries in New York before Harry Potter. As the Newts Beast set loose, the unknown heroes must chain missing beasts before destruction by chasing the path of the dark forces.
Fantastic Beasts: The Crimes of Grindelwald (1927)
The new characters with mystical plot and jaw-dropping truths where two are tracking the same fugitive in Paris.
Harry Potter and the Sorcerer's Stone (1991-92)
Harry is being raised miserably by his aunt without knowing he is the wizard. Things start getting spine-chilling as Harry attends the wizard's school to meet lovable mentors, friends and walks down his noble mythical destiny.
Harry Potter and the Chamber of Secrets (1992-93)
Harry, with his best friends in Hogwarts school, faces new challenges while trying to uncover the dark forces spreading terror everywhere.
Harry Potter and the Prisoner of Azkaban (1992-94)
Harry's third year comes with more dark challenges while dealing with Ravenclaw. Introducing Ravenclaw house, the Patronus charm, and learning wisdom to fight wits.
Harry Potter and the Goblet of Fire (1994-95)
Following the fourth year in Hogwarts schools, the main event turns in the Triwizard tournament where Harry is forced to compete.
Harry Potter and the Order of the Phoenix (1995-96)
In the fifth year, Harry struggles with witchcraft, and wizardry takes an unexpected turn with the return of antagonist Lord Voldemort.
Harry Potter and the Half-Blood Prince (1996-97)
More complexity to Harry Potter story, engagements with Dark Lord. Nemesis – the boy wizard's past gets revealed by Harry in preparation for his final battle against Voldemort
Harry Potter and the Deathly Hallows: Part 1 (1997-98)
Leading to the final reckoning with Voldemort, the incredible fights and leg-breaking mysteries unveil dark truths and wonderful moments.
Harry Potter and the Deathly Hallows: Part 2 (1997-98)
Fascinating moments of meeting destiny and discovering new unseen directions. Following the desperate quest to defeat Voldemort from the start continues with dark enemies around each corner and wand as the ultimate weapon.
Where to Watch Harry Potter Movies in 2022?
You can stream to watch Harry Potter movies in 2022 with most major streaming websites. Here are some examples where Harry Potter movies can be found:
Download and Watch Harry Potter Movies to Watch Offline
Most Harry Potter movies are available for free online. To enjoy the movies seamlessly everywhere, you can download them in high definition quality with our free AhaSave all-in-one Android video downloader.
Download movies in chronological order, enjoy them and then push the delete button once you have done watching with AhaSave free video downloader. To start downloading Harry Porter movies, simply:
Download Ahasave All video downloader from Google Play Store
Browse Harry Potter movies in Ahasave and start downloading
Else simply copy the link and past it in Ahasave video downloader to download and enjoy Harry Potter movies.
Why AhaSave for downloading Harry Potter Movies?
AhaSave is a safe and free video downloader offering the best user experience to enjoy HD content offline. With Ahasave free video downloader for Android, you can download:
Harry Potter movies with speed up to 3x.
To download, simply copy and paste the link and get movies downloaded.
Arrange Harry Potter movies in the order you want to see them in folders.
Supports SD cards and storage devices.
Able to download at 4k quality movies.
Delete movies in the manager folder as you finish watching them.
Export in any format.
Download Harry Potter all parts with just a few taps and enjoy them everywhere online without any streaming issues.
While using the Ahasave video downloader, remember all videos belong to their respectful owners. Ensure that you must hold intellectual property rights by downloading videos only for your personal use.
Try AhaSave Today!
With Harry Potter movies downloaded with Ahasave save all in one video downloaders, you can also enjoy and save offline all social media videos with Ahasave video downloaders for social media platforms.
If you search for downloaders for Android through which you can download different content from social networking sites, then AhaSave downloaders will surely help you out. Try the below-mentioned downloader today!
Check out AhaSave: Tiktok |
Pinterest | Twitter | Google Play | YouTube | Website | LinkedIn | Reddit
Need more tips? Find 'em all here!
Become our AhaSave Ambassador today!