Music is unique and powerful. It can influence our lives and mood. The music we love and listen to, impacts who we are as people and how we feel daily. The unique tempos and rhythms have a way of ruling over our body. Whatever the genre of the music is, music has power over us.
Music changes our mood dramatically. We feel the music from different perspectives. If we are happy, we tend to listen to a song that makes us happy. When we are sad, we will listen to a theme that will make us feel sadder. There seems to be a song and genre for every mood.
Not only does the rhythm affect our mood, but the artists themselves as people also influence us. The words that they use, the music they choose can alter our choices and preferences too. The artists we love shape us to become more like them in some way. We are amazed at the stories that they tell us through their lyrics. We may feel like we are going through the same journey as they are.
Top 10 Music Influencers on Instagram in 2021
Here we present to you some of the most popular music influencers on Instagram.
Conan Gray @conangray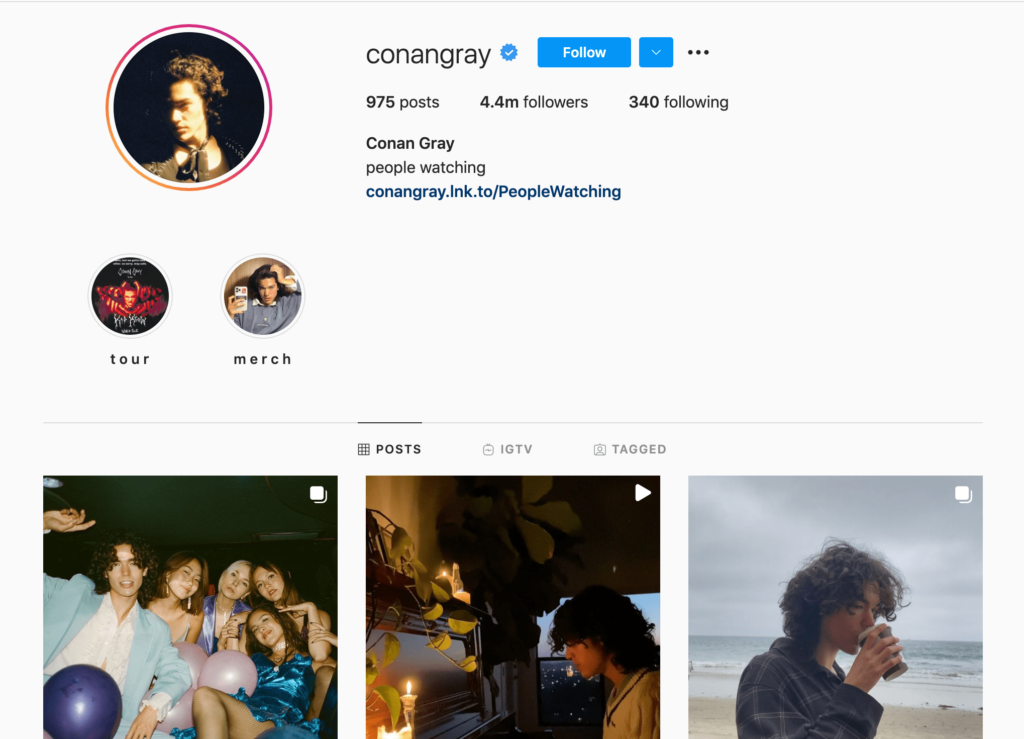 To start off the list of the best music influencers, we have Conan Gray, an American singer, songwriter born on December 5, 1998. Canon Gray became famous by posting covers and some of his own original music on his YouTube channel. He has been releasing EPs and singles since 2017, which allowed him to gain more followers on social media. Gray signed a record deal with Republic Records in 2018 and released his debut EP Sunset Season (2018). In March 2020, he released his first debut album named Kid Krow. The album got commercial success, especially the songs " Maniac" and "Healthier", the latter of which recently went viral on TikTok.
Marc Rebillet @marcrebillet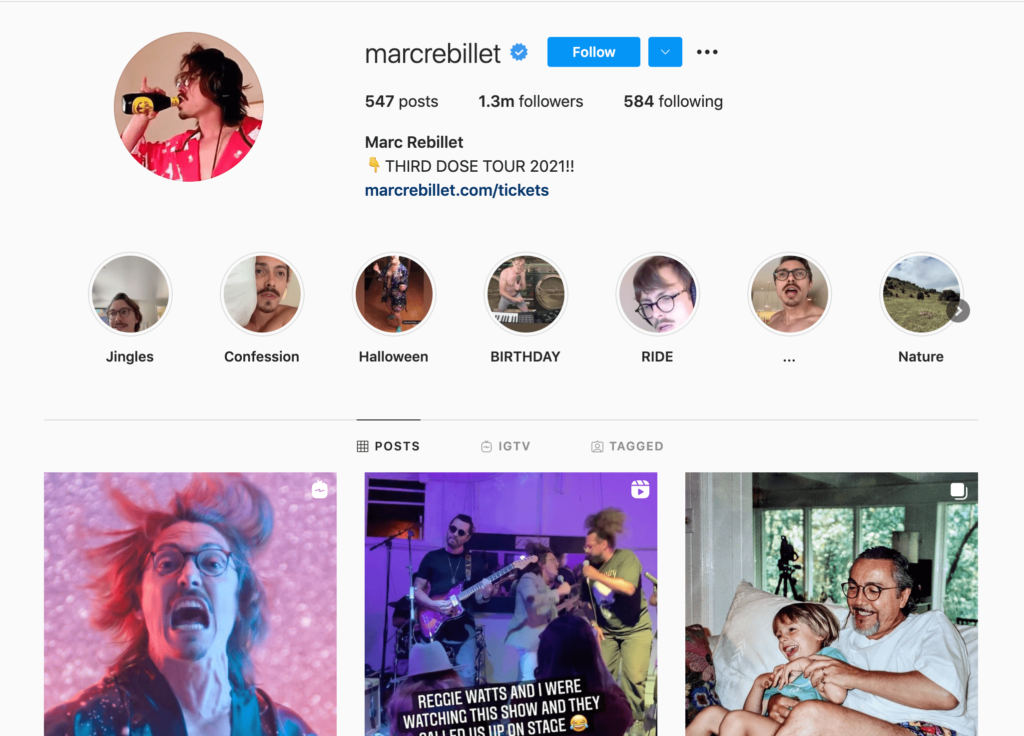 Marc Rebillet is an American-French electronic music influencer and YouTuber from Dallas, Texas, born on December 15, 1988. Rebillet is a talented multi-instrument music influencer who refers to himself as the "Loop Daddy" because he improves electronic songs that feature comical lyrics. He often uses a loop station, keyboard, vocals and percussion instruments to produce his new songs. In the initial stages, he shared his work through Twitch Live streams and YouTube videos. His steady follower growth and popularity among men in their 20s helped propel his songs to viral status.
Madison Beer @madisonbeer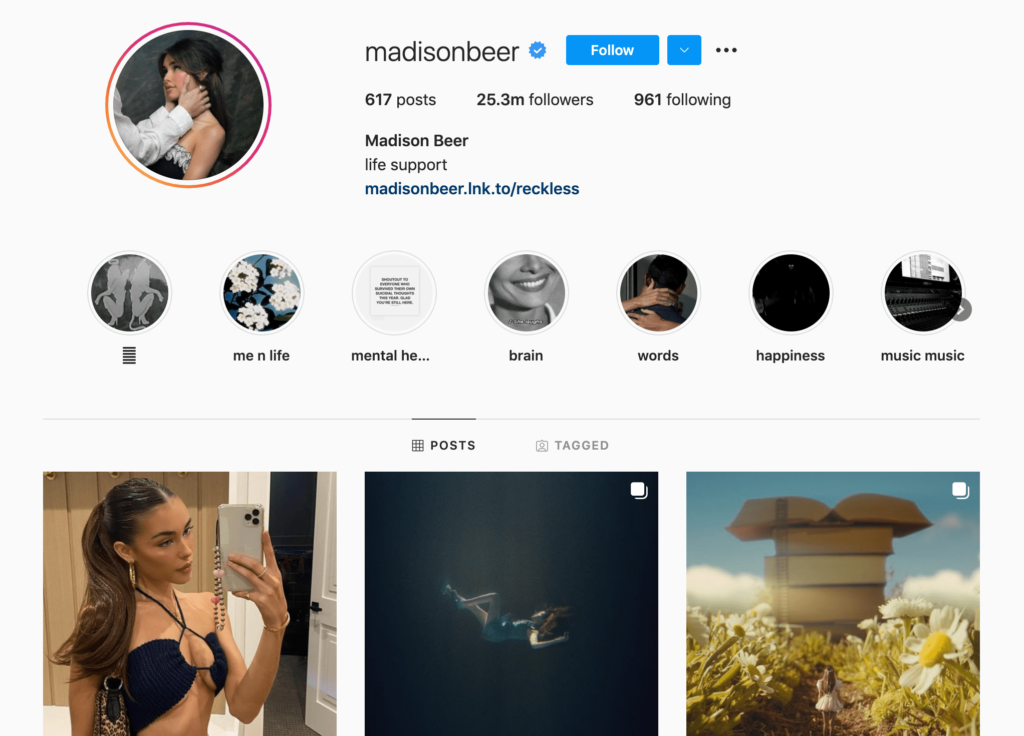 Madison Beer is a talented and gorgeous artist. Similar to Gray, she started her career by posting singing videos on YouTube at an early age of 13. Beer is an American singer and songwriter, born in New York City on March 5, 1999. Beer gained media coverage when Justin Bieber posted a link to one of her covers. She released her debut song, " Melodies", in 2013. After gaining national recognition from this music video, she signed with a record label and started releasing music in 2014. After that, Beer started establishing herself as an influencer on multiple social media platforms. She has also released numerous EPs and singles, and her first full-length album will be released this year named Life Support.
Nezza @babynezza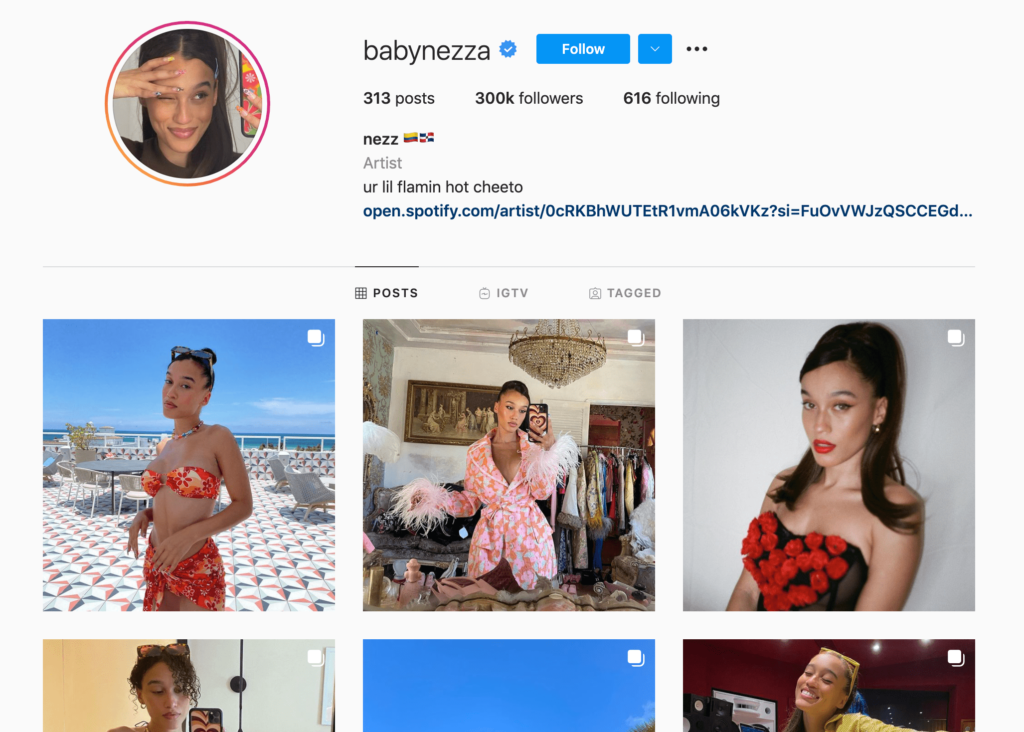 The following music influencer on our list is Nezza, a California-based Afropop singer born on December 23, 1984. Like many other music influencers on this list, she also started her career as a YouTuber. She used to post covers and dances, in addition to other lifestyle content. After gaining massive recognition from people, she started releasing her singles in 2018. She is now very popular with daily increasing followers to YouTube, Instagram and TikTok.
Josephine Alexandra @jpalxndr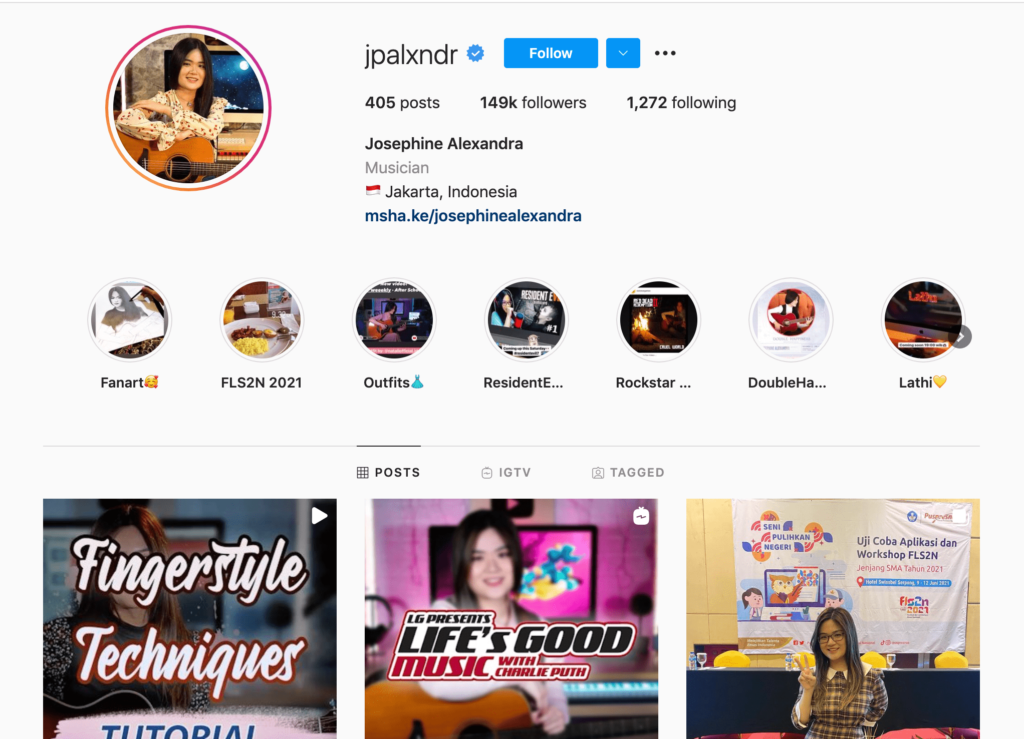 A multi-instrumentalist, Josephine Alexandra is known for her diverse set of music covers. Alexandra is an Indonesian artist from Jakarta. Like other artists listed above, she also got fame by uploading fingerstyle covers on YouTube and Instagram. She posts a variety of videos from acoustic covers of popular Reggaeton tracks like Despacito, to guitar covers of popular video games like the PUBG theme song. She occasionally tours and travels and posts her adventures on her Instagram as well.
Loren Gray Beech @loren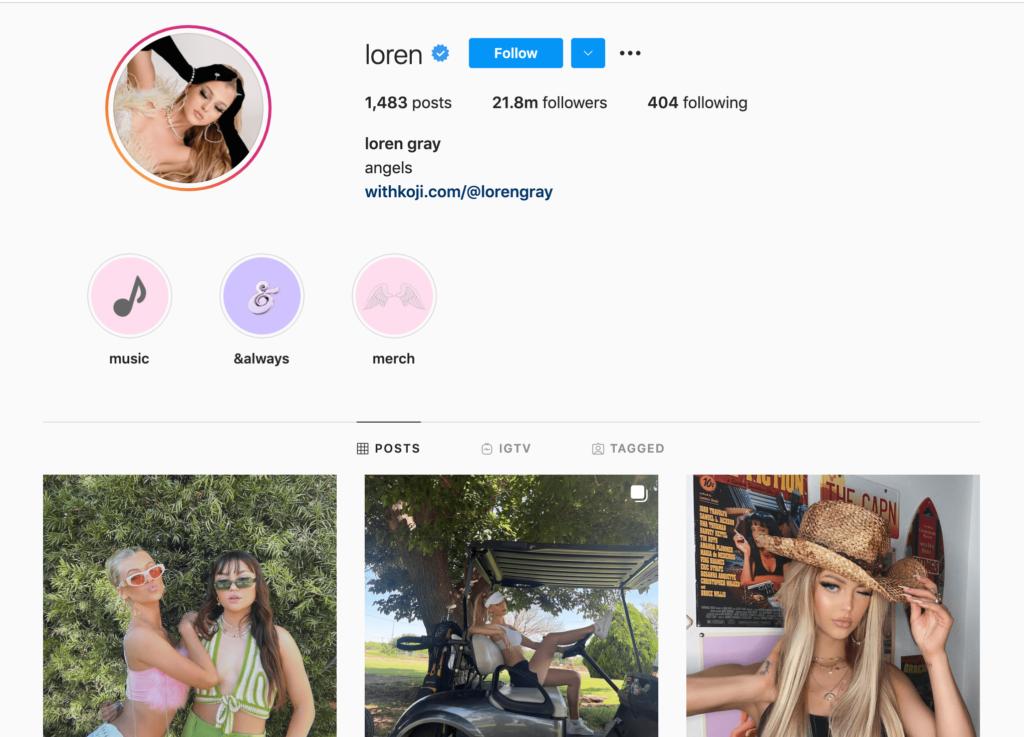 Loren Gray is an American TikToker, model, singer and social media personality born on April 19, 2002. After her fame rose on TikTok, Grey created a huge fan following for herself as a music influencer. Some of her significant releases have been her first single, "My Story", along with " Queen" and her newest release, "Alone".
Ashnikko @ashnikko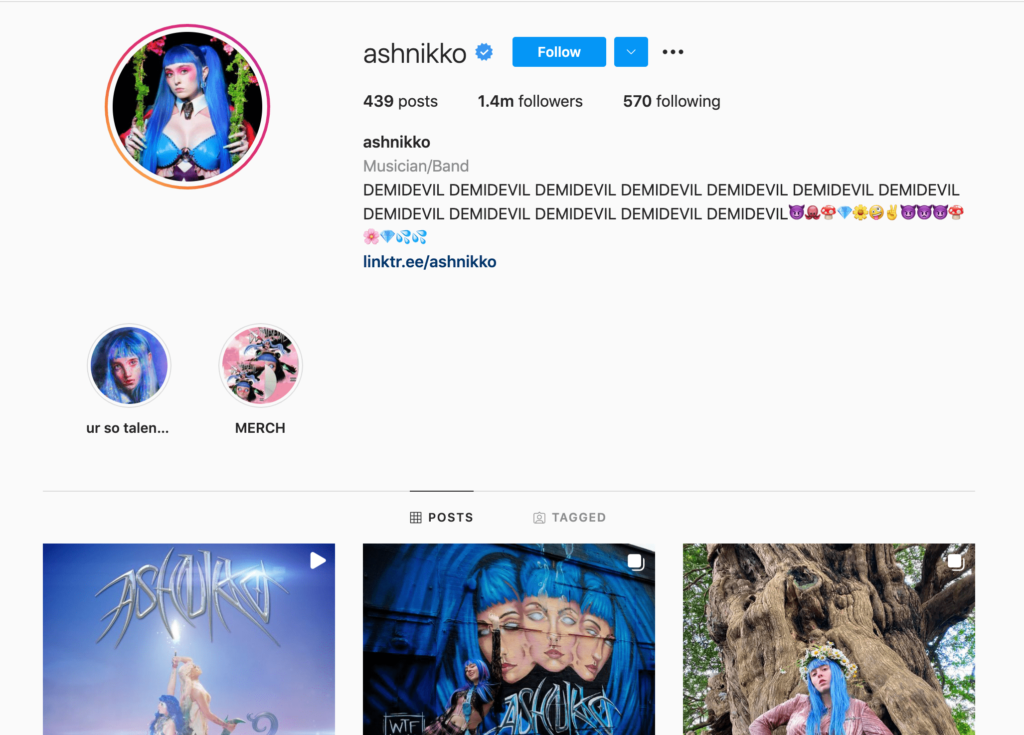 This artist's story is different from the other musicians on this list. Ashnikko, also known as Ashton Casey, rose to fame when her single, "Stupid", went viral on TikTok in 2019. Casey is an American singer, songwriter and rapper born on February 19, 1996. Although she had been releasing her singles since 2017, that was the first time her work had gained national recognition. Since then, she had gained hundreds of thousands of followers on social media.
Mxmtoon @mxmtoon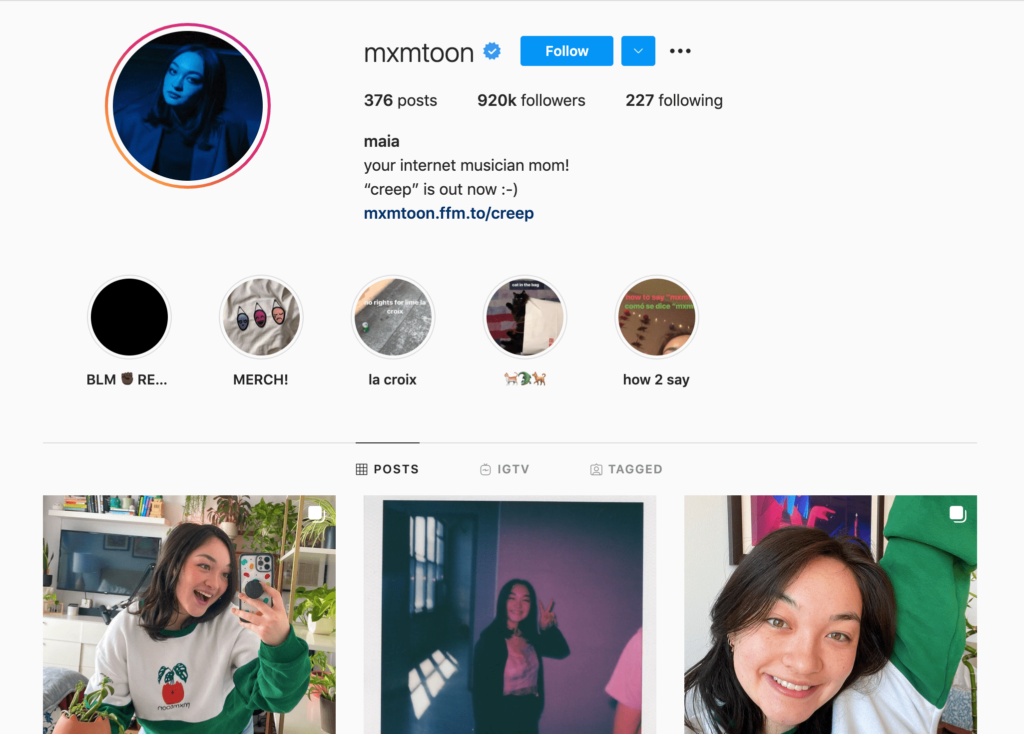 Mxmtoon is a musical artist who got her fame through Instagram and YouTube, where she used to post herself singing and playing the ukulele. Mxmtoon, also known as Maia, is an American singer, songwriter and YouTuber born on July 9, 2000. She started releasing her music career in 2017 and dropped her debut album, "The Masquerade", in 2009.
Dixie Jane D'Amelio @dixiedamelio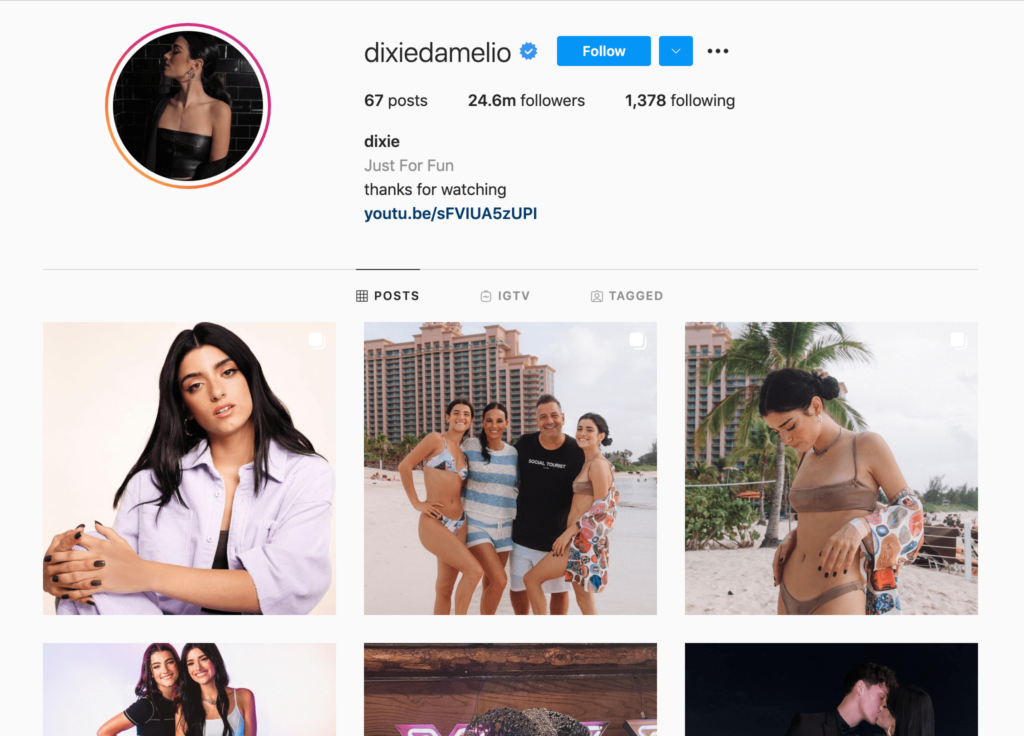 After gaining massive recognition from TikTok, she became one of the most popular influencers in the world. Dixie is the eldest of the D'Amelio sisters, born on august 12, 2001. Although she is new to the music world, she is already making waves in the music industry. Her debut single, "Be Happy", was received very well by her adoring fans. In addition, she recently announced that she would release a Christmas song with singer Liam Payne, which was the most significant milestone for her. Dixie also started her YouTube channel as well as her podcast.
Jacob Sartorius @jacobsartorius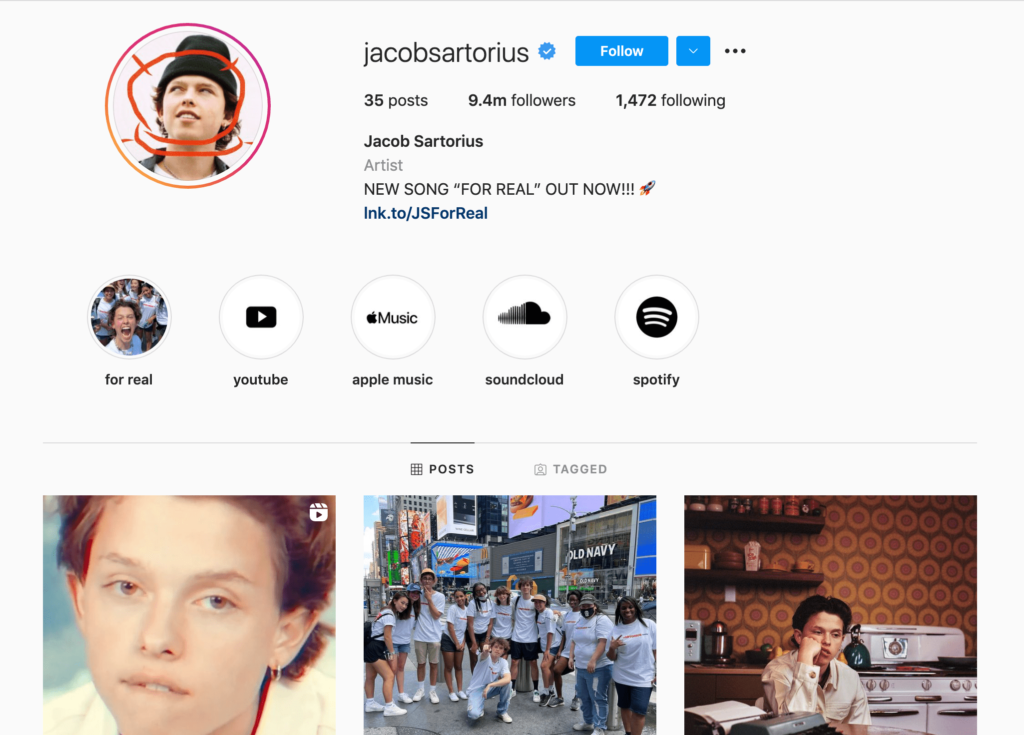 Jacob Sartorius is a singer-songwriter born on October 2, 2002, in America. Sartorius rose to fame through social media by posting his lip-sync videos on Musical.ly. In 2016, he released his single debut " Sweatshirt", which reached the Hot 100 charts in the United States and Canada.
Download Your Favourite Music Influencers Video with AhaSave Downloader for Instagram:
AhaSave Instagram Downloader will help you to download videos, photos, IG stories, highlight reels and IGTVs from Instagram to your phone. You can enjoy your favourite videos or photos any time, anywhere, with AhaSave for free. This is a highly rated app with millions of beloved users worldwide.
Features:
Download by batch, captions and hashtags together
Download different content from Instagram, e.g. videos, photos and many more
Organise downloaded content by different genres
Save and download videos and profile pictures through any single Instagram link
How to use AhaSave Instagram Downloader
Open Instagram and copy the link of the content you want to download
Open AhaSave and paste the link
AhaSave will automatically detect the link you have copied from Instagram, and downloading will automatically start
Download Music and Videos From Instagram Now!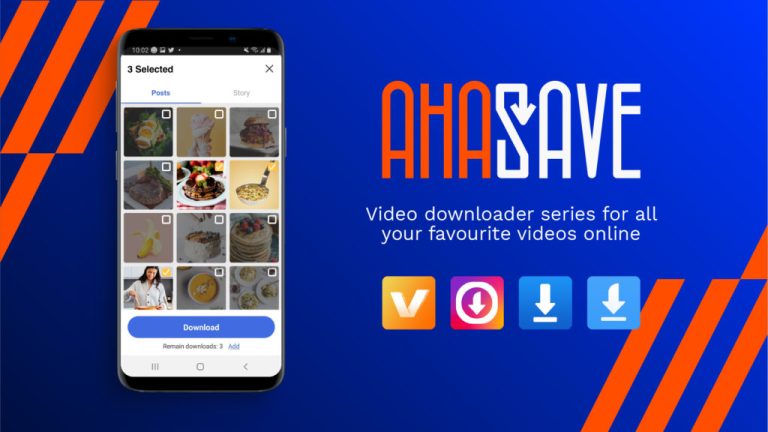 If you are looking for another video downloader for Android, check out our AhaSave video downloader series, which is designed for various social networking platform for your specific needs:
Check out AhaSave: Tiktok |
Pinterest | Twitter | Google Play | YouTube | Website | LinkedIn | Reddit
Need more tips? Find 'em all here!
Become our AhaSave Ambassador today!