Did you know that in football, Copa America has just ended? Argentina defeated Ecuador 3-0 to progress to the semi-finals of Copa America. Despite the three-goal winning margin, the No. 10 said it was not as easy as the scoreline might have suggested. Messi scored Argentina's third goal, taking his total throughout the tournament to four, making him the top scorer thus far. The Argentine captain is now just one goal away from Pele's record for the number of international goals scored of 77.
Football is a game loved by everyone. There are many famous football events taking place in the world like FIFA World Cup, Copa America, etc. It is not always possible for football lovers to travel to the places where football matches are taking place. With the rise of social media, most notably Twitter, news of the latest event worldwide is brought to us within a click. Twitter covers football news, opinions, and views all under one roof for supporters across the globe.
If you are also a football lover and want to keep yourself updated about every happening football event, no problem, Twitter has your back! Twitter is a platform of social media where all good, bad, funny and inspiring things happening worldwide can be seen to cross your timeline every minute. Twitter is a worldwide news source on any topic. For those interested in sports, then Twitter is the best guide.
6 Football Accounts to Follow on Twitter
Scouts in Attendance
Twitter Account: @scoutsattending
Twitter Followers: 32.9k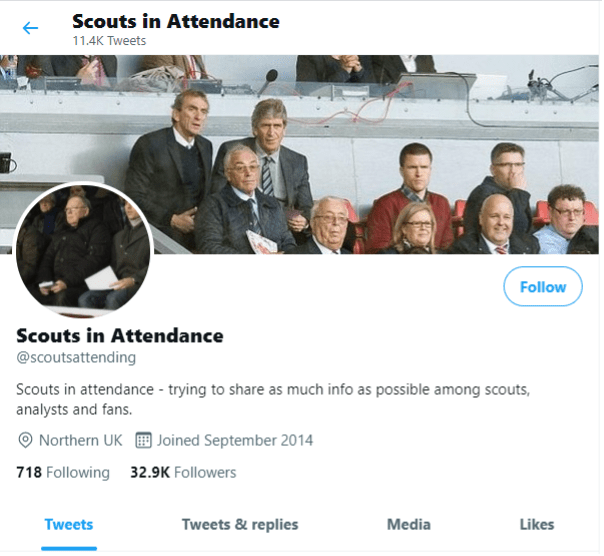 The Scouts in Attendance account was set up in 2014 and had 32.9k followers. This account mainly posts regular updates of where certain clubs are sending their scouts around the world. You can keep yourself updated with your favorite football team's progress by following them on Twitter.
TBN Sports
Twitter Account: @TBNSport
Twitter Followers: 12.5K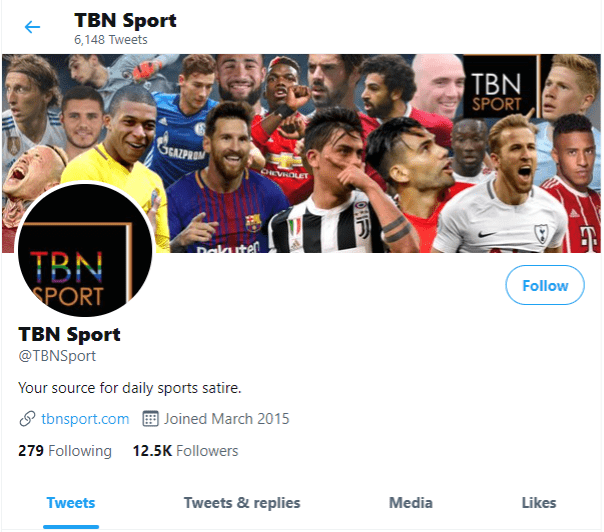 TBN Sports is different from other football accounts because it is a refreshing change from the typical football accounts that are dull and boring. TBN Sports posts news in sarcastic ways to make people smile.
Training Ground Guru
Twitter Account: @ground_guru
Twitter Followers: 37K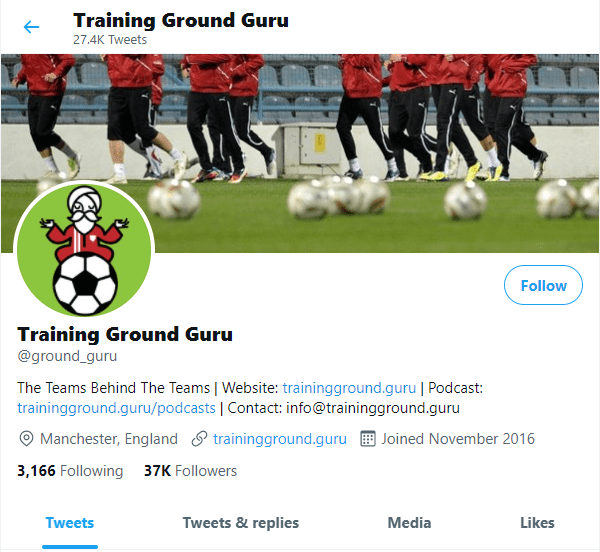 Training Guru is a fantastic football Twitter account and website. Famous BBC Sport journalist Simon Austin edits it. This account has been shortlisted for the Sports Journalists Association Website for the year 2017.
Youthhawk
Twitter Account: @youthhawk
Twitter Followers: 13.3K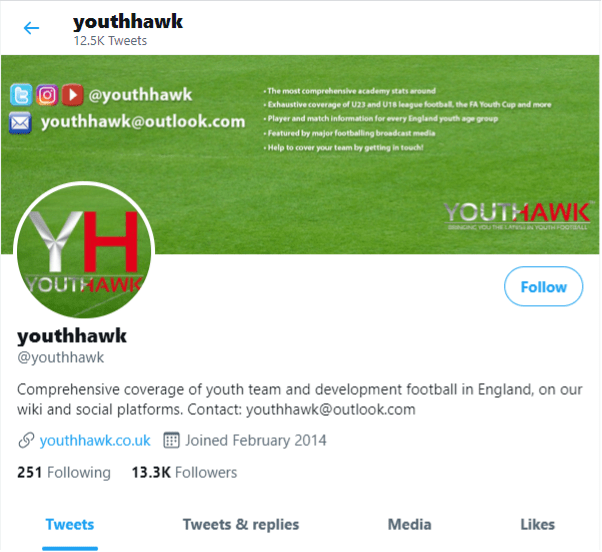 It is also a fantastic Twitter account and website. They aim to be a comprehensive resource for youth football information in England. They post regular updates on their Twitter accounts with interesting infographics and links.
Tifo Football
Twitter Account: @TifoFootball_
Twitter Followers: 83.8K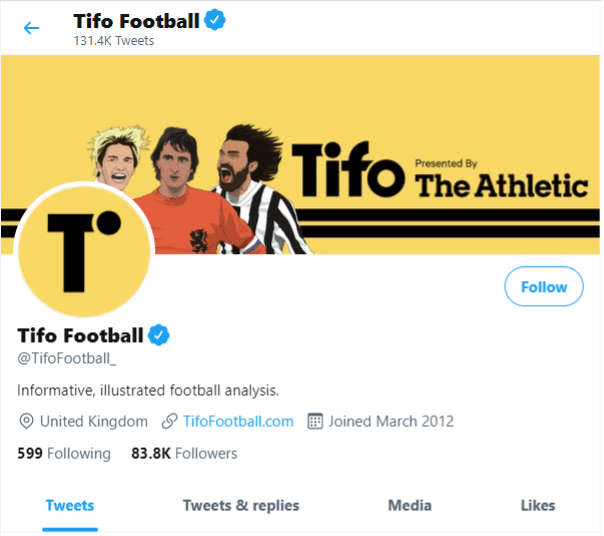 Tifo Football describes themselves as the creators of "Informative, illustrated football analysis." They also make engaging YouTube Videos on several football-related topics like tactics, finances, and club ownership models.
The Coaches Voice
Twitter Account: @CoachesVoice
Twitter Followers: 83.5K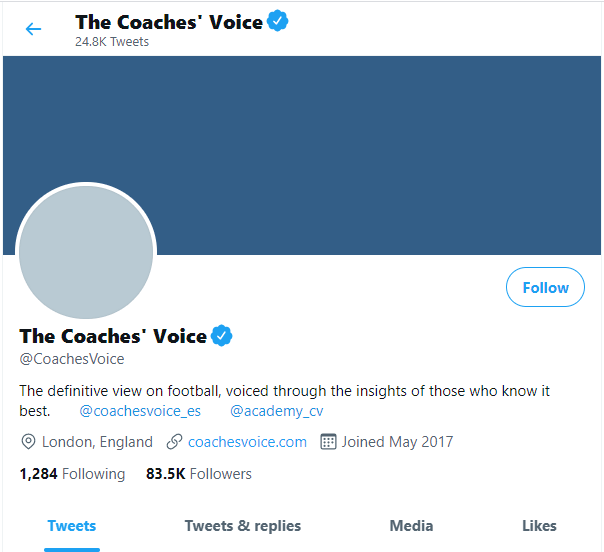 The Coaches Voice is a relatively new account on Twitter as compared to others on this list. They were set up a year ago and produce high-quality content, which is well built in collaboration with the best coaches and managers in the game. Also, they make "masterclass" videos, in which the manager explains the tactics behind some of the twists.
Come across some amazing football moments on Twitter? Here's how you can download your favourite football tweets from Twitter with our wonderful app.
Download Tweets with the AhaSave Twitter Downloader
AhaSave Downloader for Twitter helps you download Twitter videos, photos, GIFs to your phone. This free Twitter downloader for Android is free and easy to use and supports all downloading like HD or SD. AhaSave Downloader supports downloading videos through links and the built-in browser.
Features of AhaSave Downloader for Twitter
No login required
Download by batch, captions, and hashtags downloads together.
Easy to control download progress
Protect your essential video to the private folder
Intellectual Property Rights
Understanding intellectual property rights is essential that the ownership and any other interests of videos, photos, and tweets belong to its publishers only. We should respect such legitimate rights and interests of the publishers. We suggest you obtain permission first before downloading any content for use and indicate the content source. Download the content for your personal use only!
Download Twitter Videos for Free on Android!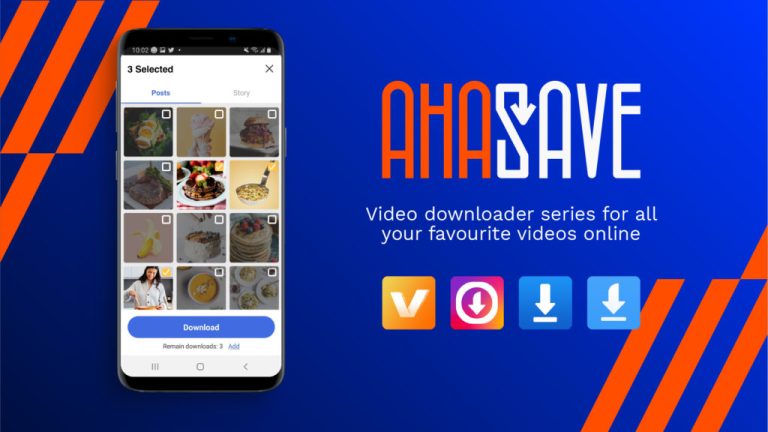 If you are looking for another video downloader for Android, check out our AhaSave video downloader series, which is designed for various social networking platform for your specific needs:
Check out AhaSave: Tiktok |
Pinterest | Twitter | Google Play | YouTube | Website | LinkedIn | Reddit
Need more tips? Find 'em all here!
Become our AhaSave Ambassador today!