Baking is a great way to try out delicious recipes. There is nothing more joyful than to spend an afternoon baking. Baking keeps things simple as compared to cooking because all baking dishes recipes call for no more than five ingredients. Most ingredients are staples that you are likely to have on hand already: flour, egg, butter, etc. The best thing about baking is you can work on other things while your dish is in the oven.
We usually feel overwhelmed by the gorgeous baked dishes in photos and feel like we can never bake like that. But there are plenty of dishes in baking that you can enjoy at home. All you need to do is follow the baking experts. Want to know about the best bakers on Instagram? No problem, we are here to guide you. There are famous baking inspirations you can find on Instagram, from at-home bakers with homey setups. Most of the baker's accounts are designed to give you free baking tips and tutorials so that you can make and enjoy delicious recipes at home.
Top 8 Bakers on Instagram to Follow
We have rounded up 8 of our favorite baker's accounts on Instagram, from high-profile baking bloggers to hidden gems.
Tessa Huff (@stylesweetdaily)
Instagram Followers: 191k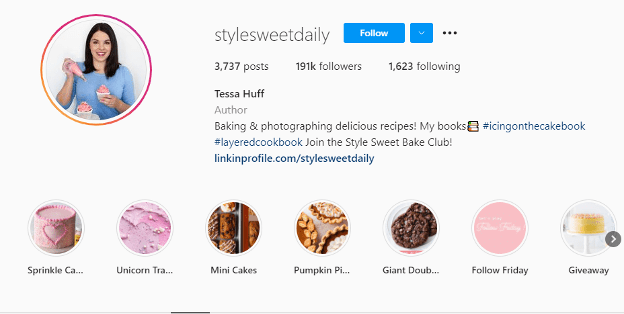 Tessa Huff is the owner of sweet style daily. She is an author, photographer, and developer of amazing recipes. Her Instagram feed is gorgeous. Just scrolling through her baking posts will make your day at least 10 percent more refreshing for sure.
Claire Ptak (@violetcakeslondon)
Instagram Followers: 216k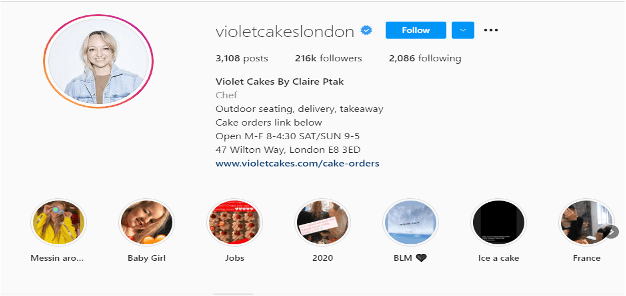 Claire Ptak is the person behind the fantastic blog violet cakes by Clarie Ptak. I think it would be enough to recognise that she baked Harry and Meghan's royal wedding cake.
Molly Yeh (@mollyyyeh)
Instagram Followers: 716k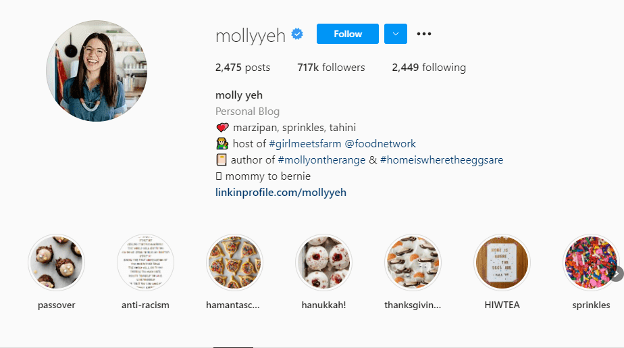 The famous baking blogger, Molly, recently moved from Brooklyn to a farm on the North Dakota-Minnesota border. She makes sweet and delicious-looking cupcakes and goodies that you can recreate at home. She writes charming recipes in her cookbook.
Frank Adrian Barron (@cakeboyparis)
Instagram Followers: 32.3k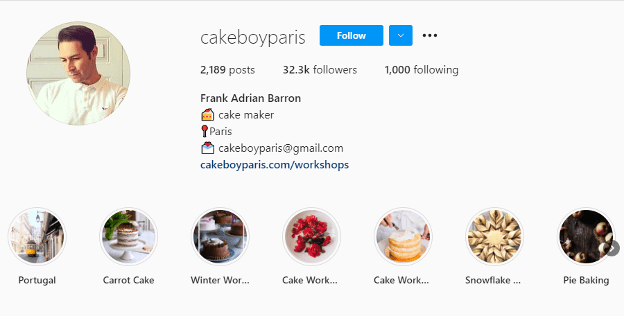 Who says males cannot bake delicious cakes? Frank Adrian Barron is a male blogger from Paris who bakes lovely cakes. His gorgeous Instagram feed is half-filled with beautiful cakes. His account is an absolute must-follow for cake lovers.
Joy Wilson (@joythebaker)
Instagram Followers: 492k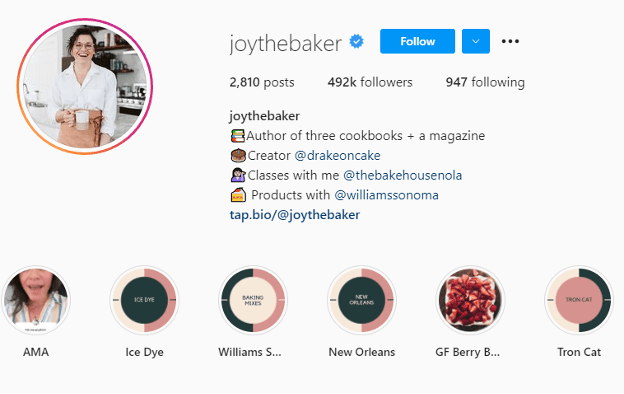 Joy Wilson, the author of three different cookbooks, gives baking classes in New Orleans. She is also a famous blogger. Half of her Instagram feed contains uniquely baked cookies and bread. Her account is also an absolute must-follow for cookie lovers.
Cedric Grolet (@cedricgrolet)
Instagram Followers: 1.9 Million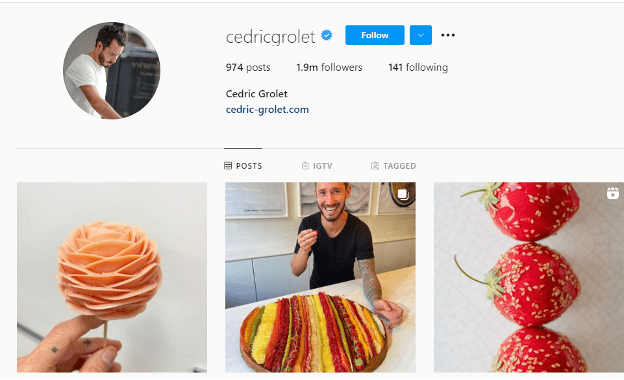 Another excellent male baker on our list is Cedric Grolet. This famous guy was named the World's Best Pastry Chef last year, so it is safe to say he is a pretty big deal. He focuses on decorations more than the actual desserts itself, and his creations will make your mouth watery.
Jo Harrison (@jojoromancer)
Instagram Followers: 81.3k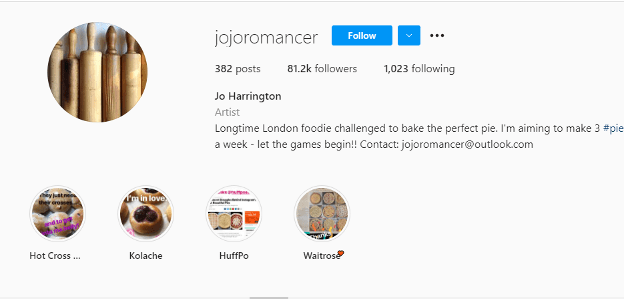 This blog is for Pie Lovers. As suggested by her Instagram credentials, Jo Harrison is a longtime foodie on a mission to bake the perfect pie, and I think she's gotten pretty good at it.
Thalia Ho (@thaliaho)
Instagram Followers: 110k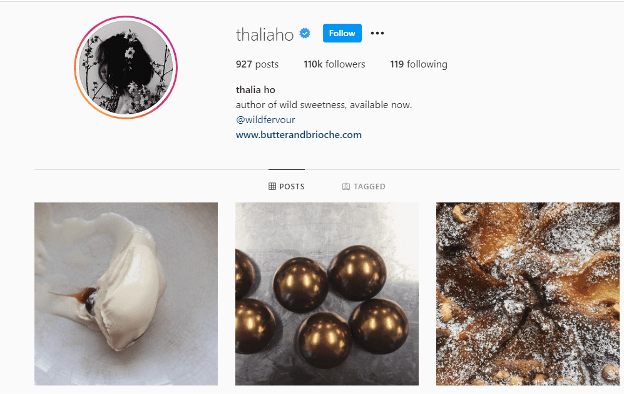 Thalia Ho loves brown colour tones because her feed is complete with the brown in her posts. Dark chocolates and toasted meringues are strangely a breath of fresh air. She runs a classy blog named Butter and Brioche.
Baking is made easier if you have the tutorial videos from your favorite bakers on hand at all times. However, Instagram itself does not provide you with an option to download any content from the app which means that you will have to go online every time if you want to access these videos. Here's where AhaSave comes in handy!
Download Your Favourite Bakers Videos with AhaSave Instagram Downloader
AhaSave Instagram Downloader is the right choice when you want to save videos and photos from Instagram feeds. It helps you download your favorite photos, IG story, videos, free baking tips and tutorials from Instagram. Downloading Instagram content with Ahasave means that you can now access these useful baking tips and tutorials at all times, even when you don't have access to the internet. AhaSave Instagram Downloader is free to use, and your privacy is guaranteed. You can download videos by copying the link and sharing it in the app. It will automatically download the video!
Awesome Features of AhaSave Instagram Downloader
Organise different recipes in the download manager
Download videos in batches
Fast downloading
Watch videos offline anytime, anywhere
Delete videos quickly once you are done watching them
Intellectual Property Rights
Understanding intellectual property rights and interests is essential. Every video, photo, IG story, reels on any social networking site belongs to its publishers or owners. We respect such legitimate rights and interests. We also recommend that you obtain permission first before distributing the content.
Free Instagram Downloader on Android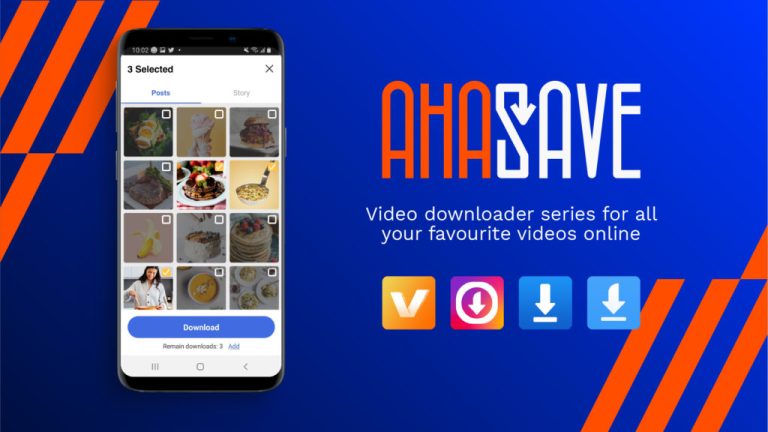 If you are looking for another video downloader for Android, check out our AhaSave video downloader series, which is designed for various social networking platform for your specific needs:
Check out AhaSave: Tiktok |
Pinterest | Twitter | Google Play | YouTube | Website | LinkedIn | Reddit
Need more tips? Find 'em all here!
Become our AhaSave Ambassador today!