We use Instagram to share our own pictures or even pictures of own friends having breakfast in a cafe or even having a picnic. Instagram is a good place for posting pictures and consolidating a suitable brand aesthetic for people or even companies. Brands that don't include Instagram as a part of their marketing strategy are missing out on a crucial opportunity to spread trust and build rapport with their audiences.
When we start our own business online, it is important to come up with a good social media marketing plan. We always try to draw inspiration from the most popular brands that are killing on social media. We often want some fresh ideas and techniques, looking at what other brands are doing online and which strategies they are using to make their brand popular.
Best 8 Instagram Brand Accounts
To help kickstart the development of your brand on Instagram, we have put together a list of some of the best brands on Instagram the strategies that they adopt to make their brand popular.
Lush Cosmetics
Lush Cosmetics North America is a well known cosmetic brand on Instagram with around 4.4 million followers. This brand creates eco-friendly products and meets very high production standards. They work with charities and eco-friendly organisations regularly. You can visit their profile and check out their posts.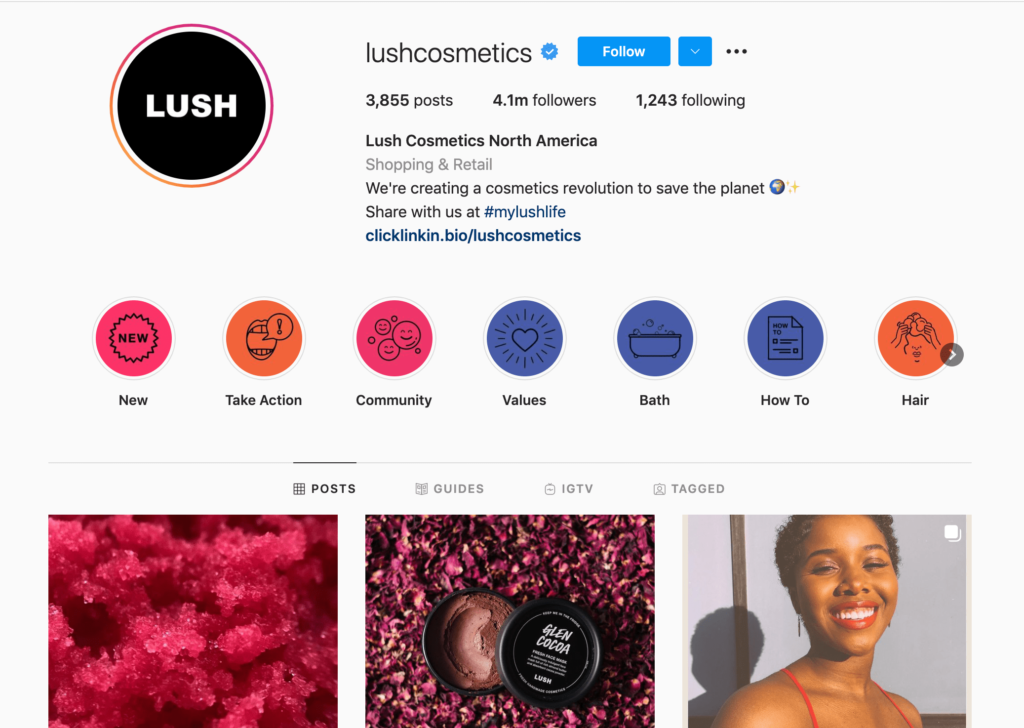 Their Marketing Strategy:
To enhance your brand as well as Lush does, you can share information about charities that are close to your brand's philosophies. When people see that your brand engages in supporting local organisations and global movements, they are more likely to support you in your efforts through purchasing your products.
Ring Concierge
Ring Concierge advertises their brand of diamond jewellery for women by women. The feed is full of posts of diamonds, and I think that it is more than enough for women to be obsessed, am I right? Do take a look at their account and you will find that the feed is very creative and beautiful.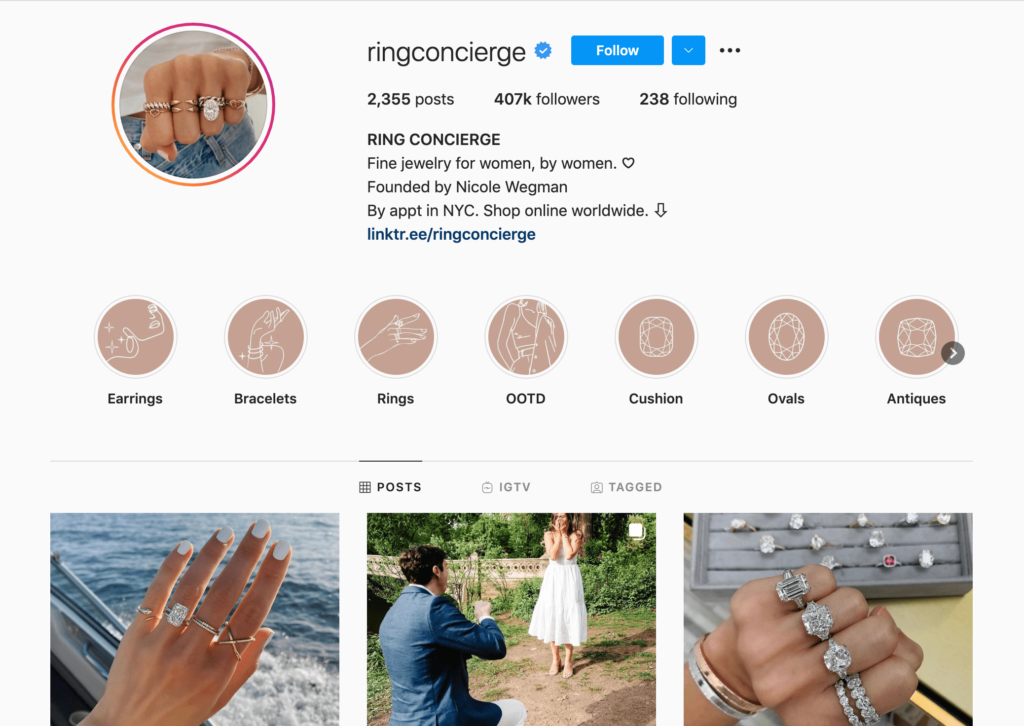 Their Strategy:
Ring Concierge adds tags for their products in nearly every picture they post on their feed on Instagram. Not only that, through tagging those available products on a new post, users can click on the product if interested. They can know about the availability of the product and access photos that shows the product in many different ways.
So, if you have an e-commerce business, try using Instagram Shopping. There are many advantages of this incredible feature as it is a great way to show off your products and makes it much easier for your followers to purchase from your brand.
Privacy Please
Privacy Please is an American women's clothing brand with around 115 thousand followers, having built a large fan base through their well managed Instagram account feed without a website. They feature a wide variety of posts on their feed. In addition, they use a consistent image filter to maintain the warmth and aesthetic of the posts.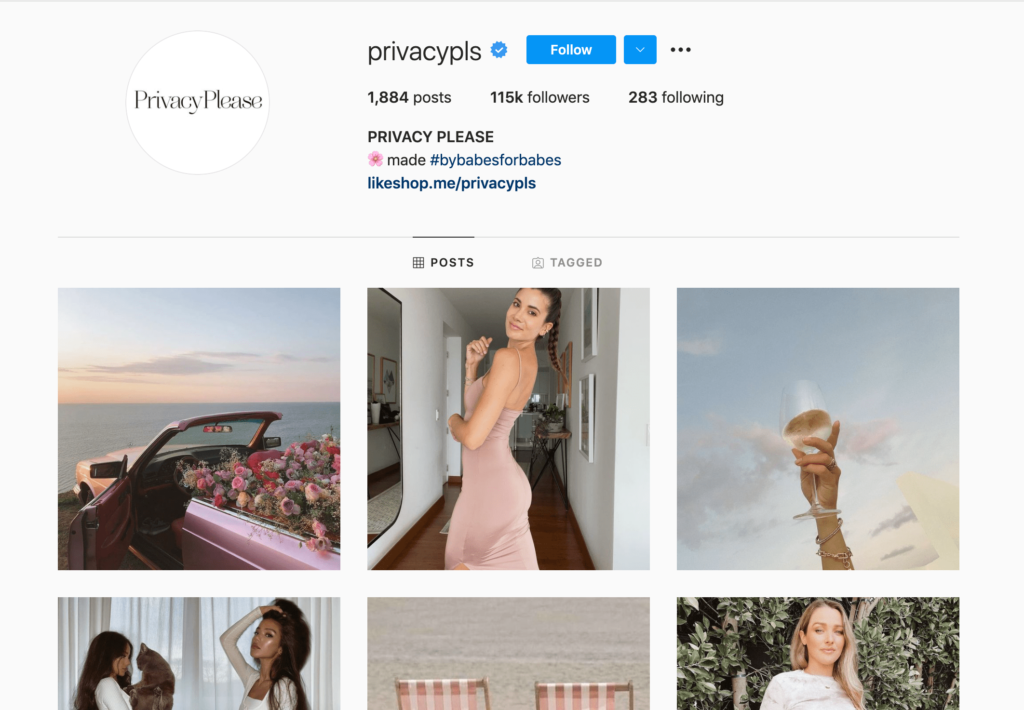 Their Strategy:
When you visit their account, you will notice that every image is heightened to enhance the glow and warmth of every woman to match with the outfits. If you apply the same strategy to your posts on Canva, you can turn the temperature up through the filter setting, so that the images are warm instead of cool.
Sephora
Sephora is a french company with around 14.3 million followers on Instagram. It is one of the largest beauty chains with online and global stores that carry more than 300 makeup, skincare and haircare brands. Sephora's Instagram feed is all about creative product placements and highlighting the glam factor in every image. They uniquely feature every product that they carry, focusing on the personality of each product.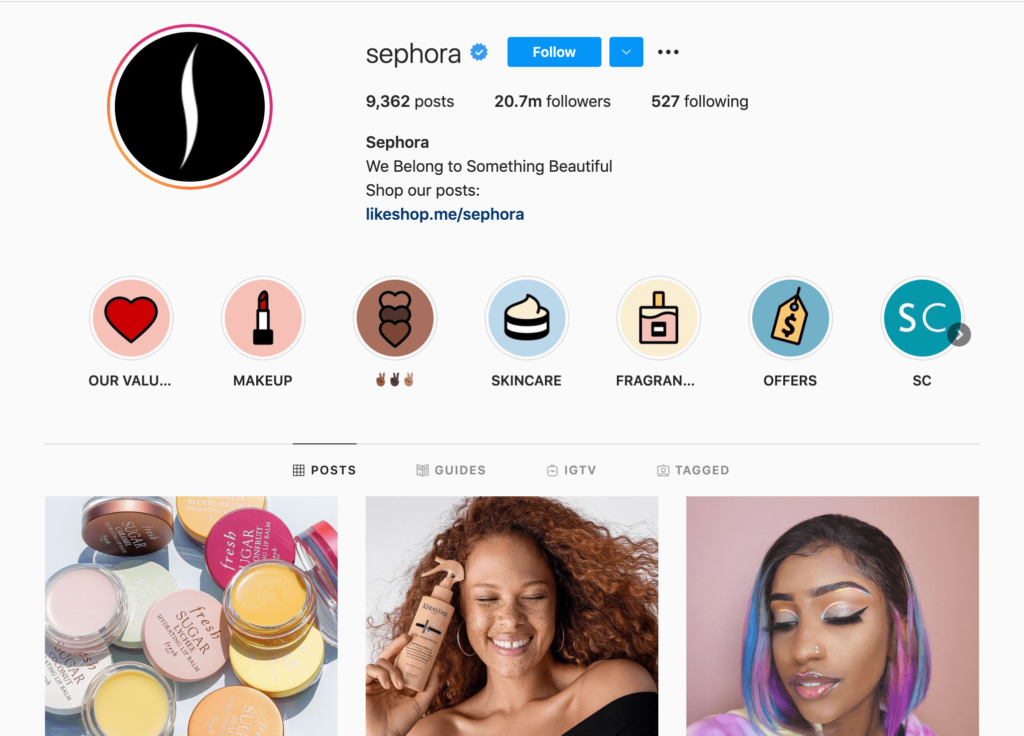 Their Strategy:
The main feature of their Instagram popularity is that they take product photos with different backdrops, fun props, and angles. Use Canva with bold lettering and mix the final images up in blocks of nine so you have a variety of colours being used so that people will know how fabulous your products are.
Kate Spade New York
Kate Spade, a New York brand, is an international retailer of handbags, jewellery, clothing and accessories for women. They have managed to get a following of 2.8 million followers on Instagram. Their Instagram feed is filled with feminine and playful items and they feature different shades of pink as their primary colour, with complementary colours like blue, green or purple.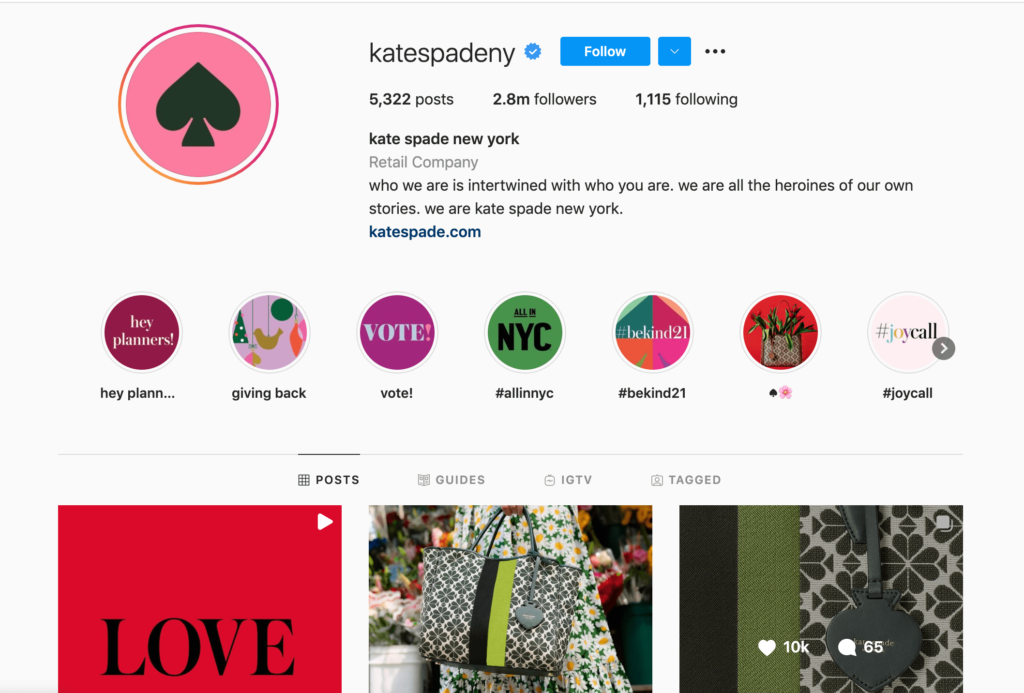 Their Strategy:
Images and the same colour palette backgrounds play a prominent role along with the classic Serif font. You can try to recreate quotes and choose bold colours for your products. Choose the one font and play around with italics and bold letters to make each post stand out.
Sprouts Farmers Market
Sprouts Market is a grocery store with around 170 thousand followers on Instagram. The grocery store focuses on products that promotes healthy eating. Their way of using colours and patterns has turned their Instagram feed into a rainbow, focusing on one colour for about 9 to 10 posts before they move on to the next colour. If you take a look of their account, you will notice the transition of the colours. Scrolling through their feed makes you feel energised and bright.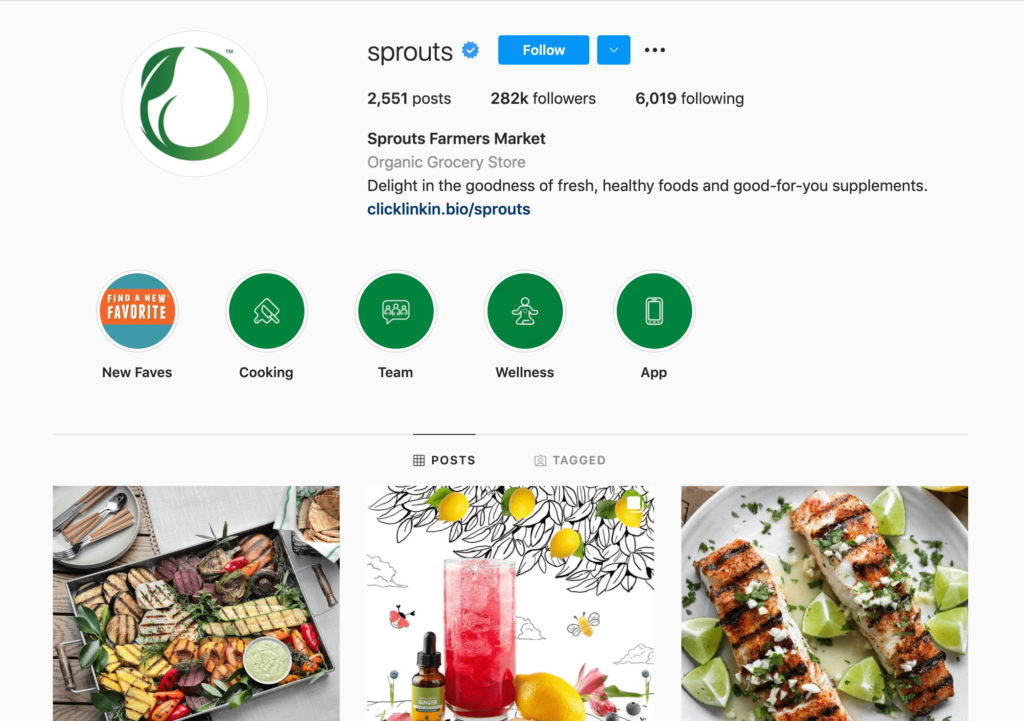 Their Strategy:
There are many ways to use colour in your feed. You can also create beautiful and colourful patterns through your own Instagram content. One way to accomplish this is by focusing your Instagram content using a single colour or two. It would help if you focus on maximising the use of your brand's colour, making signature colours and simply adding complementary colours that utilise a shade of your brand's colour palette in a way that makes it stand out in your feed, amongst the other pictures.
Matt Adlard – Topless Baker
Matt Adlard, previously known as Topless Baker, is a baking influencer on Instagram, with 596 thousand followers. He shares incredible videos of his creation and does a beautiful job of utilising video thumbnails as well.
However, the most impressive thing about his Instagram is his use of stories. He is a self-taught baker, and he has always spent his time enhancing his baking skills and inventing new ideas for putting together these incredible recipes. He shares his learning process on his Instagram stories and shares the entire journey of successes and failures with his audience.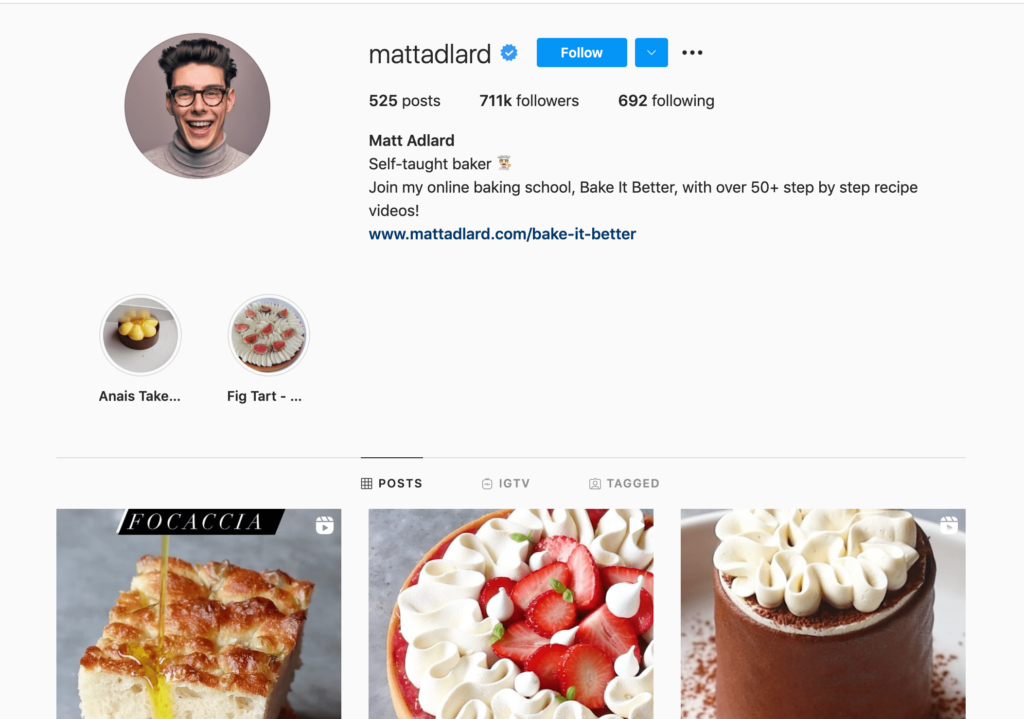 Their Strategy:
People love to see behind the scenes of videos. If you only look at Matt's posts, you might think that he knows every step of baking and anything that he bakes turns out perfect.
But if you watch his stories, you will get to know that it is not everything is a success and is as perfect as it seems. This is the main reason why he can have such a dedicated and engaged audience. If you also want to achieve this, try sharing some behind the scenes on your Instagram stories. It will surely humanise your brand and help you connect with your audience.
Teva
Teva is a brand of all-terrain sandals focusing on user-generated content. Teva has around 563 thousand followers on their Instagram. User-generated content means that they share photos that their customers creates and shares on their own Instagram feed.
Like it or not, it is a genius strategy to gain more followers as it helps to gain trust in your products. In addition, it is a money-saving trick because you can get more content for your Instagram feed without investing in content creation.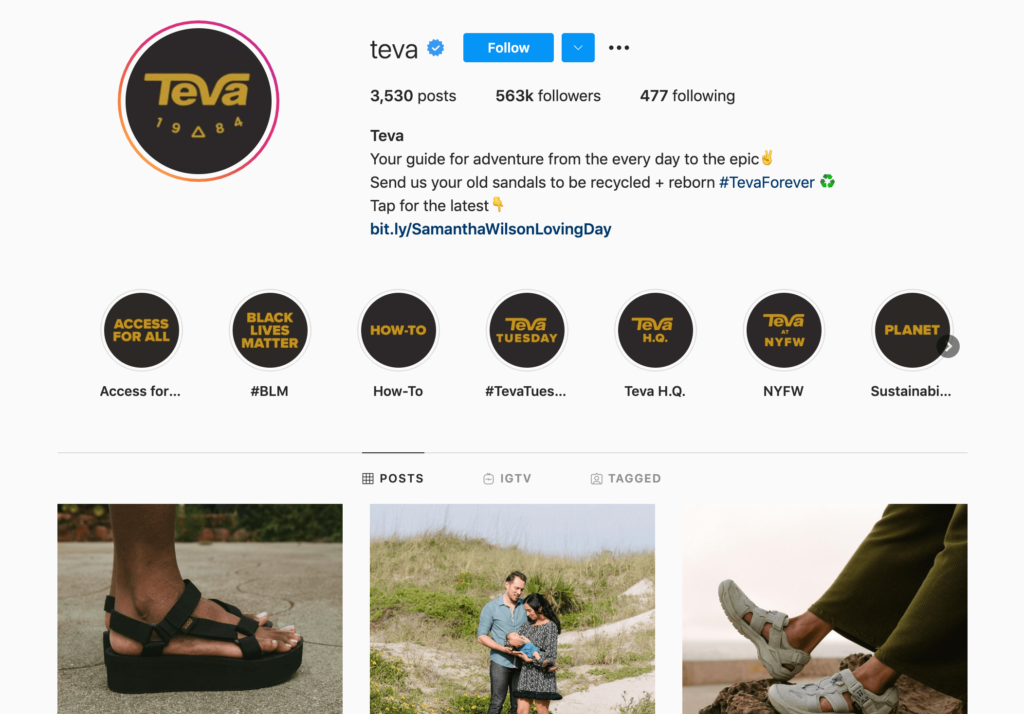 Their Strategy:
Create hashtags that customers can use to be featured on your page, or you can also ask your audience to tag your page in any photos that they take of your product. This way, you can have access to a library of user-generated content that can help increase your followers. If you have many customers sharing your photos, you can dedicate your entire content strategy to UGC. If pictures are well taken, sharing them on your feed is a great way to increase your content and provide proof of your products.
AhaSave Instagram Downloader
With AhaSave Instagram Downloader, you can browse and download any photo or video you want. This app is free, and can auto-detect videos on Instagram, and you can download them in just one click. They support HD photo and video downloads and provide safety to the greatest extent. AhaSave Instagram Downloader provide various features as listed below:
Download videos with a built-in browser
Download videos to your private folders to protect privacy
Download HD videos and play them offline without any hassle
You can enable dark mode for personal folders
Support all formats such as mp3, mp4, m4v, avi, WMV etc
It can automatically detect the links from a web browser and download videos in the background
All the downloaders are small in size and last
Play offline videos with the built-in player
We have other video downloaders in our series of apps, do check them out: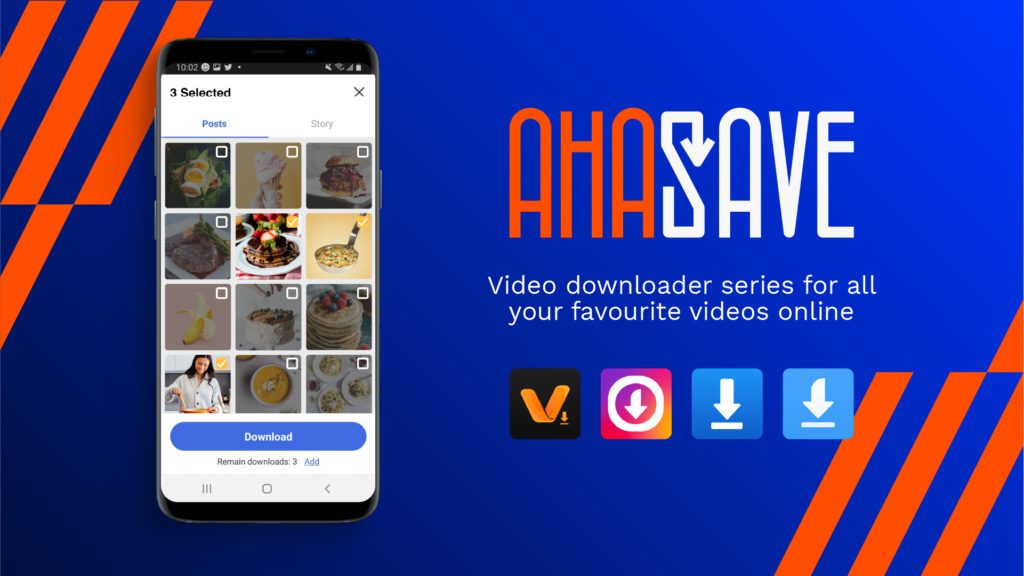 Check out AhaSave: Tiktok |
Pinterest | Twitter | Google Play | YouTube | Website | LinkedIn | Reddit
Need more tips? Find 'em all here!
Become our AhaSave Ambassador today!