Ever wanted to view Instagram anonymously? Well, there's no need to be ashamed of for being an anonymous Instagram viewer. While it might often be that most people associate the term 'Insta Stalker' with something bad and creepy, it doesn't always have to be that way. In fact, knowing how to watch Instagram anonymously could be really useful in many ways.
For whatever reason it might be, you would definitely want to keep it down low when you're stalking someone's Instagram account. As of now, Instagram itself does not offer you any way to view Instagram stories without others knowing. Luckily, we have a wonderful solution for you to solve this frustrating problem. We are proud to present the NEW feature of AhaSave downloader for Instagram: The Instagram Story Viewer!
We have summed up a few good reasons why it could be worthwhile to view Instagram anonymously and how can the Instagram Story Viewer of AhaSave Instagram Downloader be helpful in these situations. Let's take a look!
8 Good Reasons to View Instagram Anonymously
View Instagram anonymously for personal reasons
Scoping out your new crush. You can get to know so much more about a person before talking to them face to face. You can find out whether they are already dating someone else, what's their hobby, their favorite food, their friend circles, and so much more. This can be done by viewing their Instagram stories and posts anonymously. By knowing your crush better, you can easily leave a better impression when you are finally going for an actual date with him or her. That will lower your risk of getting your crush into crushed, increasing your "success rate" in getting committed into a relationship.
Explore more information on your partner privately. If you believe that your partner is hiding something from you or cheating behind your back (which we sincerely hope it isn't the case), you may turn on the detective mode in you. Conduct a private investigation and gather evidence by watching and downloading their Insta story anonymously.
Keeping tabs on an ex-partner that you couldn't get over. Breakups are painful; it's undeniable. Breaking up is tough for almost everybody, especially you are the one being ditched. Perhaps, what is even tougher is to move on. It could take a really long time to stop thinking about his/her face or get your ex's name out of your head. If you cannot resist the urge to type your ex's name in the Instagram search bar, you are definitely not alone. This thought you are having is pretty normal, and this is where AhaSave anonymous Insta Story Viewer comes in handy.
Keeping up with a former best friend that you can't find the courage to talk to again. Sometimes it is really hard to begin a conversion with someone you have met for a very long time. It could be really awkward to say anything when your friendship has drifted along the way as time goes on. By viewing their Instagram Story anonymously, you will know what and how they are doing recently; you can engage a fruitful conversion by starting the chat with something they can relate to.
Gather records of public slander. If you are being publicly bullied or slandered by another Instagram user, you can retain a discreet record of the offensive content on the Instagram story without alerting the account owner. AhaSave Instagram Downloader allows you to view and downloader the evidence all in one app.
View Instagram anonymously for business reasons
Browse a competitor's content anonymously as a source of inspiration. You definitely wouldn't want your competitor to know that you are getting inspiration from them; they might just block your account right away. Instagram Story Viewer can be very useful in this case to keep you anonymous. Check out what promotions do they offer on Instagram, what products they are advertising, what type of content they usually post. Once you know what they are doing, you can easily outsmart them. You can analyze their Instagram marketing strategy, use this information to create new ideas, and make better decisions to improve your business strategy.
Conduct Instagram marketing research on a brand ambassador/prospect. As an Instagram marketer, you may want to perform anonymous research without leaving a trace before engaging an influencer for a campaign. This process may include researching the Instagram content of an influencer to see if they are a suitable candidate for the ambassador program. Brands and marketers usually do not want to alarm the influencer during the research because everything is yet to be confirmed, and you definitely do not want to give these influencers a wrong signal or false hope.
Gather evidence of business plagiarism. If an influencer or brand page suspects someone is stealing or copying their content, they may want to gather evidence from the competitor's Instagram story without exposing themselves.
The most difficult part of stalking someone on Instagram is to bypass the Instagram Story viewer list and avoid being caught when viewing Instagram stories. Here's a trick on how you can view Instagram anonymously with AhaSave IG Downloader!
AhaSave Downloader for Instagram is a free Instgram downloader on Android. It comes with a lot of wonderful features such as batch downloads, hashtag downloads, caption downloads and many more (read them all here). Not only AhaSave allows you to download all kinds of content from Instagram, its latest feature: Insta Story Viewer, allow you to view Instagram stories and posts anonymously too! Here's a step by step guide on how you can explore this new amazing feature.
Log in to your Instagram account via AhaSave IG Downloader.
Search for the Instagram account that you would like to view anonymously.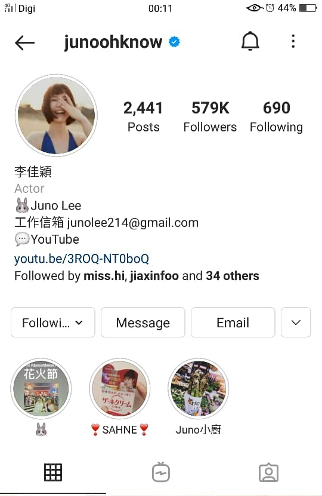 In order for the Instagram Story Viewer to work, you will first need to download any feed post once from that particular account.
Once you have download any post, the account will appear under the 'Frequently visited' column.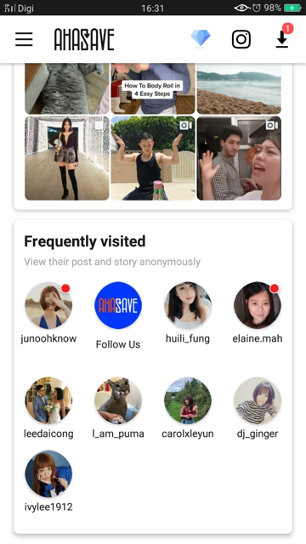 Tap on the account in the 'Frequently visited' column. You can find all the stories, feed posts, and highlights from accounts you have previously downloaded.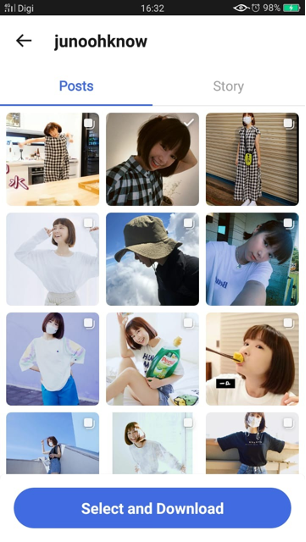 You can now view Instagram anonymously within the AhaSave gallery. Your name will not show up in their Insta Stories viewer list!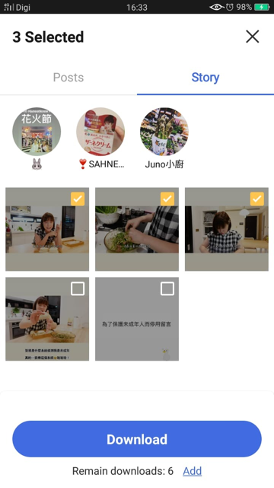 You can also download their Instagram account contents from here. It takes only a click to download a single photo or video, or you may select multiple to download in batch!
Knowing Where to Draw The Line
'View Instagram anonymously' might sound innocent itself, but crossing the line and use this information to inflict harm on others is definitely no good. We definitely do not promote the anonymous Instagram viewing feature to be used maliciously. Make sure that all intellectual property rights, including video, articles, pictures, or other information that you downloaded from the internet, should be respected. They should not be violated in any other way.
View and Download Instagram Anonymously With AhaSave!
If you search for downloaders for Android through which you can download different content from social networking sites, then AhaSave downloaders will surely help you out. Try the below-mentioned downloader today!
Check out AhaSave: Tiktok |
Pinterest | Twitter | Google Play | YouTube | Website | LinkedIn | Reddit
Need more tips? Find 'em all here!
Become our AhaSave Ambassador today!