Want to download Instagram videos from BuzzFeed Tasty? Want to get ready yummy food in your kitchen? So what are you waiting for!
BuzzFeed Tasty on Instagram has become known by the general public for its aerial-view cooking videos of sometimes simple and sometimes indulgent recipes. You'll find every single tasty recipe video ever, all in one place! They are easy to follow, making it a perfect cooking video you can download and follow for your culinary adventures.
There are several segments for different types of dishes and these are, proper tasty, tasty vegetarian. Proper Tasty Segment have delicious food from all around the world you'll want to make at home, and tasty vegetarian have tons of vegan food. You can also find recipes for kids, that is Instagram Tastyjunior, is dedicated to little ones. Kids are naturally curious about what goes on in the kitchen.
If you are foodie and loves making different yummy recipes, then Instagram BuzzFeedTasty may help you step-by-step in cooking your favourite recipe. But being an Instagram user, you must be aware that you cannot just simply download Instagram videos from BuzzFeed Tasty directly through the platform. If you are looking to download Instagram video from BuzzFeed Tasty, you're in the right place.
How to Download Instagram Videos from BuzzFeed Tasty?
Here is way out for you – you can download Instagram videos from BuzzFeed Tasty through AhaSave free IG downloader app and learn cooking hacks and baking.
It is easy to download AhaSave Instagram Downloader, and it will not require any log in if you are downloading photos or videos from public profiles. You can install it in your device in one click straight from Google Play Store or as an APK file.
AhaSave IG Downloader can download all the Instagram videos in the IGTV, IG feeds, IG Story, Highlight, Boomerangs and Reels. The other important feature of this app is it also download the hashtags and captions when you download the main content. It's very easy to use, it takes only a few steps to download Instagram videos. Download high quality HD videos for free from Instagram. But if you want to have premium service, it is also available. You can subscribe to the premium account to receive ad-free experience. It provides you many unique features that you cannot even get with various premium downloaders on Android.
Guide: Download Instagram Videos from BuzzFeed Tasty
If you are using Android phone and want to download Instagram videos, you'll first need to visit the App Store and download the app AhaSave downloader for Instagram.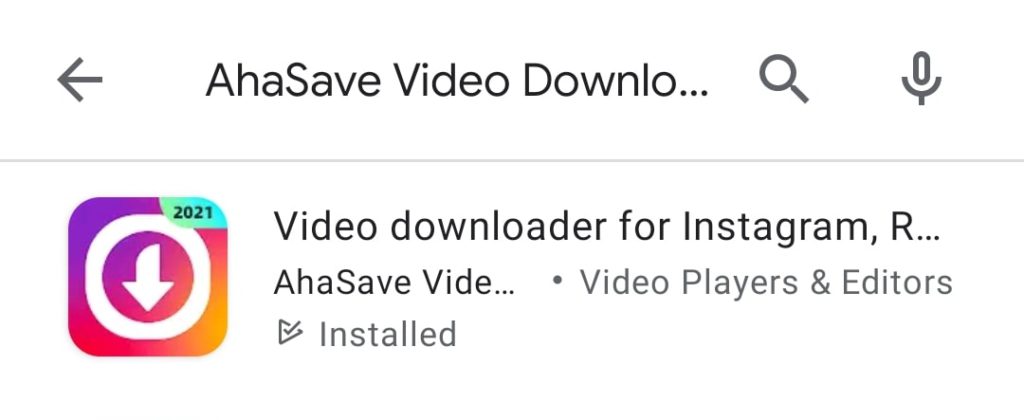 Hit the install button. Set the app up, giving it permission to access all of your images and media. Once Ahasave IG downloader app installed in your device, then you can download Instagram videos from BuzzFeed Tasty easily.
The next step you have to follow to download video is to open your Instagram BuzzFeedTasty and find the video you love then choose "Copy URL" from options (three points).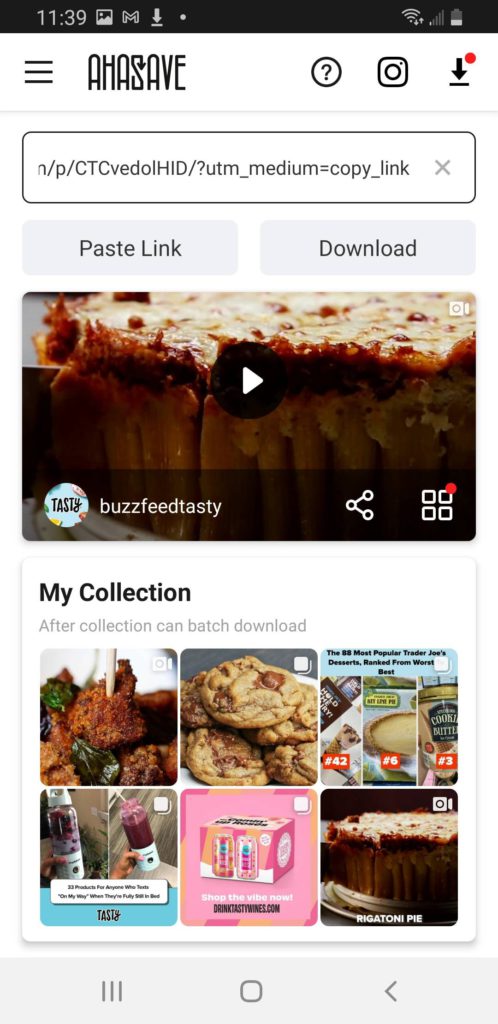 Then, open the Ahasave IG downloader app and Paste the link. It will automatically download video Instagram in your phone by default. You can save video to the designated place, according to your choice in the device. It is convenient and effective downloader that you will ever use in your device.
Key Features of AhaSave Instagram Downloader
Fast Download: IG video download speed matters, if downloader takes more time downloading any video. A professional always prefer a fast download app, and all these qualities have in this app. With this app you never know when your video downloaded.
You can download video Instagram in batch: It has often been seen that some apps hang when downloading multiple videos, but there is no such issue with AhaSave Instagram Downloader. To use this premium feature, you will need to login to use it. Once you login, you can download in batches under 2 areas.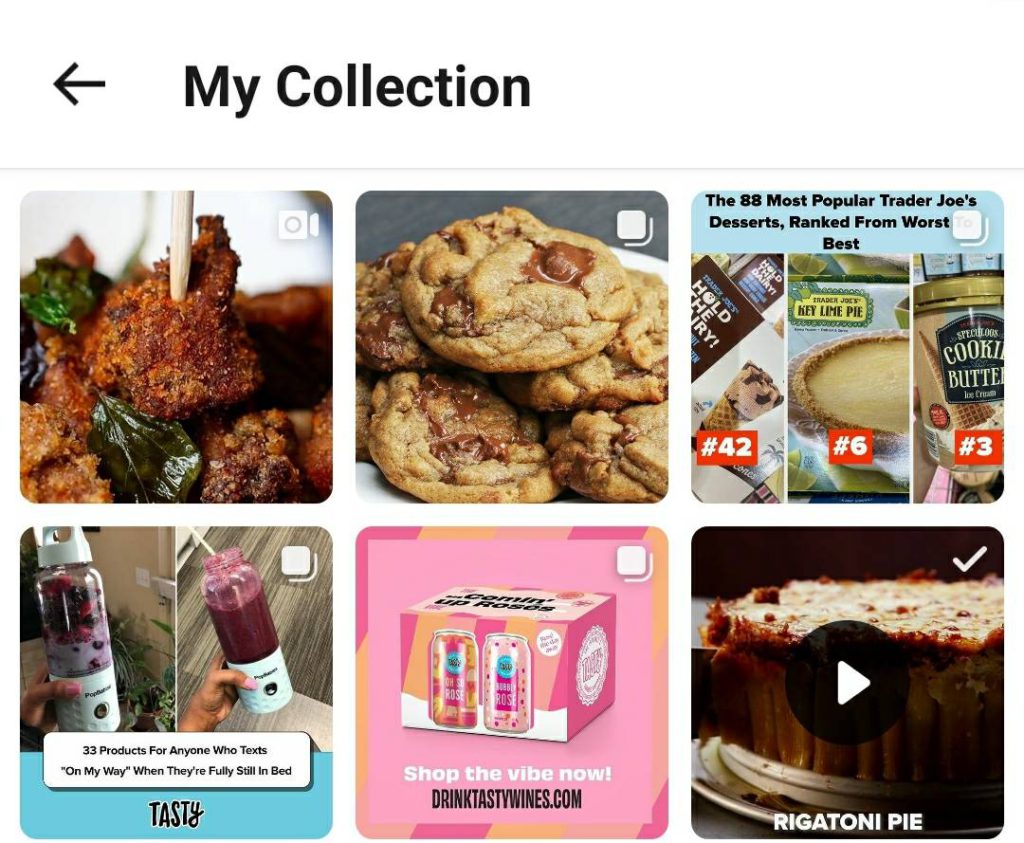 Under 'My Collection' where your 'Saved' posts will appear, you can select and download multiple files at once.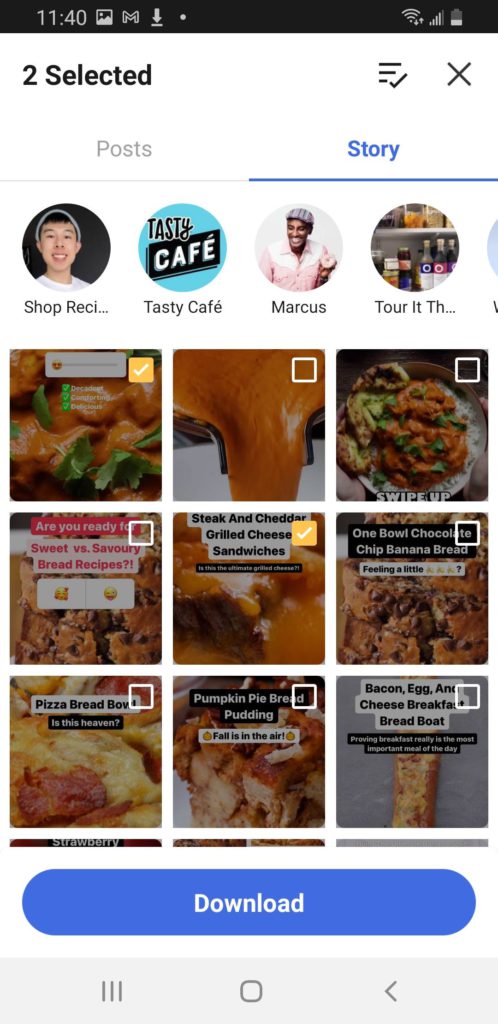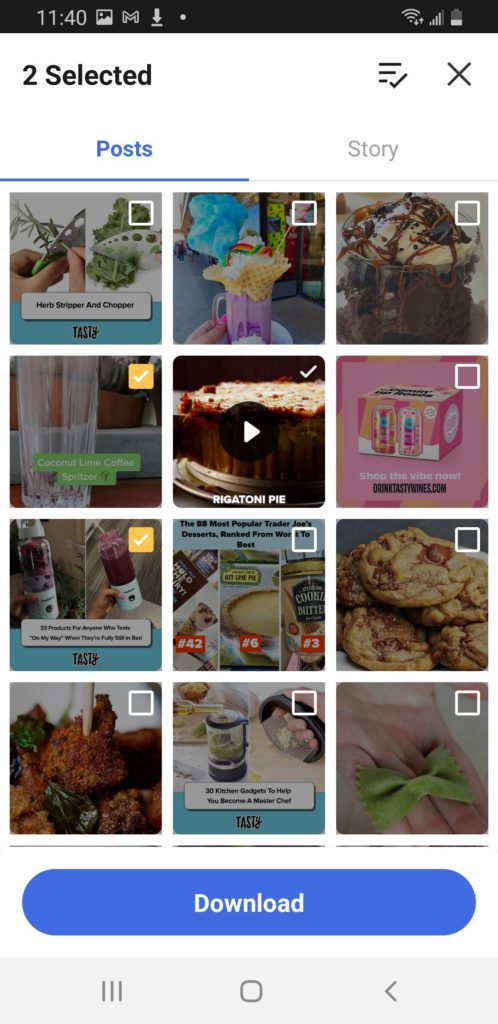 Under 'Frequently Visited' module, you can find all posts and stories on the account, select multiple photos/videos, and download them at once.
Watch offline: Once you download any video can watch it any time and any where you want. You don't even need internet access to watch those videos! This way you can save your data.
Download source and caption: You can even download captions hashtags and URL together, download photos and pics, download different contents like IGTV, Reels, Feeds, Stories, Highlights etc. This way, you can give content creators proper credits and repost them on your pages easily.
One thing you have to keep in mind when you download Instagram videos from BuzzFeed Tasty, is to respect the privacy rules. Just be sure to check you are not infringing any copyrights of the publisher. If you are downloading others video without consent then use it for personal use only.
Download Instagram Videos on Android Today
If you are looking for another video downloader for Android, check out our AhaSave video downloader series, which is designed for various social networking platform for your specific needs:
Check out AhaSave: Tiktok |
Pinterest | Twitter | Google Play | YouTube | Website | LinkedIn | Reddit
Need more tips? Find 'em all here!
Become our AhaSave Ambassador today!