While we are stuck at home during the pandemic, why not spend this free time trying some new Korean food recipes? Korean food has gained popularity worldwide because of K-pop music. K-pop music has influenced people around the world to learn more about the Korean culture and start eating Korean food.
If you are interested in trying to make some Korean food for yourself, here are 5 amazing Korean food recipes for you to try at the next dinner. Have a look!
5 Easy Korean Food Recipes  
1. Cheonsachae Salad – Kelp Noodles
Kelp noodles are made out of edible kelp and are semi-transparent to look at. Kelp noodle salad is a tangy flavored popular Korean Food Recipe that is very easy to cook and follow.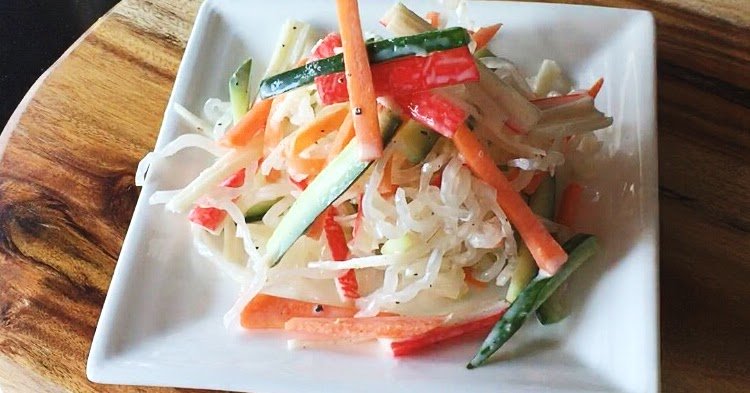 Ingredients
Noodles
Cucumber 
Carrot 
Crab sticks.
White vinegar
Sea salt
Raw sugar
For dressing
Yellow mustard
Mayonnaise
Raw sugar
Method
Wash the noodles and squeeze out extra water
Marinate the noodles with white vinegar, sea salt, and raw sugar.
When ready, add in all the vegetables and crabs.
Serve
2. Spicy Beef Soup – YukGaeJang
Yukgaejang is a popular and comforting Korean soap that is known for its amazing taste. Let us have a look at the preparation.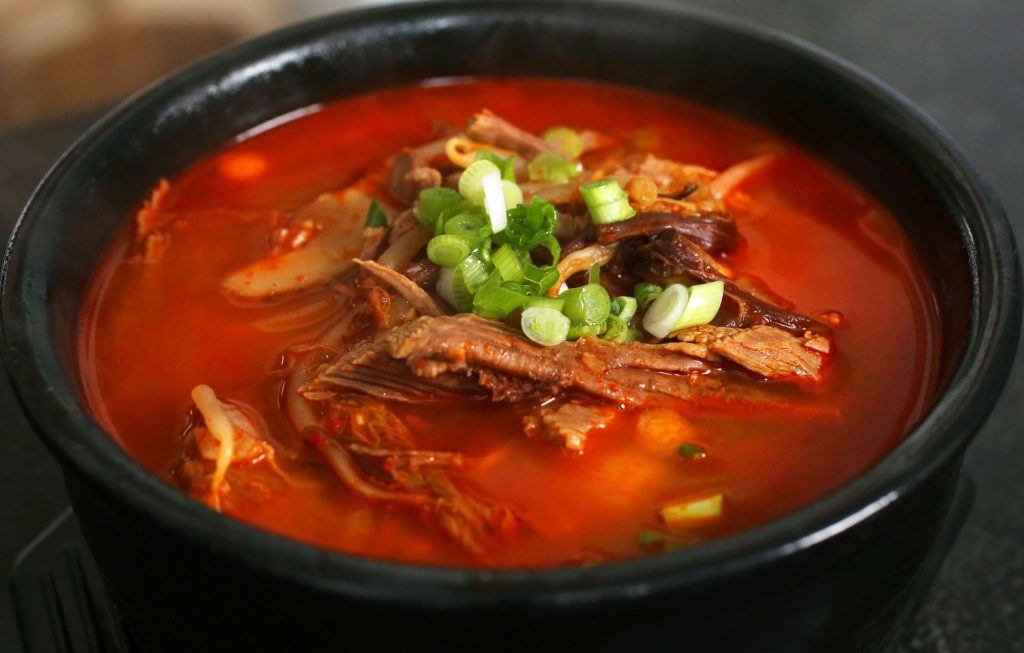 Ingredients 
Meat
Fernbrake
Bean sprouts
Korean chili oil
Glass noodles
Method
Soak the glass noodles for about 40 to 50 minutes and drain the water.
Boil the noodles.
Boil the water, put in cornflour to thicken it, and add oil.
Add all the spices, fern brake, and bean sprouts.
Add the pre-prepared meat.
Serve.
Keep it in the fridge for 4 to 5 days in an air-tight container. 
3. Korean Barbecue Chicken – Chicken Bulgogi
Chicken bulgogi is another classic Korean dish. It possesses tender and juicy chicken flavoured with mainly soy sauce.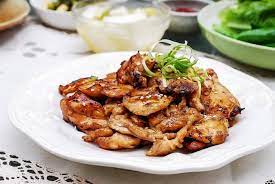 Ingredients
Method
Marinate chicken with sprite or with any other lemon-carbonated drink.
Fry the chicken with the oil.
Smoke the chicken using charcoal.
Serve.
4. Kimchi Pancakes – Kimchi Buchimgae
Kimchi pancakes are a popular Korean breakfast food. It is an easy recipe to prepare in the morning.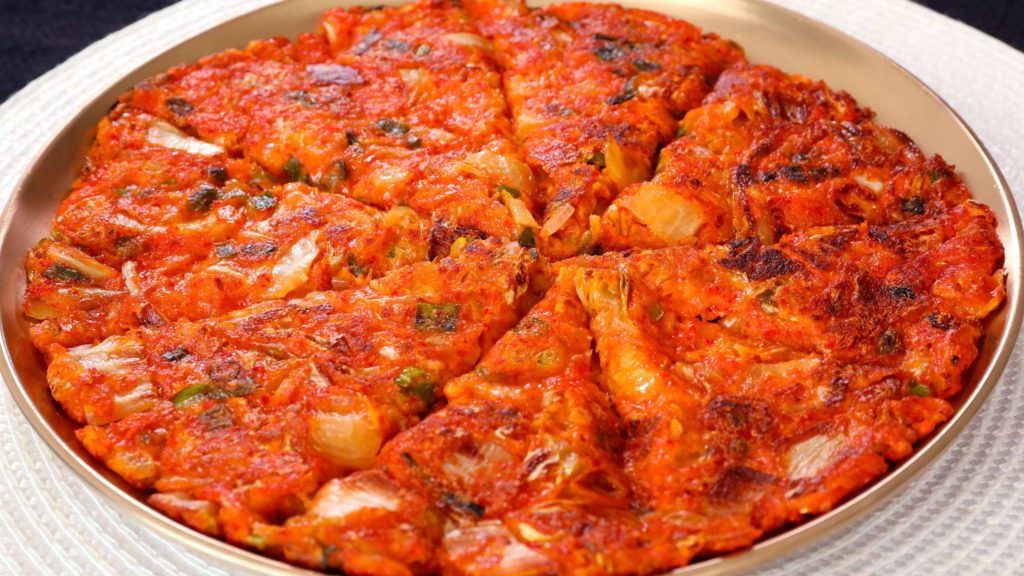 Ingredients
Flour 
Water
Eggs
Sea salt
Kimchi
Kimchi liquid
Ice cubes
Green/ red chilli
Vegetable oil
Method
Add salt to the flour and mix it with the water to form a dough.
Add beaten eggs, kimchi, kimchi liquid, and chilies.
Add ice cubes to the bater to keep it cold.
Scoop out the batter and spread it in the pan, evenly.
Cook the mixture on high flame for 20 seconds and then reduce the flame to half.
Turn the sides of pancakes to get them evenly cooked.
Serve.
5. Korean Radish – Kkakdugi
It is crunchy and delicious Korean food. Prepare the food using the recipe below.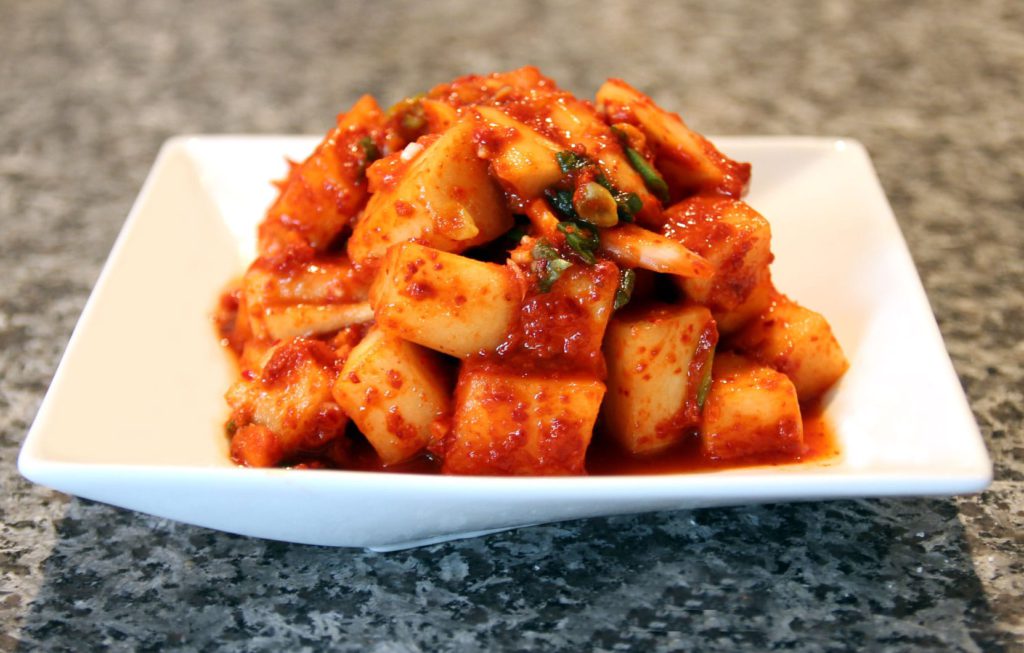 Ingredients
Korean radish
Green onion
Raw sugar
Rock salt
Brown onion
Red apple
Fish sauce
Garlic
Ginger
Water
Flour
Method
Cut the radish into small cubes.
Marinate it with sugar and salt.
Cut the green onion into small chunks and blend.
Add blended apple and onion to the green onion paste.
Mix water and rice flour.
Heat the ingredients in the microwave for 1 minute.
Mix all the kimchi base ingredients.
Rinse the radish with water.
Mix the radish with the kimchi base very well.
Serve.
How To Download Korean Food Recipe Videos From Facebook?
If you come across these useful Korean food recipes on Facebook and would like to keep their tutorial videos for future reference, you can use AhaSave Facebook Video Downloader to download them.  
AhaSave Video Downloader for Facebook
AhaSave Video Downloader for Facebook is 100% FREE to download for Android. It is easy to use, and it downloads videos at light speed. You can even pick the quality of the video you would like to download (HD or SD). With AhaSave, you can play your Korean food recipes videos offline whenever you need them. Get AhaSave today from Google Play Store!
Protecting Property Rights
Property rights are an essential part when it comes to downloading and sharing videos online. Protecting property rights means that you should always download these videos only for your own personal use and not exploit them in any way. We must remember to uphold intellectual property rights.  
Download Recipes for Free on Android Now!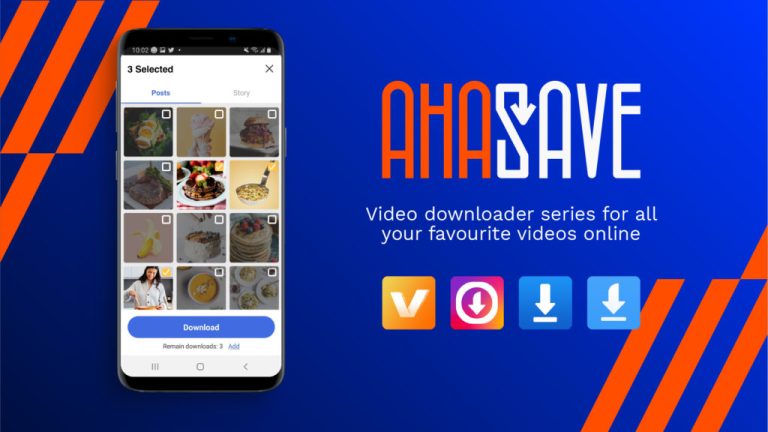 If you are looking for another video downloader for Android, check out our AhaSave video downloader series, which is designed for various social networking platform for your specific needs:
Check out AhaSave: Tiktok | Pinterest | Twitter | Google Play | YouTube | Website | LinkedIn | Reddit
Need more tips? Find 'em all here!
Become our AhaSave Ambassador today!