In case you missed it, we shared about how you can download TED videos here. Now, we will share some of the best videos on TED and how you can download them from the internet.
AhaSave is an app on Android that is used to download a variety of contents including videos, articles and social media videos. AhaSave has different video downloaders for each social media platform so it makes your downloading process a whole lot easier.  It is a free video downloader that gets the job done.
Here are some TED talk videos we find inspirational and worthy of a share with your friends/family!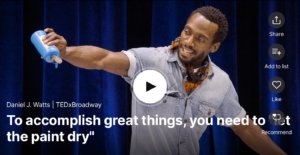 Daniel educates and inspire individuals on a different aspect including, creativity, different types of it and the importance of patience. He also includes information on careers and choosing the right one. The concept is inspiring and eye opening.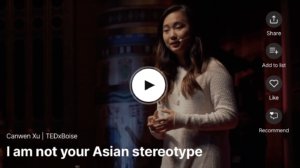 In this Ted talk, Canwen Xu, both a Chinese and American, share how she struggles with racism and how it impacts her life. In this, she moved to the States when she was two years old, and for 16 years, she shared how racism affected her social life and time in school and what impact it had on her mentally, emotionally and physically. But in the end, she discovered who she is and has accepted her heritage.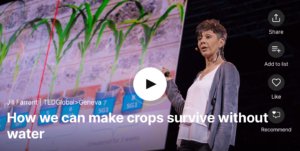 Jill Farrants spoke about producing drought-tolerant crops in this economy to supply the nation's demand for food. She discussed the effects of climate change on agriculture, and with this, she addressed the concept of making crops tolerant to harsh weather conditions. She also stated the complications of having such crops and also the benefits of producing them. She and her team did extensive research on how to grow these drought-resistant crops.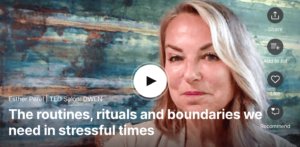 Helen Walters interviewed Esther Perel on the routines, ritual and boundaries we need to set up in stressful times. We are facing a life-threatening situation, and persons are scared, and stress levels are high. She shares with Helen the different challenges we face during this pandemic, working from home, handling children and having enough time for ourselves. It is all indeed stressful. Ms. Perel shares a variety of crucial tips we should keep in mind to have a healthier and happy life while being stuck at home.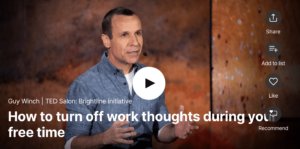 Our mind is constantly running with work and other aspects of our lives, and it can get pretty overwhelming. Guy Winch shares on Ted Talk about what we can do to turn off the work thoughts and live a little outside of work. Leave your work at the office and don't think much about it while you are at home.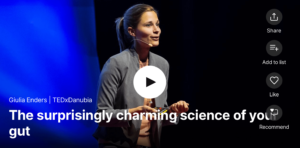 Dr Giulia Enders educates us about the complex and fascinating science that involves our gut and how it affects and impact our mental health.  
How to download TED Videos with AhaSave Download?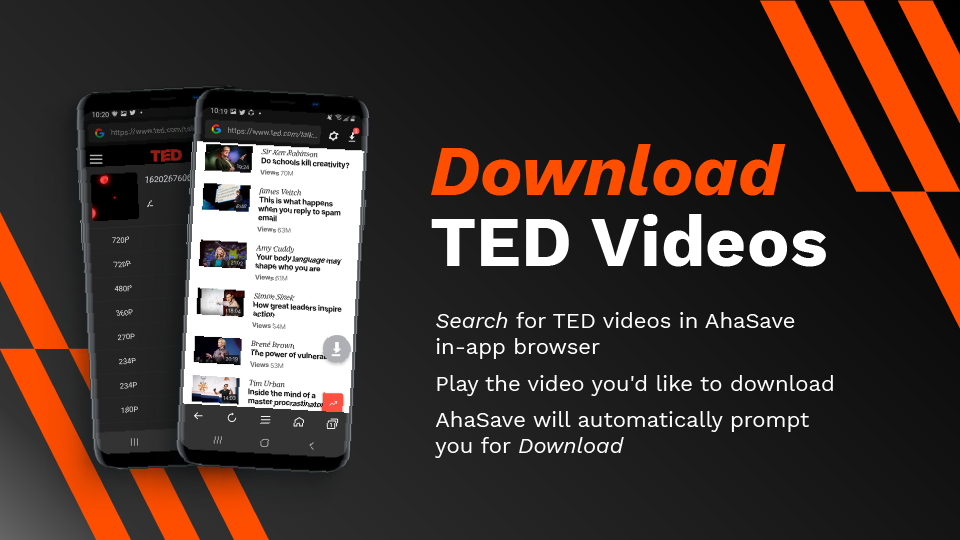 To download TED videos with AhaSave, you need to do a few things. First, you need to go to the browser and search for the video you want to download. AhaSave Downloader will automatically detect any downloadable videos and prompt the process. Then, you can choose your preferred resolution and press the download button, and you will access your video in a few minutes.
Protecting Property Rights
In downloading any content from the internet, there is a crucial feature we need to keep at the forefront of our minds, Protecting Property Rights. Any information you download from the internet, whether it may be videos, articles, pictures, you should use them for your personal uses and they should not be violated in any way.
Download TED Videos on Android
If you're looking for other video downloaders for Android, check out our AhaSave Video Downloader Series, designed for various social platforms for your specific needs:
Check out AhaSave: Tiktok | Pinterest | Twitter | Google Play | YouTube | Website | LinkedIn | Reddit
Need more tips? Find 'em all here!