Ever wanted to download Instagram stories that will disappear in 24 hours? With marketing innovations, it is forecasted the best way to engage with your audience and share products is through Instagram stories. The Instagram influencer marketing 2021 boom also exhibits Instagram stories catch the most attraction, visitors, and sales in e-commerce.
Instagram stories, photos, moments, poles, interviews, and branding are fabulous, yet they disappear after 24 hours. These Instagram stories replicate the character and aspire to innovative ideas. While you can archive your own Instagram stories and or keep them in the IG highlights, The best way to retain other profile's IG Story is to download them on your Android device before they disappear.
Why Download Instagram Stories?
You can save aspiring moments that you want to enjoy and cherish afterward. It may be the time spent with your family, college days, long talks, or inspiring ideas. There are many good reasons to download IG stories, and they can be useful in many ways, such as:
Download funny videos, gifs, or memes to share with your social circle
Special Marketing offers to enjoy with family and friends
Save life lessons for inspiration and creativity
Innovative ideas for your business growth
Let AhaSave Instagram Downloader help you with your IG downloads!
With AhaSave downloader for Instagram, you can download Instagram stories that disappear after 24 hours and other creative content save offline and shared with others. The best aspect of AhaSave Instagram downloader is the features offered, along with multiple options to download Instagram stories and posts. Here are some other notable features of AhaSave include:
Instagram Video Downloader at 3x speed
AhaSave IG Story Downloader can download videos three times faster as it has multi-thread technology.
Free Instagram Downloader that supports all formats
This AhaSave Instagram downloader supports all formats. No matter you're downloading a photo, video, hashtag, profile photo (yes, even Instagram profile photo!), IGTV or reel.
Download Instagram Videos and Photos in HD for Free
Just copy and paste the Instagram link to a third-party downloader app – this is much better resolution than screenshots or screen recording!
Download multiple Instagram posts with batch download
while downloading an IG story, it may take time to copy and paste links one by one. Ahasave downloader facilitates you to download all stories at once by using its batch download function.
View IG Story anonymously
This is a newly added feature. You can actually bypass the IG story viewer list and watch stories and highlights posted by other accounts anonymously.
Watch Instagram videos offline
AhaSave Video Downloader has a built-in video player where you can play and enjoy your downloaded Instagram stories offline without wasting your data when outside.
Easy
sharing of downloaded Instagram videos
Sharing always matters. To meet your demand, this Downloader allows you to share your videos with your friends with just a single click.
AhaSave Video Downloader authorize you to download video at 4k quality, depending on the quality of the original source video. This may increase video size but isn't compensating in its features.
How to download Instagram stories on Android with Ahasave?
The first step is to get the Ahasave downloader from the Google Play Store. Once you have installed AhaSave, download videos and images are just a few taps process. To download: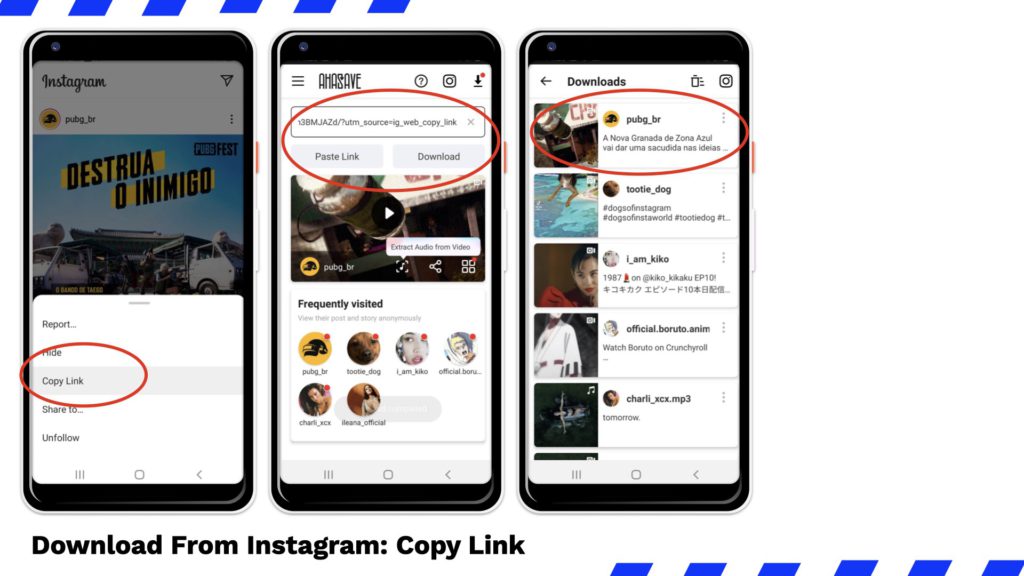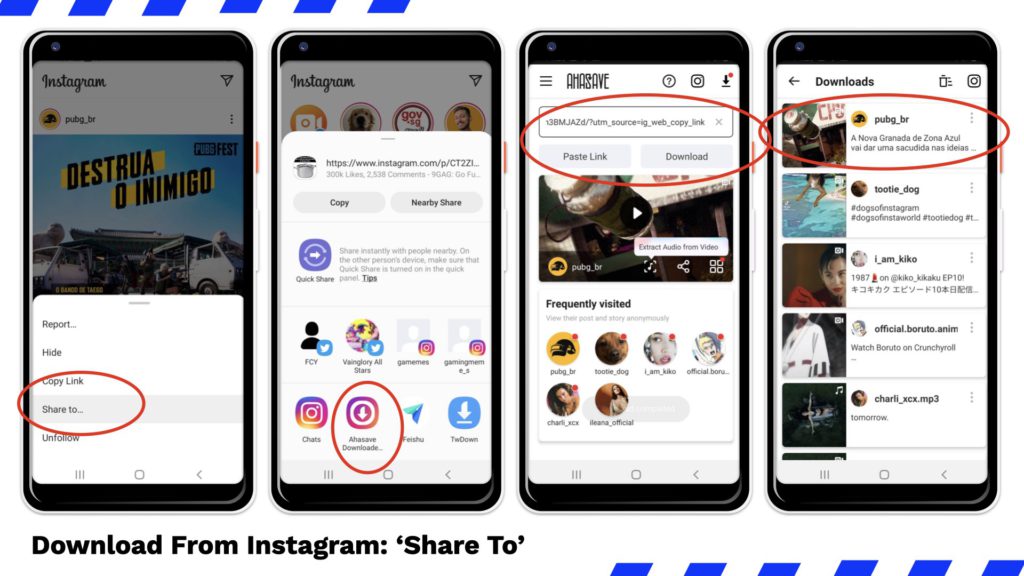 You also have the option to download directly from Instagram by clicking on the share button and selecting Ahasave
With Instagram stories and posts, Ahasave also offers you to download Hashtags and source URL
Download a Batch using AhaSave video downloader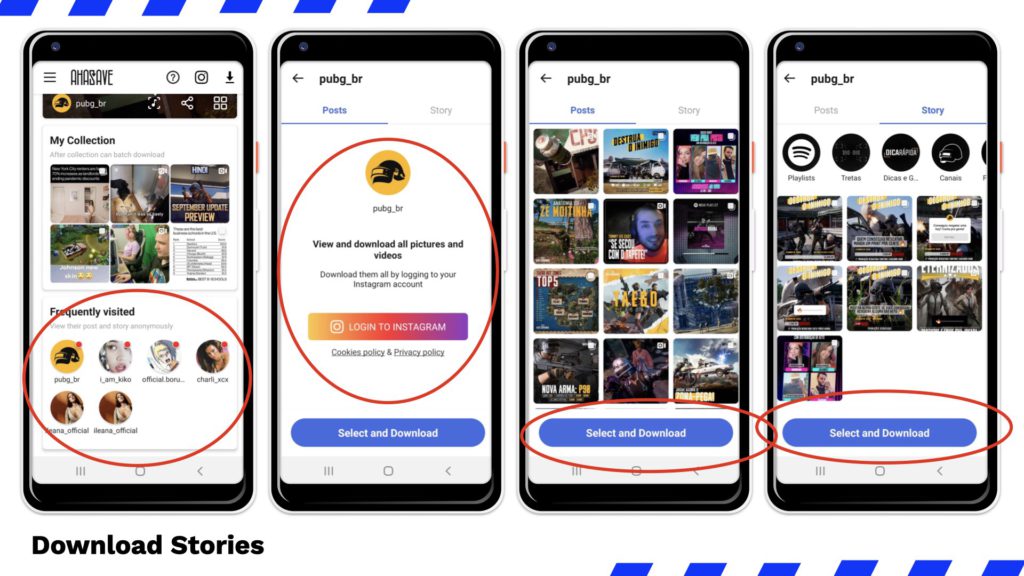 Another outstanding downloading option that comes with AhaSave is batch downloads, allowing you to download Instagram stories in batch.
With AhaSave, you can easily download multiple files at once. To start batch downloading, you shall download from the particular Instagram profile once. Then by visiting the "Frequently visited"column, you can select multiple contents to download in batch. Just define from where to start and where to end, then start downloading.
Important Reminder: Respect Intellectual Property Rights
Always remember to respect intellectual property rights and use downloaded content for personal use only. The content downloaded belong to the publishers, and rightful owners only, so do not share it commercially before getting their permission.
Get Your Own Instagram Downloader Today!
If you are looking for another video downloader for Android, check out our AhaSave video downloader series, which is designed for various social networking platform for your specific needs:
Check out AhaSave: Tiktok | Pinterest | Twitter | Google Play | YouTube | Website | LinkedIn | Reddit
Need more tips? Find 'em all here!
Become our AhaSave Ambassador today!