Ever been so inspired that you want to download TED videos online, to watch or share them afterwards? TED is a non-profit organization, known for creating and posting videos that educates and inspires individuals all over the world.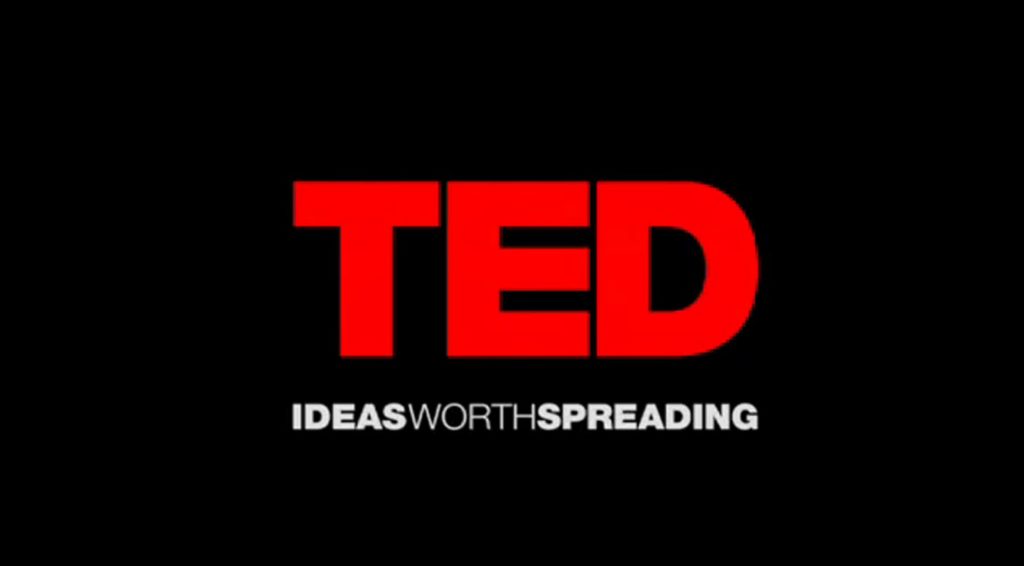 TED facilitates individuals to come and give speeches about a variety of topics and spread new ideas ranging from science, businesses, entertainment, social events, and designs. These videos are available in over 50 different languages; now that's amazing! It's a community of members innovating new ideas and strategies of different ethical backgrounds, social standing and their respective professions. TED has its website, YouTube channel and other social media platforms where they share their contents.
There is a lot we can learn from TED Talk videos. Some of these lessons include:
Career development – Tips and pointers on choosing your careers
How to improve your business – Entrepreneurship advice and tips on creating your own business
Self-starter series – Entrepreneurship ideas
Science – Basically anything relating to the science fields, doctors, nurses etc. 
Inspirational videos – Motivational videos for individuals and teaching them that anything is possible if you believe
More often than not, TED videos are inspiring and life-changing. If you'd like to download TED videos and share with your friends, or keep as a self-reminder in your Camera Album, all you need is a simple video downloader for Android device.
Using AhaSave to Download TED Videos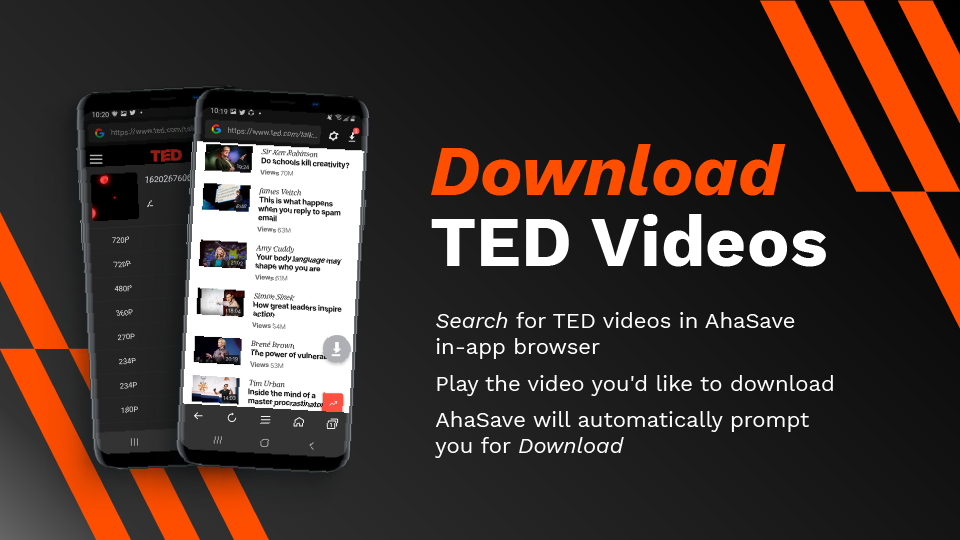 Android video downloader app allows you to download various content from the internet, from memes, videos, pictures from different social media platforms and websites. It helps you to download TED videos easily as well.
Advantages of Using AhaSave
The AhaSave application has a variety of perks that makes the process a whole lot simpler. 
AhaSave has a high speed, three times the rate of other applications, so that the Application can download multiple videos in the shortest possible time. The AhaSave Downloader is one of the best because you can download files from online at high speed, and it doesn't affect the RAM speed of your device. When it comes to the longer TED Talk videos, you can download TED videos fast and easily.
It can be used across major social media platforms such as Facebook, Twitter, Instagram etc.
Your password can also protect the videos; just remember to choose a password you can remember.
Your files can be easily organized, placed into folders, and you can rename the file to anything you may like. 
This downloader requires no level of login. You don't have to sign to complete your download process. It reduces the time to put your identification information and password. 
It takes up only three megabytes on your mobile device. Pretty small, so it doesn't slow down your device. 
How to get access?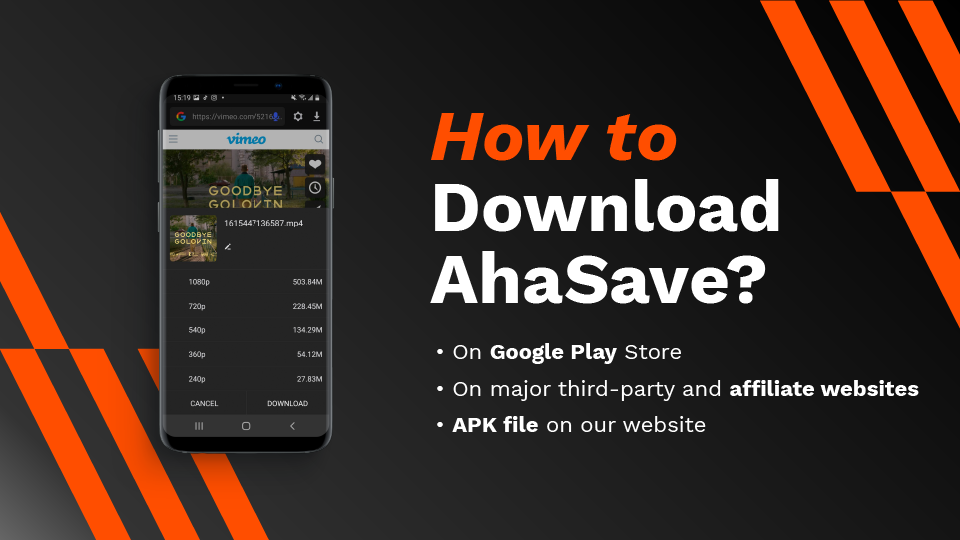 There are two (2) ways that you can set access to this app. 
APK Package Format – In this method, you can download the APK package from major third-party websites, or from our page here. The APK packages are routinely scanned for virus and malware, so they are perfectly safe to be installed on your Android devices.
Google Play Store – All you need to do is type the name of the app (AhaSave Downloader) into the search bar on the Play Store, then you click on the install button. 
How to download TED Videos with AhaSave?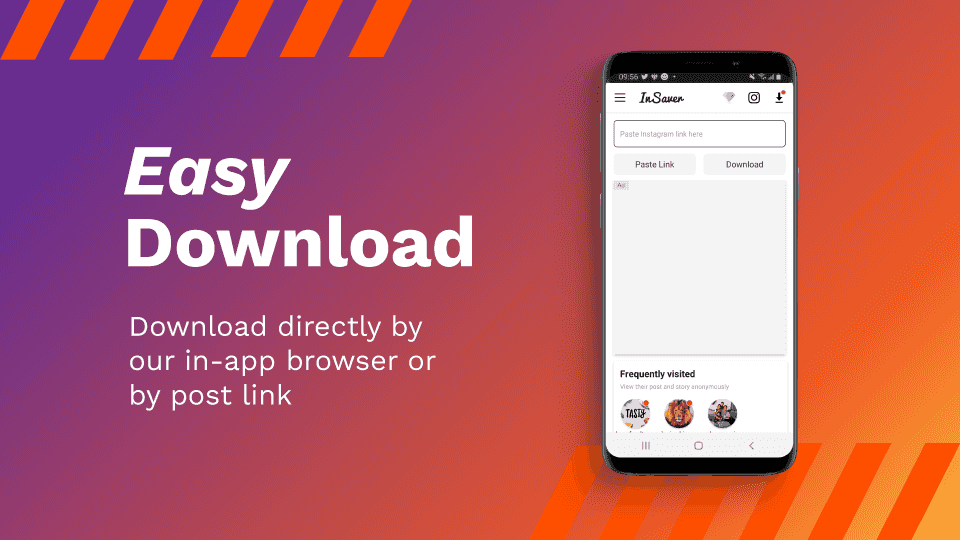 It's a pretty simple process where you copy the URL of the Ted Video you want to download from Google, and then you paste the link into the Ahasave link bar. The next step is to press the download option, and that's it. You will have access to your video in just a few minutes.
Protecting Property Rights
We should respect all property rights, meaning the video you download must be used for personal reasons and not to be exploited. It protects the company or website you are taking information from, and it also protects you as the user of that specific information. 
Get Your Own Video Downloader App Today!
With all these magnificent things this Application, I think you may want one of your own. If that's the case, you can head over to the google play store and download it today.
If you're looking for other video downloaders for Android, check out our AhaSave Video Downloader Series, designed for various social platforms for your specific needs:
Check out AhaSave: Tiktok | Pinterest | Twitter | Google Play | YouTube | Website | LinkedIn | Reddit
Need more tips? Find 'em all here!
Become our AhaSave Ambassador today!