It is considered a popular belief that cats are set to take over the universe, and they have begun their quest through the internet. It's easy to understand why so many of these cat accounts have gained popularity. Every account is different; they reveal funny sides of the felines, and provides us with something enjoyable and light-hearted to browse throughout our day.
Sam @samhaseyebrows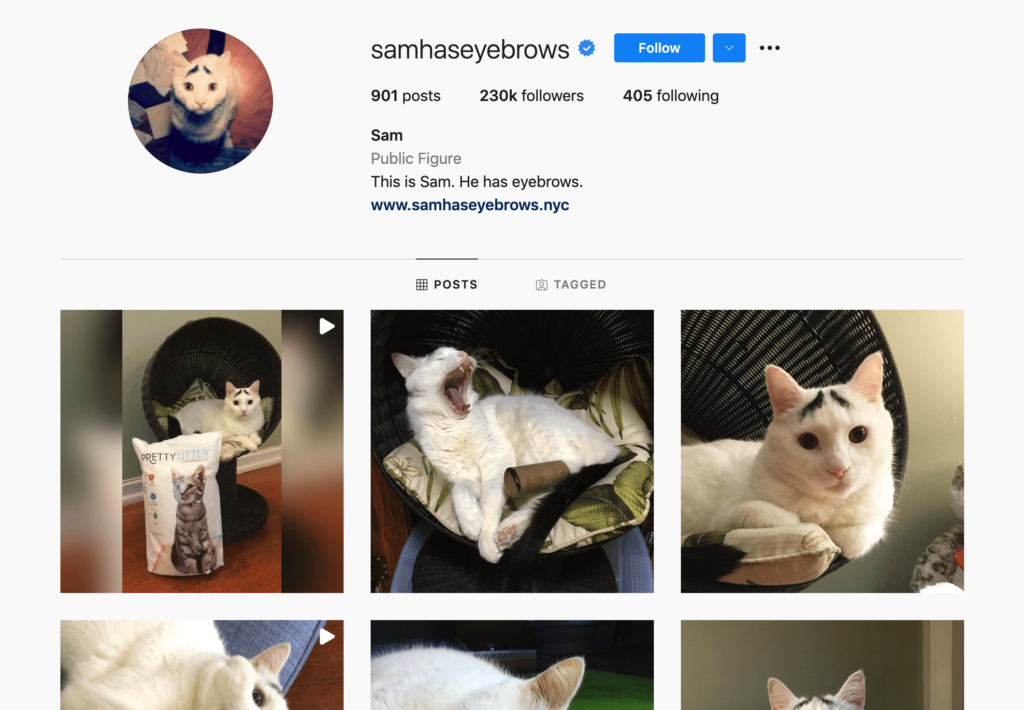 Sam is one of the cutest cats on Instagram. He is amusing because of the hundreds of faces he can create with his (yes, genuine!) brows; Sam was made for memes. His distinctive trait is what makes him so lovable. He is easily frightened and shoots the best pictures behind closed doors. Sam's Instagram profile is mainly filled with photos of the cat sleeping, playing in boxes, dress up in feather boas, and enjoying the life he deserves.
Higgins @higginsthecat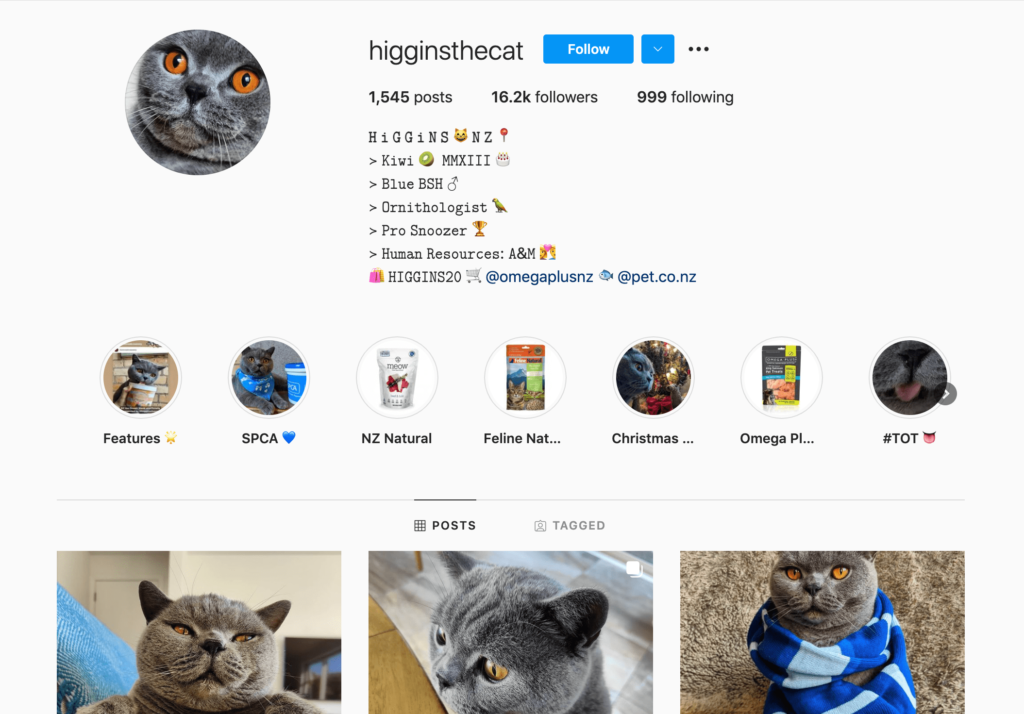 Higgins is a New Zealand-born British Blue. Higgins' 8,759 Instagram followers are treated to daily pictures of his stunning silver-grey coat and wide orange eyes. Higgins is one of the cutest cats on Instagram and does everything you'd expect a cat to do:
Sleep.
Sit into the boxes.
Eat goodies.

Let's throw in a couple more naps for good measure – everyone enjoys seeing him perform his sweet and cute faces. People are drawn to him because of his good features and attractive traits.
Albert @albertbabycat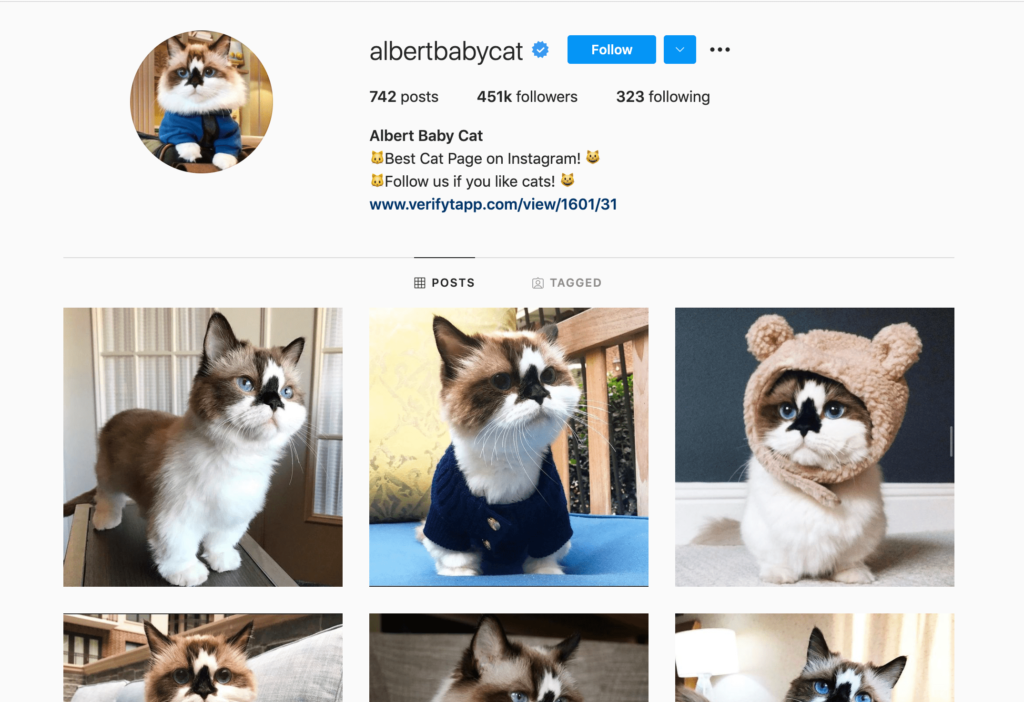 Albert is a Munchkin cat with his own Instagram page. His Instagram feed is filled with fluffy pictures that show off the kitty's tiny, little legs and luxurious life. Munchkin cat's adorable slim legs cause them to walk funny, but really, these tiny kittens are the prettiest cats ever. Albert isn't as little as Lilliput, but his parents like dressing him up in silly outfits and costumes. He enjoys spending time with his closest buddy and cat-sibling, a lovely white Scottish fold called Goyanggy. It isn't easy to define what makes Albert so captivating. His soft fur, stunning blue eyes, and cute Munchkin frame all contribute to his allure.
Samson @catstradamus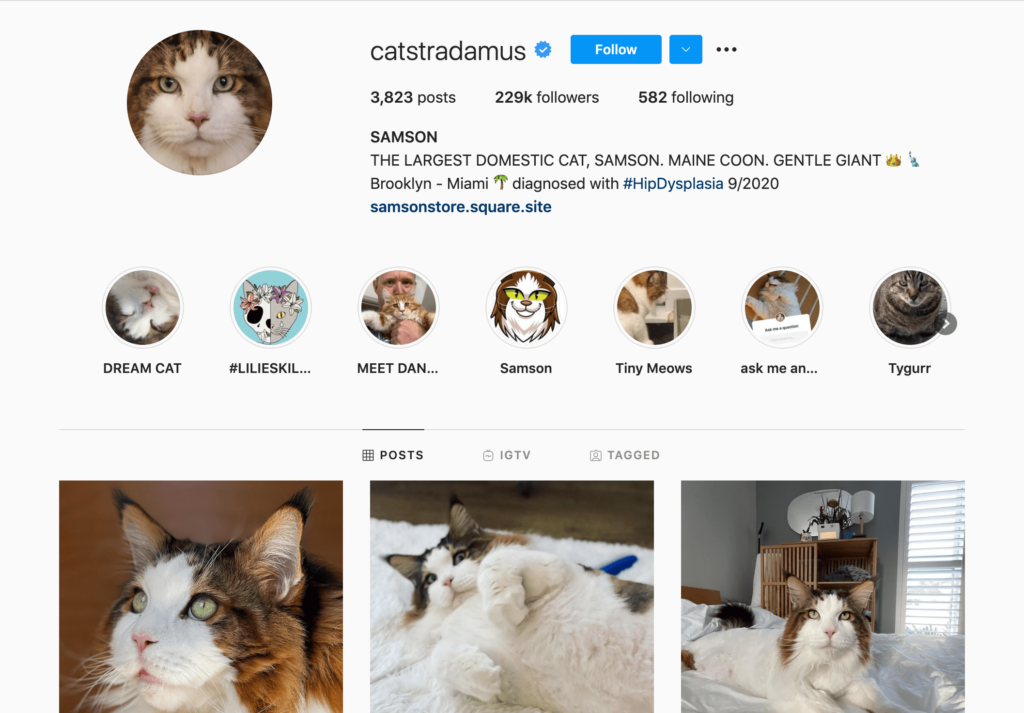 Samson, also named Catstradamus, has been featured in the New York Post and on television because of his vast size and good looks. He's a genuine Maine Coon Cat, the world's most giant breed, standing 4 feet tall and weighing 28 pounds and is extremely cute. He's essentially a toddler-sized cat; there are plenty of pictures on his popular Instagram page of regular people attempting to pick him up to show how large he is. He isn't fat, but he is fluffy, as his owner is quick to point out. He is cute, soft and attractive.
Mango Brown @justmangobrown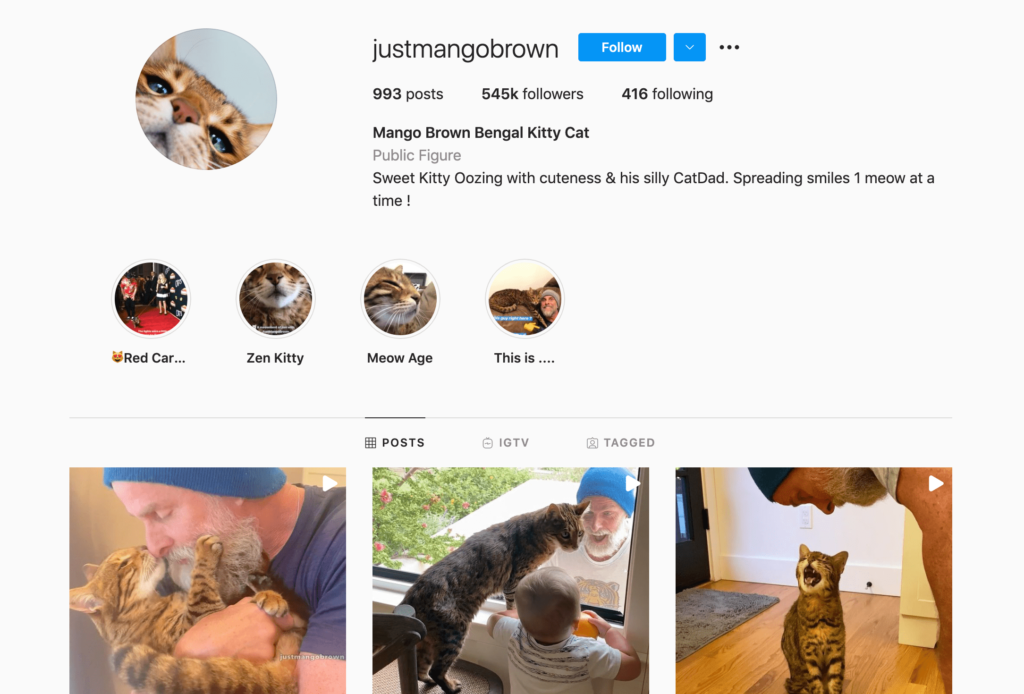 Mango Brown is a beautiful Bengal cat that loves to communicate! Click on any of the videos on his Instagram page to see him listen and respond to his owner. His owner posts many videos of Mango doing activities like chewing on items, jumping about like a crazy person, and exhibiting exotic postures. His cute actions won the hearts of the people watching him. He is indeed one of the cutest cats on Instagram.
White Coffee Cat @white_coffee_cat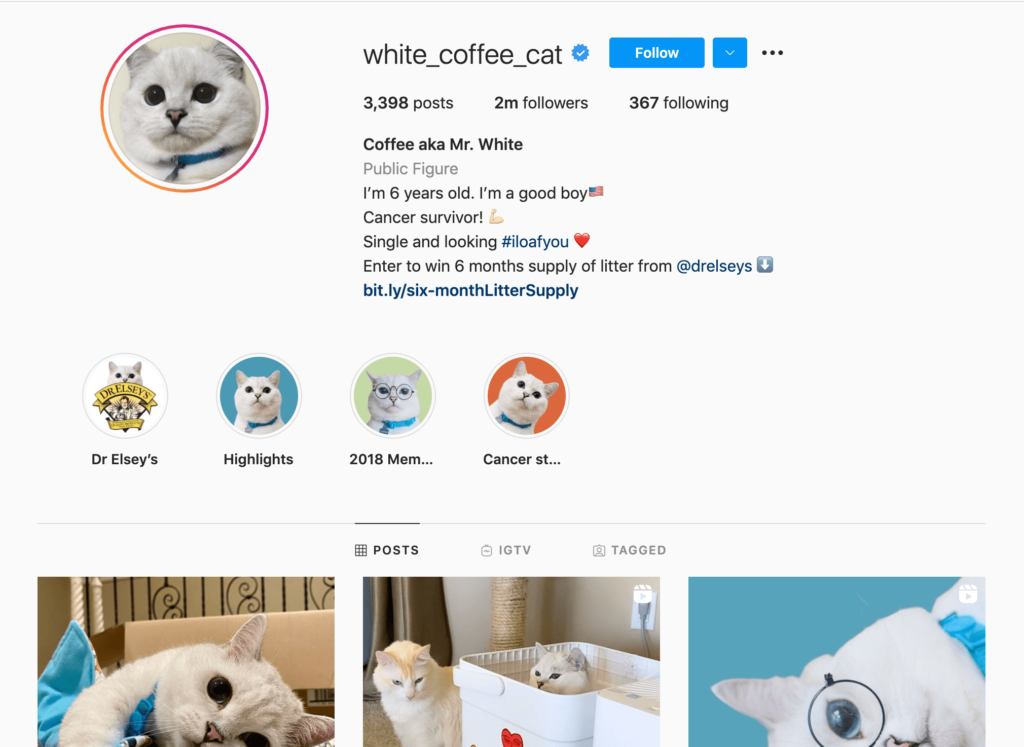 Coffee, commonly known as the white coffee cat, is a British shorthair with a bright white coating and big blue eyes. The pedigreed form of the classic British domestic cat, with a particularly stocky physique, thick coat, and broad face, is the British Shorthair. Coffee is so adorable that he seems to be a soft toy acting like a real cat. Coffee's huge blue eyes and flawless white coat have earned him a huge online following.
Waffles @waffles_the_cat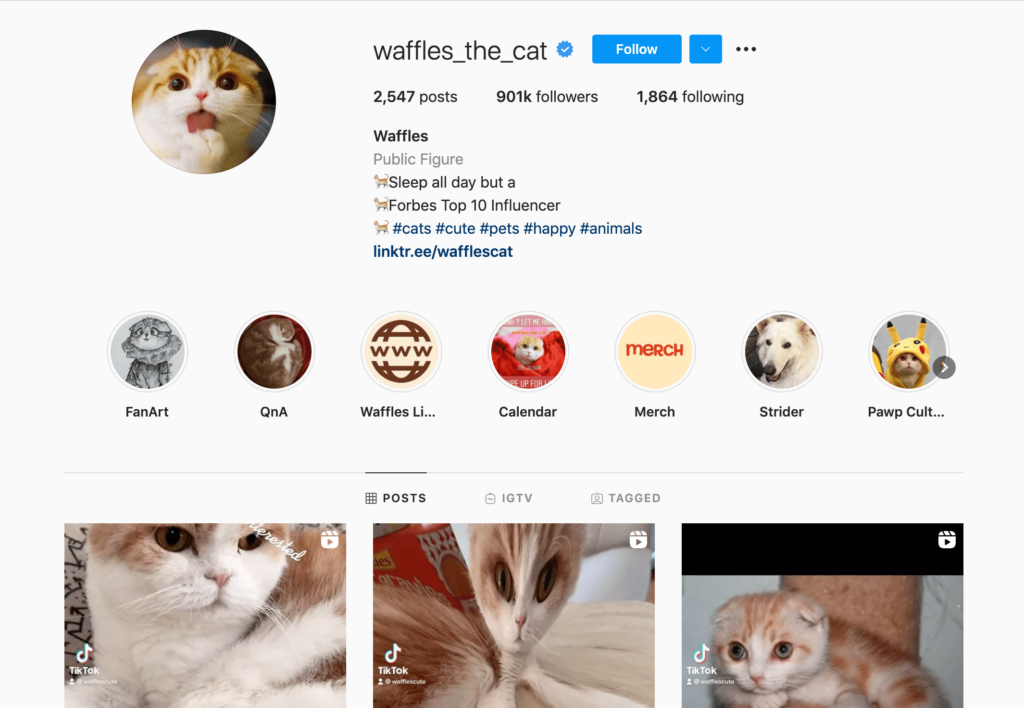 Waffles is a Scottish fold. It is a domestic cat breed characterised by a natural dominant-gene mutation that causes the ears to "fold," bowing forth and down towards the front of the face. Waffles' pink nose, large, anime-like eyes, round head, and, of course, folded ears make him seem like a plush animal or cartoon figure. His photos reflect his light-hearted and kind nature. Waffles, according to his parents, is the friendliest and cuddliest member of the family.
Hosico @hosico_cat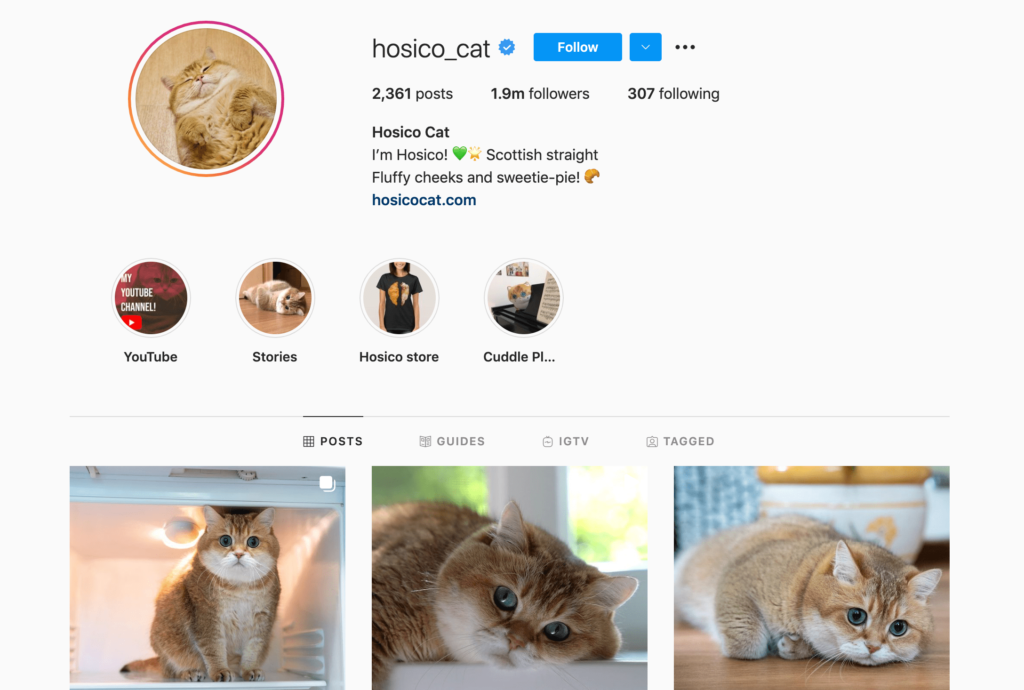 Hosico is adorable and amusing. Hosico always wants to play with new toys. He likes to play with shoelaces, pieces of paper, and tennis balls over the toys her parents bought him from the pet store. You can see his cute pictures and videos on his Instagram page. He is a member of the Scottish Straight breed. The Scottish Straight, along with the well-known Scottish Fold, is one of the feline species that is part of the Scottish Breed Group. His adorable actions are worthy of praise.
Maple @maple.cat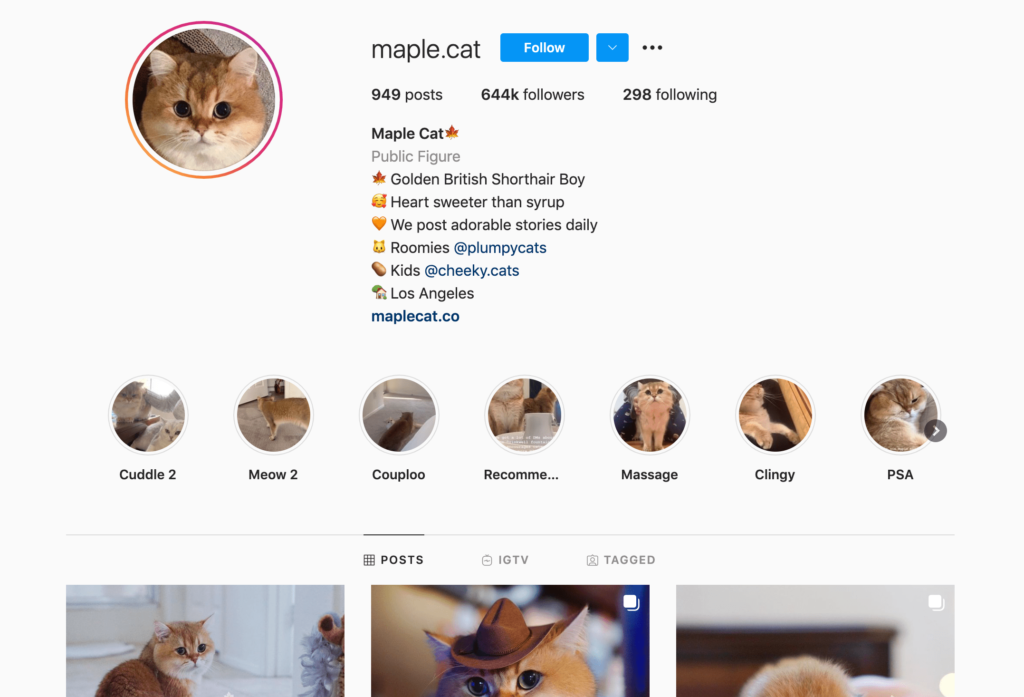 Maple, the golden British Shorthair, understands the importance of keeping his fans updated. You'll see not only beautiful photos but also the cutest videos. Maple's loving, trustworthy, and laid-back personality has captivated people all around the globe. Maple enjoys sleeping on his back in awkward-looking corners and even in almost human-like postures. He's fascinated by everything tasty and would never turn down a snack. This cat on Instagram is adorable.
Nala @nala_cat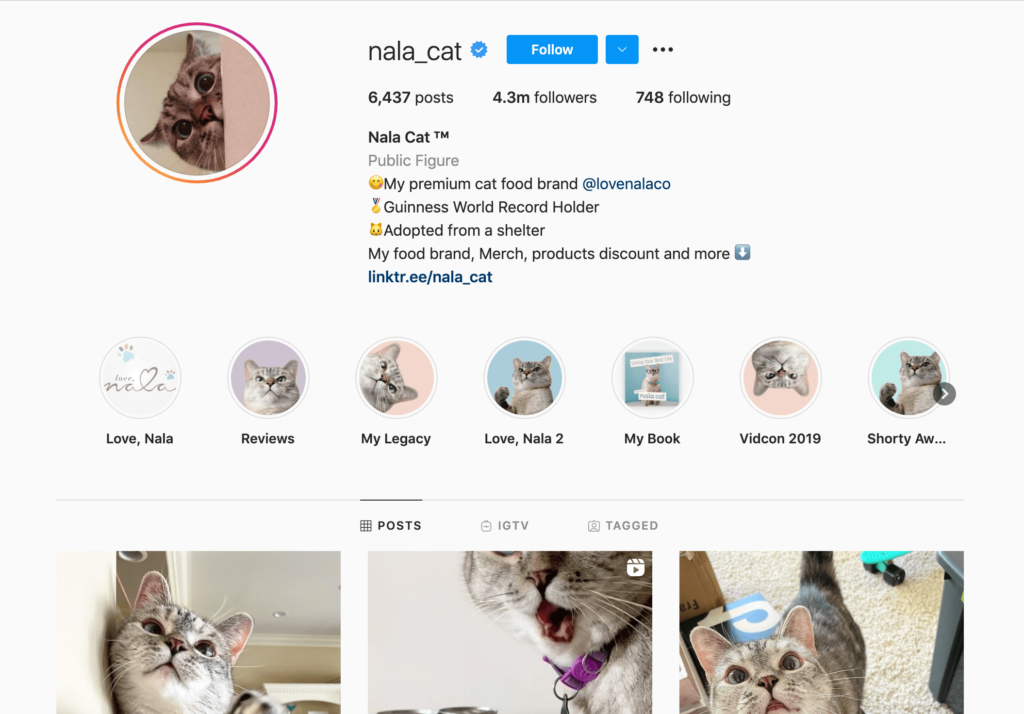 Nala Cat is a cross between a Siamese and a tabby. She resembles a wild lynx and is a mix between Siamese and tabby cats. Nala utilizes her sweetness, feistiness, and adorable face to bring love and joy to millions of people. She was one of the first cat accounts to upload pictures, including a voiceover, which seemed as though she was the one who was sharing the photo. People have remarked that her face resembles a cartoon figure rather than a real cat. She is also a feisty cat.
We hope you like these cute kitties as much as we do! Have you ever thought of loading your mobile device with their cute photo and videos? You can download the photos and videos of these cutest cats on Instagram by using AhaSave Instagram Downloader.
AhaSave Instagram Downloader
AhaSave enables you to save photos and videos, profile photos, full-length videos on IGTV, boomerangs and reels on Instagram. It is absolutely free and does not need any registration for an AhaSave account. It also provides various language choices, catering to people from all over the world. You can then share videos and photos with your friends.
To download the desired material, simply copy the URL of the video or photo and paste it into AhaSave Instagram Downloader app, and you are all set to get what you want. Here are some new features to look out for!
You can now download videos off Instagram rolls!
You can save Instagram stories.
Save all Instagram videos and photos.
You can view and save Instagram profile pictures.
View and save videos and photos through a single Instagram connection.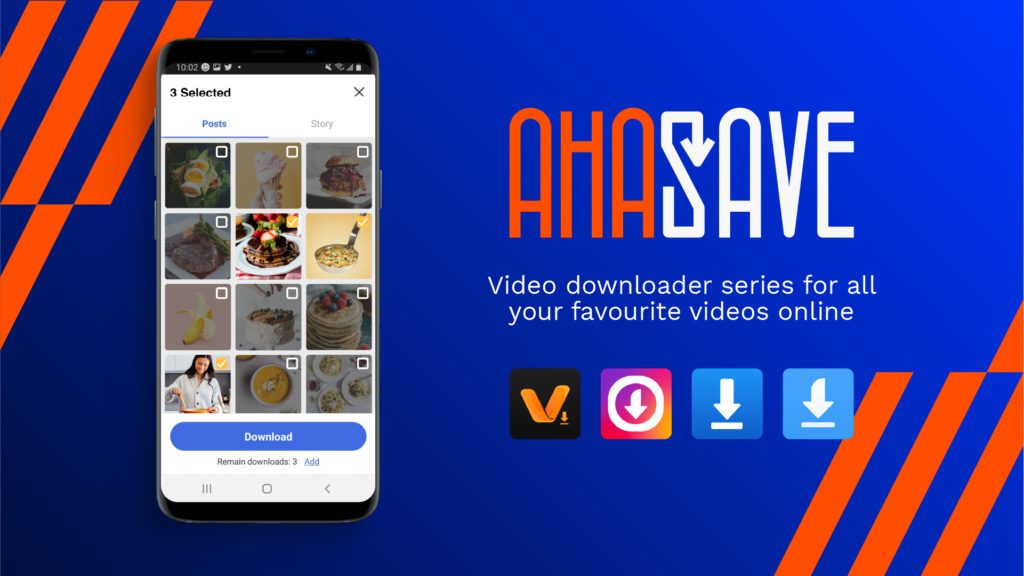 Try Our Free Android Downloader
If you are looking for a video downloader for Android, check out our AhaSave Video Downloader series, which is designed for various social networking platform for your specific needs:
Check out AhaSave: Tiktok | Pinterest | Twitter | Google Play | YouTube | Website | LinkedIn | Reddit
Need more tips? Find 'em all here!
Become our AhaSave Ambassador today!