There is no doubt that lockdown during Covid-19 was a scary time. Something that has become popular is trying Chinese recipes. We have somehow managed to get ourselves busy with some housework. Before the pandemic, we often make and try cooking different traditional foods to add more flavour for our taste buds. 
Have you ever noticed why Chinese cuisines are so popular around the world? This is because Chinese recipes are quick and easy to make. They only need a short amount of time on the stovetop, and all the essential Chinese dishes can be cooked with ingredients available at your local supermarket.
Although soups take a long time, it only requires simple steps and leaves you with lots of free time while the food is simmering. 
6 Easy Chinese Food Recipes to Make at Home
Whether you are new to Chinese cooking or want to try Chinese cuisines that don't require too much time in the kitchen, we have listed the easiest Chinese recipes you can try at home.
Chinese Fried Rice
It is the most healthy dish because it comprises all kinds of vegetables available in the store.
All you have to do is add cuts to carrot, capsicum, cabbage and chilli. Wash them, then beat the egg, and chop them into small chunks. Now add some vegetable oil and saute all the vegetables. Take a separate pot and boil the rice with some salt. Now add rice with vegetables and fry them for 10 minutes. Add soya sauce, chilli sauce and vinegar according to your taste. Mix the chopped fried egg and sprinkle some black pepper for taste. 
Pepper Steak 
Forget the restaurant and try this sizzling dish by yourself. Pepper steak will cook better in a medium-sized skillet; add one tablespoon of oil. Now add flank steak, salt and cook for 8 minutes. 
Add the soy sauce, vinegar, sugar, and cornstarch to a bowl and whisk them. Next, add one tablespoon of oil, red and green bell pepper to the skillet and cook until it softens. Now, add ginger, garlic and cooked beef to the skillet. Pour it directly over a prepared sauce. You can serve it with rice.
Beef and Mushroom Stir Fry
All you need to make this dish is a shallow bowl. Add three tablespoons of soy sauce and pepper; add beef and refrigerate it for 30 minutes. In another bowl, combine corn scratch, broth and soy sauce until smooth. Next, add in the drained meat. Stir-fry garlic and ginger in 2 teaspoons of oil for a minute in a skillet. Add beef to it and cook for 4-6 minutes.
Last but not least, stir-fry the bell peppers, tomatoes, onions and mushrooms until softened. Now add beef to it and mix it well. Serve over rice if desired.  
Sweet Chilli and Orange Chicken
It is the most simple recipe out of all the Chinese cuisines, in which you have to toss the chicken with salt and pepper. In a skillet, add butter and chicken to it. Fry for 5-7 minutes. Now add chilli sauce and juice concentrate to the skillet, cook and stir until heated through. Stir in those chickens, and here is your sweet chilli and orange chicken! 
Asparagus Beef Sauté
All you need to do is to toss the beef with salt and pepper. In a large skillet, sauté beef for 2 minutes in 1 tablespoon oil. Add garlic and green onion, cook and stir until meat is browned. Next, add one tablespoon of butter in the same skillet and sauté asparagus and mushrooms until crispy tender. Then, add beef, soy sauce and lemon juice and toss them to combine. Serve with rice for an enhanced taste. 
Chicken Stir Fry with Noodles
First, boil the noodles according to the instructions on the packet. Add one tablespoon of oil and chicken, stir fry 5-7 minutes. Now start to fry celery, peppers and onion in the remaining oil for 4 minutes. Add bok choy leaves and stir fry for 3-5 minutes. Stir it into teriyaki sauce, add noodles and chicken. Heat through and toss to combine. It's ready!
Download your Favourite Chinese Recipes with AhaSave All Video Downloader 
AhaSave All Video Downloader is an app that can help you in downloading HD video from different websites. This is an easy to use and light downloader that supports downloading videos through a link and built-in browser. This app is free and helps you with saving videos from your favourite websites.
Features:
Fast downloading
Watch videos anytime, anywhere. 
Supports all HD video downloads
Playback tutorial videos in the built-in browser
Intellectual Property Rights
Before downloading any content, one should understand that the content's ownership and intellectual property rights belong to publishers or owners. We should respect such legitimate rights and the interests of the publisher. We recommend you obtain permission before downloading any content from social networking sites. 
Free Android Video Downloader App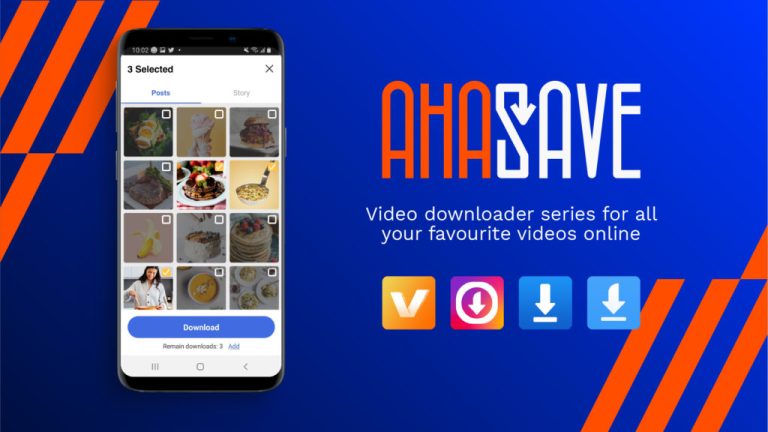 If you are looking for another video downloader for Android, check out our AhaSave video downloader series, which is designed for various social networking platform for your specific needs:
Check out AhaSave: Tiktok | Pinterest | Twitter | Google Play | YouTube | Website | LinkedIn | Reddit
Need more tips? Find 'em all here!
Become our AhaSave Ambassador today!